WhatsApp has been a big name when we talk about instant messaging services or apps.
With about 1.5 billion active users, WhatsApp has become a part of our day-to-day lives and we cannot imagine a day without opening or using WhatsApp.
Keeping that in mind, we will share a list of all the WhatsApp tricks, features, tips, hacks, and amazing facts which will help you use WhatsApp in a better way leading to an even better messaging experience.
The idea behind this article is to have all the WhatsApp features, tricks, and hacks all in one place for better and convenient accessibility. We will be updating this list continuously as the new features keep coming in and the tricks, hacks we explore.
The list will start with the most basic functionalities and features. As we proceed, you will get some advanced, unknown WhatsApp tips and tricks.
Basic WhatsApp Features
This section contains the most basic features of WhatsApp.
Send Photos and videos
You can share photos and videos apart from text messages in WhatsApp. Have a look at the following tutorial to send photos and videos on WhatsApp.
Hide Last Seen, Profile Photo
Using privacy settings it is possible to hide last seen, status and profile photo from Public or Contacts.
Broadcast messages
WhatsApp allows sending messages to multiple contacts at once which is quite useful in many scenarios like wishing for a festival, invitations etc. Follow Broadcast messages in WhatsApp to know more.
Hide Chats
There is an archive chat feature with which you can hide conversations of desired contacts. Hidden chats can be unarchived at any time to unhide chats. Use the hide chat in WhatsApp article for details.
Apart from that, we have also mentioned about apps to lock WhatsApp.
Custom Notifications
WhatsApp lets you set different message tones for each contact and group which is useful in identifying the sender from the message tone itself.
Follow the tutorial on how to set custom notifications in WhatsApp for more information.
Turn Off Notifications
If you are getting distracted from an important task at hand because of the WhatsApp message notifications then this tip is useful. Know everything about disabling WhatsApp notifications(completely).
Moreover, you can customize this even more on Android as there is an option to turn off Notifications in WhatsApp for a particular contact. This feature comes in handy when it is only a specific contact for which you don't want to get the notifications. For other contacts, you will be getting notifications as usual.
Mute Chats and Groups
Mute chat means a little bit different for iOS when compared to Android. When a WhatsApp chat or group is muted in iPhone then notification for that particular chat(s) is disabled for the time period selected. In the case of Android, the notification still comes but in silent mode when a chat is muted.
Again, mute chat is helpful to get rid of unnecessary distractions which may happen because of WhatsApp messages from a group or contact.
Here is the tutorial on Mute chat in WhatsApp: How to mute individual chat in WhatsApp
Send Location
With WhatsApp, you can send your current location. You can even send a fake location on WhatsApp. Read about how to send Location on WhatsApp to get more insight.
Hide Message Preview
This is a feature which when turned on hides the message content in the notification.
It's useful when you don't want anyone to read the contents from the lock screen.
Set full-size profile picture
To set profile pictures without cropping in WhatsApp you will have to use 3rd party apps. Procedure and the Apps and are mentioned here: set full-size Profile Picture in WhatsApp.
Email Conversation
In case you want to keep a record of WhatsApp conversations then you can very well Email them. There is also an option to Email photos along with text messages.
Follow how to email WhatsApp Conversation to get it working for you.
Find your WhatsApp username and number
it can be very useful to know what are your WhatsApp IDs, for example, when you want to share it with someone or when you need to send or accept a payment via WhatsApp.
To know how to do it, go read our What's My WhatsApp Number And Username post.
Advanced WhatsApp Tricks
This section contains advanced WhatsApp tricks which are unknown to many.
Hide Last Seen, Profile photo and Status from Specific people
Surprised? Don't be. You can achieve that with a simple tweak mentioned in our earlier tutorial – hide last seen from specific people on WhatsApp.
This trick can be used when you don't want to share last seen with a specific contact. Last seen will still be visible to other contacts.
Send Music Files on iPhone
You can send music and voice files in the iOS version of WhatsApp. You can record a voice message and send it to your friend or to a group of friends.
Search in Chats
Are you looking for an address that someone sent you long back in your WhatsApp messages? Save yourself some time and directly search a phrase which you remember to find the entire message.
Here is an article that will show you how to search in all WhatsApp chats at once.
Starred Messages
This is a pretty nifty feature that helps to mark important messages as starred in long conversations. These starred messages can easily be accessed from a separate section preventing important messages to be lost with other messages.
Here's how to use Starred messages in WhatsApp.
Send Messages without opening WhatsApp
It is possible to send messages in WhatsApp without opening it from notifications. Here is the article which shares different ways to achieve that.
Send Message without opening WhatsApp
Bold, italicize, and strikethrough Message
To italicize text start and end the message with an underscore(_) symbol.
In order to send text in bold start and end the message with an asterisk(*) symbol.
For sending strikethrough text to add a tilde(~) symbol at the beginning and end of the message.
It is time to level up now. Let's have a look at unknown WhatsApp hacks.
Useful WhatsApp Hacks
Send large files up to 1 GB
WhatsApp doesn't allow sending files that are greater than 16 MB in size. However, you can make use of a useful app WhatsTools to achieve it.
Here's a tutorial that explains the method to send Large files on WhatsApp upto 1 GB in Android.
Educational hacks
This is one of my favorite. WhatsApp can be used for educational and useful purposes if you wish to in the first place. With services like Duta.in and your own will can allow you to use WhatsApp intelligently for your own benefit.
More on this later.
Know online status without reading the message
This trick comes in handy when you desire to know someone's last seen/online status but do not want to read the message.
Yes, it is possible, and here's how.
Leave WhatsApp group by making it corrupt
This hack lets you leave a WhatsApp group by making it corrupt using WhatsApp Web. You can find all the information about it in the following article: How To Exit WhatsApp Group Permanently.
Get to know if you're blocked
Read about how to find it out in our post How to know if someone blocked you on WhatsApp. It will help you to figure out if you're blocked by someone or not.
Unblock yourself
If you have figured using the above hack that you're blocked then we do have a trick with which you can Unblock yourself on WhatsApp.
Here's how to unblock yourself on WhatsApp without deleting account.
Get Read Receipts even if turned off
Read receipts is a feature in WhatsApp which lets the sender know if the recipient read their message or not. There is an option to disable the read receipts.
However, using the hack mentioned in the following article to get read receipts on WhatsApp even if turned off you can know at what time your message is read even if the recipient has turned off Read Receipts.
You will also get to know how to disable read receipts in the same tutorial.
Create Fake Conversation
There is a trick that can allow you to create Fake WhatsApp conversations which can be used to fool friends and sometimes survive in a critical situation.
It is possible with a help of a third-party app. We will soon update this guide with a link to the tutorial.
Record WhatsApp calls
As you all know WhatsApp has a voice calling feature too. So, if you desire to record WhatsApp calls there is no feature to do that in the app.
However, you can use the app mentioned in the tutorial How to record WhatsApp calls in Android and iPhone to record WhatsApp calls.
Now, let's have a look at some solutions to the problems faced while using WhatsApp.
Fix Slow WhatsApp
If you are facing performance issues in WhatsApp, try the solutions given here.
Fix delayed notifications
Here are the steps to fix the issue of delayed notifications on WhatsApp.
Recover Deleted Messages
Accidentally deleted WhatsApp messages can be recovered using a backup. You can also stop or disable the backup anytime.
If you don't have a backup then use any one of the software's mentioned in this list.
Spy on WhatsApp
To protect kids you can spy on WhatsApp using mSpy. All the features and procedure of the WhatsApp tracking app is mentioned in this article: Track WhatsApp.
It is paid software.
Print messages
Even though there is no official feature to print WhatsApp messages but you still can do it. Our post about how to print WhatsApp messages explains it in detail.
Get Call History
This is similar to tracking WhatsApp messages to protect your children. You can use a spy app in order to get the call history to make sure that your kid is not engaged in dangerous activities.
One of the good spy apps for WhatsApp is uMobix. You can read our review here, or just go to their website to learn more:
Latest WhatsApp Features
This section is dedicated to listing down the latest WhatsApp features.
Reply to Individual Messages
This feature is similar to replying to comments on Facebook. With this, the message you are replying to will be quoted and there is no confusion while having a conversation.
Voice message and call back
If the WhatsApp call isn't answered then you can leave a voicemail and also there is a quick option to call back from the same screen.
Forward Messages to multiple contacts at once
WhatsApp also allows you to forward messages. Now it is possible to do it with multiple messages to multiple contacts at once.
The same update also added a quick forward button beside photos and videos.
Send messages and Place calls with Siri
Siri is now open to 3rd party apps and WhatsApp has included a feature to send WhatsApp messages and place calls using Siri.
Tag people in group chat
This is one of the most useful features introduced recently in WhatsApp. It allows you to mention a group member in a conversation. Like the quote feature above this to helps in clearing confusion.
To use or mention a member open the desired group chat and type @ in the message. On entering @ all the group member names will appear as shown below.
Select the contact you want to mention and type the message as you usually would. Finally, tap on Send.
Send GIF
This feature is one of the musts for a messaging app.
Have a look at the following tutorial on how to send GIF on WhatsApp to share GIFs with your contacts without any issues.
Offline Messaging for iOS
WhatsApp has support to send messages on WhatsApp without an internet connection for iOS, too. It was already available for Android users.
This is great news for iPhone users. Of course, the messages will be delivered only when you are connected to Wi-Fi or on enabling cellular data.
Stories
If you were not using WhatsApp because of the likes of Snapchat and Instagram Stories then this reason cannot keep you from installing the widely accepted instant messaging app any longer.
WhatsApp mirrored the Stories feature.
WhatsApp also has the "text status" that was once removed from the app.
Multiple Photos/Videos Grouped
WhatsApp has become a convenient medium to share media with friends and colleagues.
That's why if you send or receive multiple photos or videos, they will be grouped together similar to an album.
Pin Chats
This is a pretty useful feature for users who receive a lot of unnecessary messages from friends or groups.
WhatsApp has a pin chat option that fixes the position of the selected chat at the top. You can pin conversation of a maximum of 3 contacts.
To pin a chat, long tap on the desired contact(s) and select the pin icon at the top.
Similarly, pin other contacts if you wish. To unpin the conversation long tap on the pinned chat and select the unpin icon at the top.
Read Messages Using Siri
If you are driving or cooking, you can simply ask Siri to read out the recent WhatsApp messages. If that is not enough then it also allows you to reply to the messages.
You just listen and speak and Siri does the rest of the work. It goes without saying that this feature is limited to iPhone users.
Unsend/Delete Messages
Sent a message to the wrong contact? Never mind. You can use the "un-send" message feature to remove the sent messages for everyone
The message will be deleted from the recipient device with this feature. It supports text messages, videos, photos, and GIFs.
Document Sharing(Apart from PDF)
You can send any other docs apart from PDF files via WhatsApp.
Other document files supported are .doc, .docx, .ppt, spreadsheets and more. The maximum size limit is 100 MB for Android and 128 MB for iOS.
Photo, Video, and GIF Filters
WhatsApp allows users to use it as a photo editing app. While sending the media, swipe up to get the filters. Tap on the desired filter to apply and preview it before sending.
Two-Step Verification
WhatsApp allows you to secure access by setting up a 2-step authentication.
With two-step verification, anyone will have to enter a passcode set up by you to register the account successfully. Follow the steps mentioned in this tutorial to enable two-step verification.
Design Updates
WhatsApp has a tab dedicated for calls that's called… Calls! Now you can see the profile picture of the contact in the call logs.
Unknown Whatsapp Hacks For Educational Purposes
Have Your Own Wikipedia On WhatsApp
A lot of people don't know of a service called Duta.in.
Duta is a free interactive service, which helps you find the latest news, information, etc. It also acts as your personal Wikipedia.
Take a look at some examples:
When you start off with the service, you get the following message.
When you search for "Android "you get the following information.
It is also interactive and gives you a host of options to choose from.
How to get Duta on your Whatsapp?
Add this number( +917299015049 ) to your contact list and name it whatever you want.

Create a new Whatsapp Group and add the above contact in it.

Add your friends if you would like and you can start using Duta!
Some commands to start off:
For finding out information : Type – "search + <Word you want to know>"

For translation : Type – "Translate + Language + <Word or Sentence you want to know>"
You can also do translation by using the trick we described in our post about translating WhatsApp chat.
Summary Of A Book
All Whatsapp groups do not have to be unproductive.
You can create groups for specific purposes like learning a new word every day or learning about new concepts. In this example, we use it to summarize a book.
Why?
A lot of people don't have the time to read books, a lot of them are lazy. But everybody wants to know the crux of the matter and gain some knowledge.
So if you and your friends want to become smarter in a short span of time and learn interesting new things every day, start a book summary WhatsApp group!
Create A Word A Day Group
Make it actionable by making people use that word in a sentence by the end of the day during a conversation. This makes it fun as well as educative.
Technical Concepts Of Programming
Programming can be hard to understand and mastering it takes time.
Focus on learning a concept a day and let the discussion flow on that particular topic, within 30 days you will understand a lot of core concepts and your fundamentals become stronger.
Join Group Calls
You can now join ongoing group calls on WhatsApp. This can be done either in the group chat itself or the Calls tab in WhatsApp. This means you won't have to wait to have someone add you to the call. You can join the call at your own convenience.
This feature is honestly a much-welcomed one because WhatsApp is a popular messaging app for both personal and professional use.
Share Stickers
WhatsApp now allows you to share stickers in chats. Before, it was only pictures and videos until WhatsApp was updated to allow GIFs and now stickers. You can download WhatsApp's own sticker packs from the Play Store, or even create your own stickers.
To send a sticker, tap the emoji icon in the message bar, then the sticker icon.
Starring Stickers Adds Them To Your Collection
One of the best things about WhatsApp's stickers is that they can be so unique and varied. You can create your WhatsApp stickers using apps like Sticker Maker, or you can add a sticker to your favorites to use later.
To favorite a sticker, tap it and then tap "add to favorites." The sticker will then be added to your favorites, and you can use it in any WhatsApp chat.
Add Stickers to Pictures & Videos
WhatsApp now allows you to add stickers to your pictures and videos. When you've opened a picture to share it, tap the emoji icon at the top-right side of the screen. That'll show you the option to add an emoji or sticker to your picture/video. Simply select the sticker you want to add, resize and position it wherever you want, then send your newly edited picture/video.
Set Photos To Single View
You can now send single view photos/videos on WhatsApp. The process is simple when you opt to send a photo or video, tap the 1 in the message bar before sending the photo. This will mean that the person can only view the photo once, and it won't be stored in the chat's media.
The photo also won't appear in the chat as regular photos do. Instead, the person will see a message like the one below. When they click it, then they'll be able to view the photo once. If they want to see the photo again, you'll have to resend it.
Make Voice And Video Calls From Desktop
WhatsApp now has a dedicated desktop app for Windows and Mac. Now you no longer have to use WhatsApp Web to use WhatsApp on your desktop. Another plus is that you can make voice and video calls from your desktop using the app.
Playback Speeds For Voice Notes
You can now adjust the playback speeds for voice notes in WhatsApp. You can increase the speed to 1.5x or 2x the original speed to play the voice note faster. Tap the 1x icon on the voice note to adjust the playback speed.
Disappearing Messages
WhatsApp also now has disappearing messages. You or whoever you're talking to can turn on the disappearing messages feature for your chat. That will put a timer on the chat, where messages and media are deleted seven days after they are sent.
To activate the disappearing messages feature, open a chat, then tap the recipient's name. This will open that chat's settings.
Next, tap the Disappearing Messages option. You'll see a notification telling you about how the feature works. Tap continue, then select "On" to turn on the disappearing messages feature.
Set Custom Chat Wallpapers
You can now choose wallpapers for specific chats on WhatsApp. Before, every chat had the same wallpaper, but now you can choose different wallpapers for each chat. In addition to this, you can also adjust the brightness of the wallpaper.
To change your WhatsApp chat wallpaper, open the chat and then tap the three vertical dots to the top-right hand side and select Wallpaper from the dropdown menu.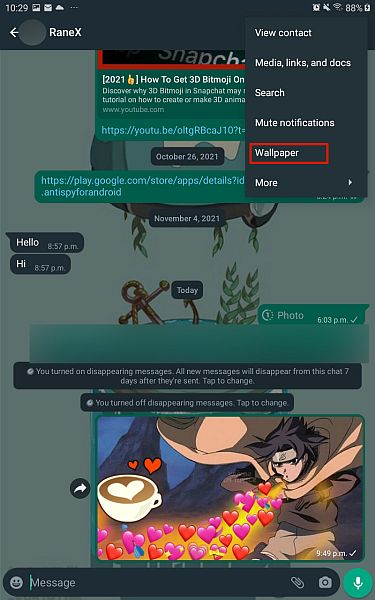 From the following screen, tap the Change option to change your Wallpaper. You'll then be given different options of wallpapers to choose from. You can select one of WhatsApp's wallpapers or an image from your gallery. Once you've made your choice, tap Set Wallpaper to set it and decide whether you want to use it for that chat or all your chats.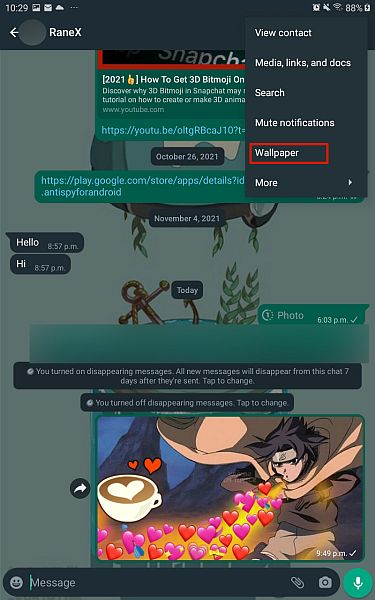 After setting your wallpaper, you'll see a preview of how it will look in your chat. From here, you can adjust its brightness to suit you.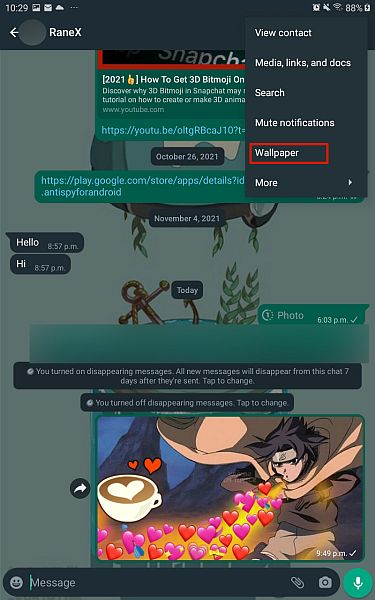 Archived Chats Stay Archived
One of WhatsApp's latest updates allows archived chats to stay archived, even when you receive a new message. This means that once you've archived a chat, it will stay in the archived folder when you receive a new message instead of appearing with your other messages.
FAQs
How can I make WhatsApp more interesting?
Here's how you can make WhatsApp more interesting. You can now create and send unique stickers to your contacts. On top of that, you can also add stickers to your media such as pictures and videos for added humor. You can even bold, italicize, or strikethrough your texts.
Is there a secret chat in WhatsApp?
There isn't a secret chat in WhatsApp like there is in Telegram, however, you can keep archived chats hidden on WhatsApp. This means that even when you receive a new message from an archived chat, that chat will stay hidden and won't be shown with your other messages.
How do you have a private chat on WhatsApp?
It's easy to have a private chat on WhatsApp. When you're in a group chat, long press on the message you want to reply to. Next, click on the three dots on the top right-hand side then select Reply Privately from the dropdown menu, type your message and press send.
Final Words
This list will be updated frequently as soon as a new update rolls out. So, you can visit this article again by bookmarking this article.
We hope you enjoyed the list of 50 WhatsApp features, hacks, tips, and tricks. If you found it useful and interesting then do share it on your favorite social media platform.
Have we missed out on a WhatsApp hack or feature? Hit us in the comments section.