Do you need to know how to install spy apps remotely?
There are many valid reasons to want to know how to install spyware on iOS devices remotely, as well as on Android. You might be a parent worrying about your children's safety. You might be worried about how your company devices are being used.
Regardless, you need to know how to remotely install spy apps on an Android device and iPhone. Don't worry, the following article will show you how.
Is It Possible to Remotely Install Spyware On A Mobile Phone?
Let's address a common query: "Is it possible to remotely install spyware on a cell phone?"
In short, the answer is yes, it can be done. However, the possibility of remotely installing spy software varies depending on the type of phone and its settings. Certain combinations allow it and the others don't. I will explain more in the subsequent sections of this post.
Installing Spyware On iPhone Remotely
As I previously mentioned, there are cases where you can perform remote installations of spyware without needing physical access to the target phone. This is particularly true when the target device is an iPhone. Some spy applications allow users to remotely install them on iPhones, such as mSpy and uMobix.
Installing mSpy Remotely
Before installing mSpy on an iPhone, you first need to buy a subscription. You can read my full review of this spy app before you commit to buying if you need more information.
One of the best things about mSpy is that it allows you to install the iPhone version on the phone remotely. You only need to input the Apple ID and iCloud details to monitor an iPhone device.
The steps will take you about 3 minutes
Here's how to install spyware on iPhone using mSpy.
Log into your mSpy account with your email and password.

I assume that you bought already a subscription.

You should then see an installation wizard that lets you choose between Android and iOS. Pick iOS to install to iPhone.

Enter the iCloud account or Apple ID and password of the target device.

If the two-factor authentication option is enabled, you'll see this screen. If it is, click Send Code on the screen so that you can verify the code on your target device.

You need to have physical access to at least one iOS device of the target owner to type the code on the mSpy remote installation wizard. It doesn't have to be their phone – if you have access to their iPad, Macbook, or Mac, you can also check the code there.

Once you've typed the code, click OK to proceed.

On your desktop screen, the target iOS device should show up. Confirm if it's the right device and if the installation went correctly. If you want to begin tracking, click Select, and you will be redirected to your mSpy dashboard.
As you can see, as long as 2FA isn't enabled on the target phone, you don't need physical access to the iPhone to install mSpy at all.
However, even if 2FA is enabled, the contact will still be minimized, allowing you to install mSpy properly.
Installing uMobix Remotely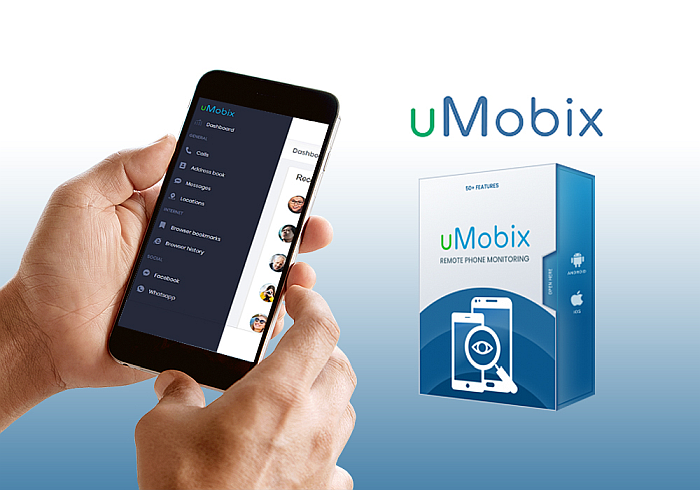 Like mSpy, uMobix is also a competent spy app that lets users monitor target phone data.
This app installs on the target iPhone using the owner's Apple ID.
However, you can only do so if iCloud is enabled on the target device and into your mSpy account with your em. Otherwise, you'll need physical access to the device.
The first thing that you have to do is ensure that iCloud backups are turned on. If you have the target iPhone on hand, you can go to Settings and look at this functionality yourself.
If it's turned off, enable it to proceed.
Next, you will need to log into the uMobix platform with the credentials you used upon signing up.
You should then see the installation wizard. Enter the target device's Apple ID and password and press Login.
If two-factor authentication is enabled, you'll need a code to get in. Click Send verification code to allow uMobix to send a code to the target device.
Wait for a few minutes for the code to arrive, then type it into the required field on the installation wizard.
uMobix will then sync with the target phone. A loading screen will appear, and when it's finished, you should see the target iPhone in the uMobix dashboard.
As you can see, remote installation for iOS only works if iCloud is enabled and 2FA is disabled. Otherwise, you will need to have the target iOS device for at least several minutes to get the 2FA code.
Installing Spyware On Android Remotely? Is It Possible?
First of all, you need to know that there's no possible way to install any spy app remotely on an Android device.
Whatever Android phone you have, the only way to install a spy app is by having physical access to the device and manually installing it on the actual phone.
Here are several reasons why you can't install spy apps on Android remotely:
Protection. Android phones have safeguards against remote installations that are outside of the Google Play store. Since spy apps are typically downloaded outside of the Play store, it's only natural that they can't be remotely installed.
Phone permissions. Most spy apps on the market require phone permissions to function, and it's impossible to grant these permissions remotely as that would entail illegally hacking the phone.
Privacy features. Most devices have plenty of privacy features that prevent other apps from being downloaded to the phone. Again, you'll have to manually disable these features in order to download a spy app.
Installing mSpy On Android
mSpy isn't as convenient for Android devices as for iPhones since it doesn't have remote installation features. However, you will see that installing mSpy on an Android device still requires only a short amount of contact with the target device.
Here's how you install mSpy on Android.
Log in to the mSpy platform with the credentials you used when registering for a subscription.
You will see the installation wizard that will make you choose between Android and iPhone. Select Android.
Select the information related to the target device.
You also need to select the correct target device model.
Go to the Play store and disable the Play Protect settings on your target device.
On the installation wizard, click next until you find the part about installing the APK file to the target device. Here, you can scan the QR code or enter the URL from the target device to download the APK.
Once the mSpy APK file has been downloaded and installed, click Open and follow all the on-screen instructions.
Grant the necessary permissions for mSpy to run on the target device. Everything you need to do will be displayed on-screen, so follow instructions.
When you finish the installation process, go to your desktop dashboard and click Next until the dashboard shows up. Once you're in the mSpy dashboard for the Android device, you've successfully installed the app on the target Android.
All told, this entire process should last no more than 15 minutes. You can even do everything in less than 10 minutes if you're quick. Once this is done, you can start monitoring everything the target device does remotely.
Installing uMobix On Android
While you can't install uMobix remotely on an Android device, the installation process is uMobix's strongest suit, so it only takes a few short moments to install this app to the Android.
Follow the steps below. First, of course, you need to buy a uMobix subscription.
Log into the uMobix portal with your email address and password.
On the Android device, disable Play Protect.
On the uMobix installation wizard on the desktop, look for the QR code or link to download the APK file to the phone and install the app.
You should see uMobix's installation wizard on the Android device with the app installed. Simply proceed and follow instructions until you reach the Install Automatically option.
Simply tap Setup Automatically so that uMobix can do all the work.
If the installation is successful, you should see the Android device reflected on the uMobix dashboard on your desktop screen.
From here, you should be able to monitor the target Android with features that uMobix offers using only the minimum physical access necessary.
To know more about uMobix, you can read my detailed review. If you want to try it out, click this link.
FAQs
Can iPhone Spy Software Be Installed Remotely?
iPhone spy software can't technically be installed remotely because of Apple's strict privacy policies. However, spy apps can use one's Apple ID credentials to monitor the device remotely. If there's 2FA enabled, you may still need to have the device on-hand though.
Can You Install A Spy App Remotely On Android?
You can't install a spy app remotely on Android. However, FlexiSpy has two solutions that allow you to have the spy app on Android: through a service or by getting it preinstalled. Both have the same perks as remote installation, although they technically aren't genuine remote installation methods.
Can Spyware Be Installed Via Text Message?
Spyware can't be installed via text message. There isn't any spyware that you can install with just the phone number. However, some scammers can send text messages with a link that will install spy apps when tapped. For the most part, though, you need physical access to enable permissions.
Can You Install Spyware On Locked Phone?
You can't install spyware on a locked phone. You will have to unlock the target device first. However, there are methods to open a locked phone if you don't know the code or pattern.
Can Highster Mobile Be Installed Remotely?
Highster Mobile can't be installed remotely, like all other spy software mentioned here. You need to have access to the physical device. However, you will only need about 10 minutes for the entire process. Once you're done, you can continue monitoring remotely for as long as you want.
Can I Access A Phone Remotely If I Have The IP Address?
You can access a phone remotely if you have the IP address using third-party apps. However, most of these apps work on a consent basis, meaning that it asks permission from the device owner to access the cell phone.
Is It Possible To Spy On A Cell Phone Without Installing Software?
It's possible to spy on a cell phone without installing any software. This is especially true for iOS devices since you can't install anything on the iPhone that isn't from the Apple Store unless the phone was jailbroken.
Install Spyware Remotely On iPhone And Android: Conclusion
While there are certainly ways to install a spy app remotely on an iOS device, most spy apps simply can't be installed on an Android device remotely.
However, I've shown you all the methods you need to know to install spy apps like mSpy, FlexiSpy, and uMobix on both iOS and Android devices.
As long as you follow my steps, everything should turn out fine.