Discord is a platform where almost everyone has created their own servers. And everyone works so hard to maintain and popularize their servers among other Discord members. Now just think, that one morning you woke up and found that you can't access your Discord account. And that is because the password you are entering isn't correct. Now, there can be a lot of reasons for that, but the one basic reason is that you forgot your password after taking a long break from Discord. And that is when there is a need to reset your Discord password to save all that hard work you put into those servers. Or it might be that you haven't lost your password, but even then you want to change it to make your Discord account more secure.
But sometimes, the process of changing the password on Discord can be a bit confusing, especially if you are new on Discord. That is why we decided to come up with this article to show you how to do it on PC and on the Discord mobile app. So let's get straight into it.
More On Discord: How To Cross Out Text On Discord
Change Discord Password
The procedure for changing password isn't that hard, and it will only take a few minutes to get this thing done.
On PC Or Mac
1. Firstly, Launch Discord desktop app or open your Discord account through the web browser.
2. Now, click on the user settings or gear icon to open your account details.
3. You'll be able to see your account details like username and email address. Click on the Edit option.
4. To change the password, click on Change Password?. You'll see this option below the current password section.
5. Finally, just type in your current password and the new password. After that, just click on Save.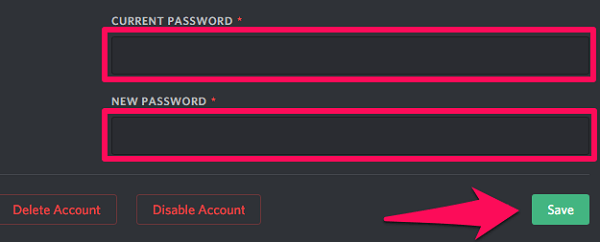 On Android And iOS
The steps to change the password are same for both Android and iOS. So you can follow the steps on either of the platforms.
1. Launch Discord mobile app on your smartphone.
2. Now, tap on the hamburger icon to open the menu.
3. At the bottom of the menu, you'll see the gear or user settings icon, tap on it.
4. After that, tap on My Account under the user settings. (On iOS, it's just 'Account')
5. To change details like Username and Email address, you'll have to tap on Edit Account option. But to change the password, tap on the 'Change' option. (On iOS, this option is named as 'Change Password.')
6. Finally, just type in your current password and then your new password. As soon as you type in the password, you'll see the save icon at the bottom right corner of the screen. Tap on it to save the details.
Reset Discord Password
Forgetting passwords is a common problem that every one of us faces. But no worries because you can easily reset your password as long as you have the access to your registered email ID. Because if don't have the access to your registered email, unfortunately, then you can't recover your account.
The steps for this are the same for PC, Android, and iOS platform. So you can follow these steps to reset your password on any of the platforms.
1. Launch Discord desktop app or just open Discord website on your web browser.
2. You'll get on the Login window, type in your registered email ID and then click on 'Forgot Your Password?' under the password box.
3. The instruction to reset your password will be sent to your email ID. So, log in to your email ID and find the Email sent by Discord.
4. When you'll open the email by Discord, you'll see an option to reset the password by the name 'Reset Password.' Click on it.
5. Now, a new window will open in your web browser asking for the new password. Just type in the new password and click on "Change Password."
That's it. Now you have reset your Discord password successfully. You can now login to your account using the new password.
Didn't Get The Discord Password Reset Email?
Have you tried resetting your password but didn't got the email?
Well, this kind of thing happens quite rarely.
The first thing you can do is check your spam folder. It might be possible that the reset email by discord automatically went to the spam folder. However, if you didn't find the email anywhere, then the final thing you can do is submit a request to Discord support. You can tell them the exact problem and maybe they'll help you out with that.
More On Discord: How To Delete Your Discord Account
Conclusion
So now you can easily change or reset your password on Discord. But it's better that you type and save your password somewhere else as a document. Because managing login details of so many social media platforms get really hectic and confusing. So if you'll have your password saved as a document, then you'll not be facing this problem in the first place.