Cocospy is a phone spy app you can use to monitor your children as they use the internet. It allows you to track social media activity, call logs, messages, internet history, bookmarks, and emails, view media on their phones, and more. Overall, it performs well.
Are you worried about what your child is getting up to online? Do you want a way to better monitor what they do on their phone and help provide better protection online as well as offline?
I understand how you feel, we have to find new ways to protect our kids as they grow up in the digital age. A parental control app is one way you can do this, and I've tested out Cocospy to show you how you can use it to protect your child as they navigate the online world.
WARNING: There's a scam website out there that is pretending to be Cocospy. For your safety, please do not use the .com version of the Cocospy website. The real website of Cocospy is cocospy.org.
Cocospy Benefits
Kids now have more unfettered access to the internet with all its wonders and horrors.
During my research, I came across an article by CNN that stated that the average age that kids mention being exposed to adult content is 12. Adult content and apps are no place for children as they expose them to sexual content and possible violence, leaving them open to predators.
That's why it's important as a parent/guardian to monitor your child's digital activities and you can do that with the Cocospy app.
Cocospy is a spy app that allows you to monitor your child's target phone activity such as their text messages, internet history, call logs, social media activity, and more. Let me show you what Cocospy has over other spy apps currently on the market.
| | |
| --- | --- |
| Software Name | Cocospy |
| Best Features | General monitoring, social media tracking, media access, internet activity tracking, keylogger, spyware scanner, location tracking, call logs, messages. |
| Free Trial | Offers a free demo |
| Supported Platforms | Android, iOS |
| Requires Rooting/Jailbreak | No rooting or jailbreaking required |
| Monthly Price | 1-month plan: $49.99, 3-month plan: $89.99, 12-month plan: $149.99 |
| My Rating | 8.7/10 |
Does Cocospy Work?
For this review, I tested the Android version of Cocospy. It was easy to install Cocospy and get it up and running. It needed some time to fully sync with my device to be able to view all of my photos and videos, as I mentioned before, but otherwise, it went smoothly.
The reason it was so easy to install Cocospy is thanks to its automatic setup, which does most of the heavy lifting for you.
Potential Problems With Cocospy
The primary problem I had with Cocospy was the color scheme of the dashboard. It's white and light blue with light grey text which made it difficult to read, especially for an extended period of time. During my test, I had to take a few breaks from looking at the dashboard to give my eyes a break.
As mentioned, another thing I dislike about Cocospy is that you have to purchase additional plans to link more than one device at a time to your Cocospy account. Due to this, I was only able to test it one device at a time. This means, if you want to track all of your child's devices with Cocospy, you're going to have to purchase more than one subscription.
Here's a video review I found that provides a quick review of Cocospy:
What I Liked
Here's what I liked about Cocospy:
The prices for the Android and iOS plans are the same.
It offers a host of features, from social monitoring to general monitoring and media monitoring.
Tracks an extensive number of social media apps, browsers, and email platforms.
Installation is swift and easy.
Customer support is available 24/7 and is quite helpful.
There's a free demo available to demonstrate Cocospy's features in full.
What I Didn't Like
Here's what I disliked about Cocospy:
Relatively more costly than other spy apps.
While the UI was easy to navigate, the color scheme made it hard to look at for extended periods of time.
Location monitoring doesn't offer geofencing features.
There's no free trial.
Be sure to test out Cocospy's free demo to see how you like it.
Cocospy Review
For this Cocospy review, I tested the spy app on my phone. This is because I already use Google's Family Link to monitor my kid's cell phone. While testing the Cocospy app, I found it to be a great option, especially if you're looking for detailed monitoring.
Let me say this though if you're going to go the route of spy apps, it's important to understand why you're doing it. A spy app is not a substitute for open and honest communication with your child.
And if you're considering using this spy app on say a spouse or employee, here's what to consider before spying on someone's phone. Even with your child, I recommend having a conversation before you install Cocospy on their cell phone.
As kids get older, their privacy begins to mean more and more to them according to the Raising Children Network, an Australian parenting website. Telling your child about the Cocospy app or any other spy app can give them a say in the monitoring experience.
During the discussion, you can negotiate with them on what's okay, and what isn't and allow them to feel informed and a part of the process. I did this with my child and it helped them understand that monitoring is for their safety and not me trying to control them.
I found that the Cocospy app is a fairly impressive monitoring app. Its features are broken down into four major categories:
General
Social
Media
Internet
General
The General section allows you to monitor various built features of your smartphone such as calls, contacts, SMS messages, and more.
Calls
The Calls section allows you to track the call logs of the target device. While using it, I was able to view the number that was contacted, and whether the call was received, missed, or outgoing. It also showed me the duration of the call along with the date and timestamp of the call as well as remotely block the number from my Cocospy dashboard.
Address Book
The Address Book showed all the contacts on my target device. This feature was simple and allowed me to remotely view my contact list on my target cell phone.
Messages
When it comes to reading your child's text messages, I understand the apprehension but I came across this article on Great Schools' website which shared that reading a child's text messages depends on the situation. So, I advise you to take your circumstances into account before making your choice.
With the messages feature, I was able to view all of the text messages sent and received on the target device. I could also see the date and time of the text, read it in full, and even block the number that sent it.
Location
No monitoring app is complete without location tracking, and Cocospy is no exception. I know the topic of location tracking can be a tricky one but I found this New York Times article to offer great insight on both sides of the debate.
With the Cocospy location feature, I was able to track the location of my target Android device. It showed me the address, longitude, and latitude, as well as the date tracked and the option to view the location on Google Maps. However, I disliked that the Cocospy app didn't have a geolocation feature.
Keylogger
The keylogger feature tracks everything typed on the target smartphone. You can use this to ensure that your child isn't having inappropriate conversations online. Another fun use: I've even used the keylogger to record passwords so they're not forgotten. Small wins, right?
Applications
The Applications section allowed me to see all the apps that are installed on the target phone. It also showed the date they were last tracked, as well as if they were installed or disabled. This feature also allowed me to remotely block and delete apps from my Cocospy dashboard.
It definitely comes in handy, because I learned via MakeUseOf that there are several ways kids can circumvent parental controls regarding restricted apps.
App Activity
The App Activity section allowed me to view which apps were active and for how long. I found this section useful but not as much as the one above.
Spyware Scanner
For added protection, the Cocospy app also offers a Spyware Scanner. I use this to remotely scan my device for any installed spyware.
If you're worried about spyware on any device in your household, here's how to uninstall spyware on Android phones and how to uninstall spyware on iPhones.
Social
The Social section of the Cocospy app covers multiple social media platforms. I always knew cyberbullying was a thing but the statistics honestly shocked me. According to Pew Research, nearly half of U.S. teens have been cyberbullied.
That's why I know that many parents would find comfort in Cocospy's Social monitoring features. It captures screenshots of the various social media apps and sorts them accordingly.
The screenshots are taken randomly and give you a peak into your child's online social activity without full access, such as the ability to read their private messages at will.
The list of the social media platforms covered is rather extensive, Here are some of the social and instant messaging apps that Cocospy can monitor:
WhatsApp
Facebook
Facebook Messenger
Instagram
Snapchat
TikTok
YouTube
Reddit
Discord
Dating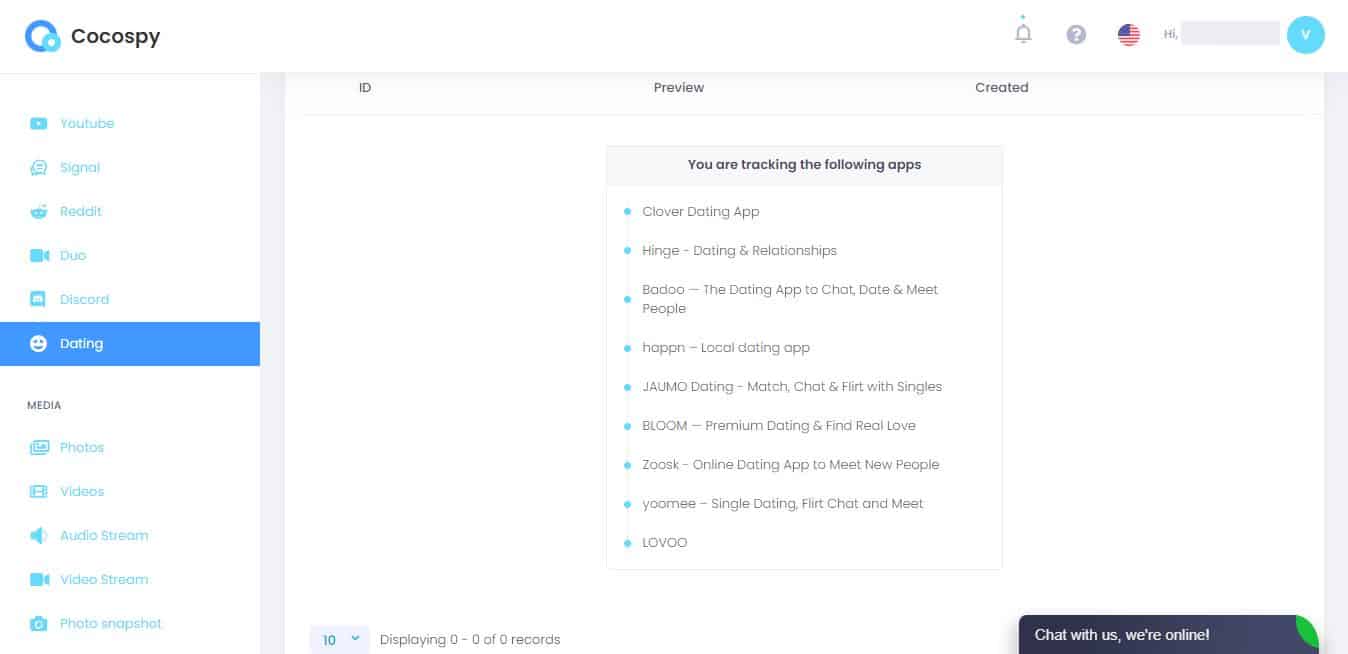 I came across a great article by the Atlantic that shared how many teens are using adult dating apps. Luckily, Cocospy also offers coverage of dating apps too.
Here are some of the dating apps that Cocospy tracks:
Clover Dating App
Hinge
Badoo
Media
The Media section of Cocospy gives you access to the device's media storage, as well as control of the phone's media-capturing features.
Photos
While testing Cocospy, I learned that the Photos section gives you the ability to view and download the photos that are stored on the device.
I think being able to monitor your child's gallery is important for parents so you don't have to worry about them sharing intimate photos. According to Thorn, a child protection organization, many children share intimate photos before parents can even get to talk to them about digital safety.
Videos
I found that the Videos section is the same as the Photos section. It allows you to view and download the videos stored on the target device.
Audio & Video Stream
These are experimental features so they're not guaranteed to work, and if they do, they might have a few bugs, which I came across during the testing, such as the video not showing or poor audio quality from the mic.
What they do, is allow you to use the target device's mic and camera to record audio and video of the surrounding area. This has to be manually done and I think it's a great feature, especially in the case of emergencies.
If this seems like too much for you, read our Spyic review, it may be more suited to your needs as it doesn't allow you to control the mic and camera on the target phone.
Photo Snapshot
The Photo Snapshot feature allowed me to remotely snap a picture with my linked device's rear or front camera. I think this would be great in an emergency and I even came across an article by Survival Mom that shared 50 emergency uses of your phone camera.
Internet
The Internet monitoring section is the one that'd interest a lot of parents especially since, as I mentioned, a lot of kids are now exposed to adult content. This section allows you to track email, browsers, browser history, and more.
Browsers
With this section, I was able to view screenshots of the browsers on my target phone. Cocospy covers a wide range of browsers, 46 to be exact. This covers default browsers as well as downloadable browsers. I love that the list is extensive as I was able to track even uncommon mobile browsers.
The list includes:
Google Chrome
Firefox Browser
Dolphin Browser
Samsung Internet Browser
Opera Mini
Email
The email tracking feature allowed me to view the emails sent and received on the target phone. It covered a wide range of apps too including:
Gmail
Microsoft Outline
Yahoo Mail
Samsung Email
Funny enough, I'd have thought that many kids don't use email often but came across this article by KIDSLOX that shared that email is still popular amongst kids.
Browser History
I came across a great article by The Guardian which spoke about why you should monitor your child's browser history. Cocospy allowed me to view the browser history on my target device
With this feature, I was able to see the title of the website, the URL, when it was last visited, and how many times it was visited. I was also able to block the website which is a must for any parent.
Browser Bookmarks
In addition to viewing the browser history on the target device, the Cocospy app also enabled me to view the browser bookmarks on the target device. The browser history is more important in my experience, as many kids don't tend to bookmark websites, but it's still a good feature to have.
Wi-Fi
With this feature, I could view which Wi-Fi networks the target phone has connected to. Cocospy also showed me location data so I could view the address of the network. I think of this as an alternative to location tracking and it can also work in the case of an emergency such as seeing the last place someone connected to the WiFi.
Customer Support
Cocospy offers good support, although there is room for improvement because the Contact Us page mentioned an FAQ or Support page. However, I wasn't able to find it on the website and it wasn't linked on the Contact Us page either.
During my testing of the product, I needed some assistance and found that you could contact their 24/7 customer support via the live chat option on their website or email, [email protected]. I opted for the live chat option and got a quick response with helpful answers to my queries.
Compatibility
Cocospy is compatible with both iOS and Android devices. The dashboard is online so you can access it via your desktop or mobile device, such as a smartphone or tablet. I found the dashboard easy to navigate on both desktop and mobile. Everything was organized well in different categories, which meant I didn't have to go searching for the information I needed.
Pricing
In terms of cost, Cocospy costs the same for both iOS and Android phones. This is a bit different than many other spy apps as the Android device version tends to cost more than the iOS version due to more features being available.
However, that doesn't seem to be the case with Cocospy, because while more features are available for an Android device (due to restrictions on iOS devices), they have still retained the same price for both.
The pricing wasn't readily available on the Cocospy website and I had to contact customer support for pricing. This isn't usually the case when reviewing spy apps, so hopefully, this is rectified soon.
There are three subscription plans available for a Cocospy account and the prices are as follows:
1-month Plan: $49.99
3-month Plan: $89.99
12-month Plan: $149.99
It's important to note that one plan allows you to only link one device. If you want to monitor multiple devices at once, you have to purchase an additional plan with the same email address.
Unfortunately, there is no free trial for Cocospy at the time of writing this review. However, there is a free demo available so you can test Cocospy's features in full.
FAQs
Is Cocospy any good?
Cocospy is quite good. During my test, I observed a spy app that does what it's supposed to do and does it well. The location tracking and call monitoring features are my favorite features because you can pinpoint the location of your child and even block numbers.
Can Cocospy be detected?
Cocospy can be detected but only if you allow it to be. There's the option to hide the app on the target phone or make it visible. Even if you decide to hide it, you can opt to tell your child that it is there, which is something I recommend.
How much is Cocospy cost?
Cocospy costs the same for both Android and iOS devices, which is not usually the case. The 1-month plan costs $49.99, the 3-month plan costs $89.99, and the 12-month plan costs $149.99. This is relatively more costly than other spy apps, but it's good value for your money.
Is Cocospy worth the money?
I'd say Cocospy is worth the money. It offers extensive monitoring of both Android and iOS devices, which, depending on your situation, may be a high priority. It allows you to track online social activity on the target device, view location, call logs, SMS messages, and more.
Can I trust Cocospy?
You can trust Cocospy. During my testing and writing of this review, I researched how other people felt about the app, and for the most part, users were satisfied with it. It also helps that Cocospy has a responsive customer support team to help with any doubts.
Cocospy Review – Wrapping Up
What'd you think of my review?
I know that as a parent or guardian, it's easy to worry about what your kids are doing online.
In my experience, Cocospy is a great monitoring app that can help you keep track of what your child is seeing and doing online. You can track their browser activity, call logs, messages, and location. However, Cocospy's pricing is its biggest downfall.
If you have any questions for me, be sure to leave them in the comments below. Share this article with your spouse and decide if a Cocospy account is right for your family.
Pros
Same price for both Android and iOS plans.
Feature-packed software that offers social media, general, and media monitoring.
Quick and easy installation.
Highly responsive and helpful customer support team.
A free demo is available to demonstrate how Cocospy operates.
Monitors an extensive number of social media apps, browsers, and email platforms.
Cons
Costs more than many other spy apps.
The color scheme takes away from a well-designed UI.
Doesn't offer any geofencing features.
No free trial is available.