Have you ever wanted to monitor your child's location without using Google Maps on Android devices or iOS location sharing? Do you want to know if you can monitor their location with just their phone number?
There are multiple ways to monitor your child's location, however, most of them can require several steps to facilitate location sharing. I like simplicity and the idea of monitoring my child's location with just their phone number seemed great to me. That's why I tested the GEOfinder app to see what it has to offer.
GEOfinder Review Summary
GEOfinder is a web-based parental monitoring service that allows you to track your child's location with just their phone number.
To make it work, you upload an image to GEOfinder and then it generates a link that you can share either via text message to your child's phone directly or to them via another messaging app like Facebook Messenger.
When your child clicks the image link, it sends their location data to GEOfinder. You can view their current location and additional information like the type of phone they're using and the Wi-Fi network they're connected to.
I know that monitoring your child's location can be a touchy topic, but I urge you to read this article on the parent website, Woombie, about its importance. What I like about GEOfinder is that you don't need physical access to the target device, just the person's phone number. This isn't the case for many other spy apps.
GEOFinder Features
The GEOfinder app uses GPS trilateration to give you the exact location of the target person who opens the link you generate. During my test, it gave me the recipient's location as well as the specific longitude and latitude values. While GEOfinder has its own map view, you can open the location in Google Maps too.
Another feature is the IP Logger which tells you which city and country your child is in. Plus there's a Wi-Fi Tracker that tells you which Wi-Fi network they're connected to, as well as the internet provider.
This is a great additional feature because if GPS tracking fails, Wi-Fi tracking is another way to tell your child's location. I learned more about Wi-Fi tracking and positioning from the Indoor Intelligence company, Inpixon.
One feature I personally found the most interesting was the VPN Tracker. This feature lets you know if the target person was using a VPN when they opened the link. It'll also show you if there's a Proxy or Tor being used via the VPN connection. I found this interesting because it's not a common feature in many location trackers.
Lastly, there's a Device Info feature that provides you with information about the target person's timezone, the browser they used to open the link, the type of device, and the operating system (OS) of the device.
GEOFinder Pricing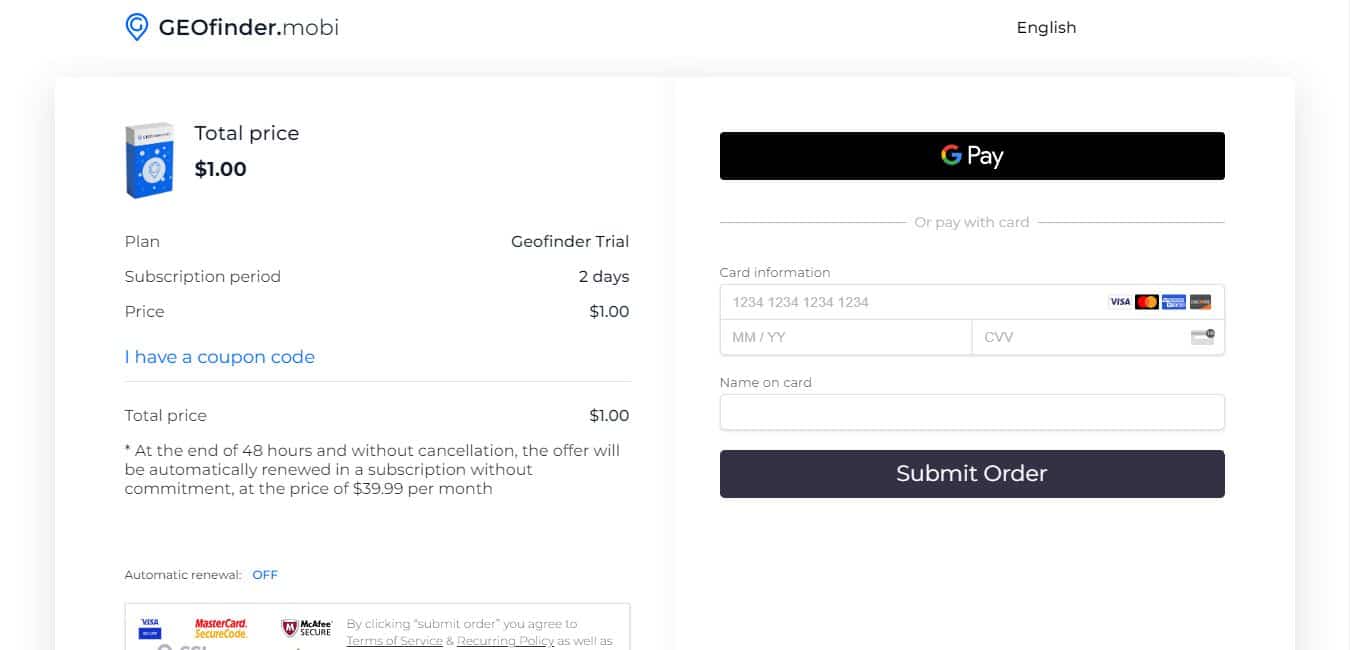 A GEOfinder account costs $39.99 per month. If you want to test it out, you can opt for the $1 trial, which lasts for 48 hours.
I was happy to learn that GEOfinder offers a 14-day money-back guarantee which is covered by the GEOfinder refund policy.
GEOfinder is an online service that you can access via the GEOfinder website. This means that GEOfinder can work on any device such as your phone, tablet, or computer. You don't need to download an app on any of your devices to use it.
Try out GEOfinder to see if it's right for you.
| | |
| --- | --- |
| Software | GEOfinder |
| Best Features | GPS Tracker |
| Supported OS | All devices supported |
| Monthly Price | $39.99/month |
| Free Trial | No, but a trial is $1 for 48 hours |
| Money-Back Guarantee | 14 Days |
| My Rating | 7.5/10 |
Does GEOfinder Work?
While testing the GEOfinder app for this review, I found that it was as easy to use as promised. I uploaded the image and the link was created. I did it on my PC and simply copied over the link to Telegram and shared it with a friend. Once he clicked the link, I received his location data immediately on GEOfinder.
One issue I ran into while testing was that the image wouldn't upload the first time. I was a bit stumped but then I realized that my session had timed out, so I refreshed the page, logged back in and it was smooth sailing from there.
Potential Problems With GEOfinder
While testing GEOfinder, I didn't run into any problems with the app itself. The location accuracy was spot on and allowed me to view the target device's location with ease. What I'd say is that given that the target person has to click the link for you to gain access to their location information, you'd need to think of a way to compel them to do so.
I learned via AngelSense, a parental monitoring software company, that you don't need consent to monitor your child's location in the U.S. You can do so without their knowledge as they are your responsibility, however, I generally recommend an honest conversation with your child before doing so.
However, it's illegal to track an adult's location without their consent. I found a great article by the World Population Review that tells you about the GPS tracking laws in each state.
What I Liked
Here's what I liked about the GEOfinder app:
Available for all devices
Offers a $1 trial for 48 hours
Provides accurate location data
Has a WiFi Tracker, VPN Checker, and IP Logger
Easy to use and requires no setup
Has a 14-day-money-back guarantee
Fast and responsive customer support team
You can track someone's location with their phone number
What I Didn't Like
Here's what I didn't like about the GEOfinder app:
No free trial or free demo – it costs $1 for 48 hours.
No customer support contact info until you purchase a subscription
You can only view the target person's current location, not their location history.
GEOfinder Review: A Full Recap Of Each Feature
The ability to track someone's location is one of the most standard features of parental monitoring software or just smartphones, in general. It helps with navigation, keeping track of your loved ones, and it's helpful in the case of emergencies. According to SpringWise Innovation Library, one of the benefits of location tracking is helping first responders quickly learn the location of people in need.
That's where the value of the GEOfinder app comes in handy. As I mentioned before, location tracking is pretty standard amongst most smart devices.
That being said, sometimes you want parental monitoring solutions that offer more than the standard GPS tracking. That's where an app like GEOfinder shines.
GPS Tracker
The GPS tracking feature is GEOfinder's staple feature and it works by using the native GPS tracking system on your mobile phone.
If you're not familiar, your phone's GPS uses what's known as trilateration, which is establishing your position by knowing your distance from at least three known points. I learned that from the official GPS.gov, the official United States website for the global positioning system.
With GEOfinder, the recipient's location is displayed on the GEOfinder map. You can also view the location on Google Maps. GPS trilateration is more accurate than cell phone tower triangulation due to GPS using satellites rather than cell phone towers. I learned this from WorkWave, a fleet management company.
During my testing, I realized there's no way to view your target person's location history with GEOfinder. This means that while you can use it to view your child's current location, you won't be able to see where they've been.
IP Logger
The IP Logger feature tells you the city and country where the target device is located. While it seems simple, I know this feature would help many parents ke
I understand why that information isn't more detailed, though, as in presenting actual IP addresses. If someone knew your IP address, they could spam you or impersonate you online. Check out this article by MakeUseOf, a great tech site, on why IP Grabbers can be security risks.
Wi-Fi Tracker
The WiFi Tracker tells you the name of the Wi-Fi network the device is connected to, as well as the internet provider. If the GPS on your child's mobile device is giving problems, the WiFi tracker is another way to monitor their location.
If you're not familiar with how Wi-Fi Trackers help you to track someone's location, take a peek at this article by VPNOverview, which shares how Wi-Fi location tracking works.
VPN Tracker
VPNs are used for accessing geo-locked content all the time. If you're monitoring your child's location and see that they're in another country, they're likely using a VPN.
GEOfinder has a VPN Tracker that tells you if the target person who clicked the link did so while using a VPN. It'll also show you if the VPN has a Proxy or Tor active.
I was actually using a VPN while I was testing GEOfinder, which you can see from the screenshot above. If you're looking to test out a VPN then check out how to try NordVPN and get a full refund.
Device Info
The Device Info section tells you about the target person's timezone, the browser they used, the type of device they used, as well as the OS of said device.
Customer Support
During my testing, I observed that GEOfinder's main form of customer support was live chat. But this was only available after you purchased a subscription. Before that, there is no contact option for potential customers to directly contact GEOfinder's team. There was neither an email address nor a contact form, which you typically find on other app websites.
However, the live chat was available 24 hours a day and provided fast and helpful responses. I also noticed that there was a GEOfinder News Feed for you to provide feedback on the product.
Compatibility
GEOfinder is compatible with all platforms. This is because it's an online service that you can access via the browser on your smartphone, tablet, or computer.
The links GEOfinder generates can be shared via text or a social media platform such as Facebook Messenger. This is why all it takes to track someone's location is their phone number.
Pricing
A GEOfinder account costs $39.99 per month. This is covered by a 14-day money-back guarantee. There isn't a free trial or demo available. However, you can try GEOfinder for 48 hours for $1 to see if it's for you.
If you're interested in GEOfinder, give it a shot.
Here's a video review of GEOfinder:
FAQs
How legit is GEOfinder?
GEOfinder is legit. The service works and provided accurate location data for any phone number we chose to track. However, note that GEOfinder requires the target person to click the link provided so that you can view their location, tracking is not automatic once you share the link.
What does GEOfinder do?
GEOfinder allows you to track someone's device using their phone number or another messaging method. It creates a link that when clicked sends you the location data of the device that it was opened on. The geolocation is swift and operates on a global scale.
GEOfinder Review – Wrapping Up
What'd you think of this article?
There are numerous parental monitoring solutions on the market that give you your child's location tracking details. However, many of them are cumbersome to set set up and operate. I found GEOfinder's easy-to-use parental control service that simply required you to use the target person's phone number to monitor their location.
It's a great tracking app that's compatible with all operating systems and devices.
If you have any questions, be sure to leave them in the comments below. And share this article too!
Pros
Compatible with all devices
Gives 48 hours of access for $1
Has GPS Tracker, WiFi Tracker, VPN Checker, and IP Logger
Smooth and easy to use without any setup
14-day money-back guarantee
24/7 live chat support
You can track a device's location only a phone number
Cons
No free trial
No detailed location history is available
No customer support until you purchase a subscription