You can track a cell phone's location with free tools and applications, such as Google Maps, Find My app, spying software, etc. Many third-party phone tracker apps like mSpy or uMobix allow tracking a cell phone location for free.
Have you ever needed to track the location of a mobile device? I did, not once but twice. Once, I was looking for my stolen phone, and second when I was worried about my niece's location after school and had to track her.
There can be many scenarios when you might want to track a cell phone. But what if such a situation arises, and you have no clue how to track the phone? Well, that won't happen if you continue to read this guide. By the end of this guide, you will learn how to track Android and iOS devices using different methods.
Track An iOS Device's Location With Find My
It will take you about 3 minutes.
iOS devices have a built-in application to track a phone location. It is called the Find My app.
Find My is a preloaded app you can find on any iOS device. You can use this free location-tracker app to track mobile devices if you have an internet connection. Here are the steps to follow:
Open Find My.

Tap on "Turn On."

Click on "Devices" and tap on the device you want to find.

You will find the location of the phone, along with other options like "Play Sound," "Get Directions," and "Mark As Lost."
Track An Android Device's Location With Find My Device & Google Maps
There are two ways to track an Android device's location. The first is using Google Maps, and the second is through Google's Find My Device service.
Using Google Maps
Like iOS, you can find a built-in app on an Android phone for tracking locations. The application we are discussing here is Google Maps. Since it uses Global Positioning System (GPS) tracking, Google Maps can show your Android device's precise and real-time location for free.
Most Android phones have Google Maps already installed. But if you can't find it in the pre-installed apps, download it from the Google Play Store.
Being a travel enthusiast who loves exploring new places, Google Maps is something I use frequently. But did you know that you can use the Google Map app to track a cell phone's location? Use the steps below to track the target device.
Enable location sharing from the Settings or by pulling down from the home screen.
Open Google Maps and tap on the profile picture.
Tap on the Location sharing option on the next screen.
Click on Share location to start sharing the location of the target phone.
You will get an option to choose the duration for sharing the location. You can increase or decrease the duration by tapping on the '+' and '-' icon. Alternatively, you can select the "Until you turn this off" option to keep location sharing on until you turn it off.
Swipe right on the Gmail accounts to find the "More" option.
Tap on More and share the location with yourself by typing your name, phone number, or email address.
Click on Send to share the location.
Once the location is shared from the target device, you will get a notification for the same.
You can tap on the notification to start tracking the phone using GPS location.
Using Find My Device
Alternatively, you can use Google's Find My Device service to locate your phone. All you need to do is open Google Chrome and sign in to the same Gmail account the target mobile phone has. After signing in, follow these steps:
Open Chrome and search "Find My Device."
Click on Google's official Find My Device link.
You will then find all the devices associated with the same Gmail account. Tap on the phone you want to find, and Google will locate the phone for you.
You can also download the "Find My Device" free app from the Google Play Store. The target device should have enabled location sharing for both the above methods to work.
You can also refer to this YouTube video for a visual demonstration of how you can track someone using Google Maps.
Using A Third-Party App Or Website
There are many paid spy apps out there, predominantly through use on a smartphone. These include apps mSpy and uMobix. Although these are paid options, they are well worth the money, as you get many exceptional features for parental monitoring with the premium versions.
But you don't have to spend money to avail of some of these features. There are many third-party applications or websites that help you track a cell phone location for free.
An important note, though: you can use a phone spy app to monitor someone's location. If you are spying on an adult without his or her consent, it is illegal under the Electronic Communications Privacy Act of 1986.
Moving on, here are a few apps that I found extremely useful.
iKeyMonitor
iKeyMonitor is a parental control app used by over 400,000 parents across 100 countries. It functions as a location tracker to fetch the live location of the target smartphone through GPS tracking. However, since it is a spy app, iKeyMonitor has many other features alongside cell phone position tracking.
The spy app can help track call history logs, call recordings, keystrokes, browser history, etc. It also stores location history. This means you can even check out previous locations the other person using the phone has visited.
It is an easy-to-use app for spying. All you need to do is sign up for free on the platform, install the application on the phone, and start tracking the location.
iKeyMonitor has a free version and a paid version. With the free version, you get to use limited features of the application. However, phone tracking is a part of the free features. This means you can use it to find location free of cost.
The app's premium version gives you additional features, such as a key logger, screenshot capture, social media tracking, call recording, etc. The app is compatible with all platforms, including Android, iOS, Windows, and macOS.
Spy Phone Labs Phone Tracker
Spy Phone Labs Phone Tracker is another tracking app for iOS and Android devices. It is a parental control app dedicated to location sharing. This GPS phone tracker app is compatible with both iOS and Android devices.
Here's how you can use the application for tracking location.
Download and install the application.
Open the application and register your phone.
Click on "Send GPS" to share your location or tap on "Click Here to View Contacts in Control Panel" to start tracking.
Click on the link that says, "Click Here to View Your Data."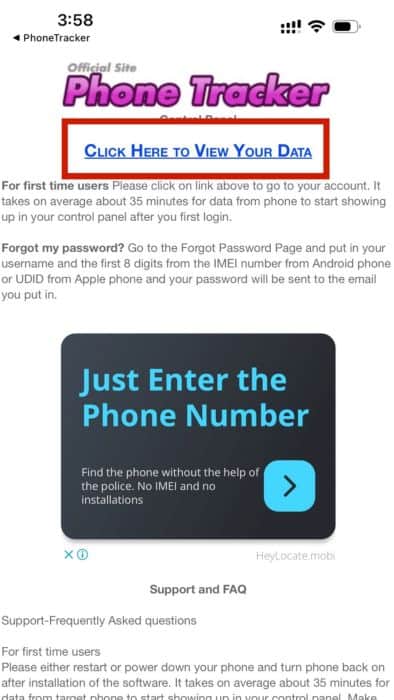 Unlike other spy apps, this one focuses primarily on two things, the smartphone's location and the apps installed on it. It can save and show you the location history and the current location of the target cell phone. Spy Phone Labs Phone Tracker has other features, such as a Panic button, Find Phone, Beep Phone, and contact tracking.
Glympse Tracking Application
Glympse is a free-to-use phone tracker app. You can use the Glympse tracking app for sharing live locations with your family members, friends, or colleagues. It was initially developed as an app for enhancing last-mile delivery customer experience by Glympse, Inc.
The idea was to allow geo-location tracking for customers to track their parcels in the last-mile delivery. But now, Glympse, inc has developed a separate free app to track cell phone location. It is compatible with both Android and iOS devices. You can download it from the Google Play Store or Apple Store based on your device.
I am downloading and running the application on my Android device for demonstration. Glympse is a fast and free application that uses GPS tracking to share the target device's current location. Here's how you can use Glympse for tracking location.
Download and open the app.
Tap on the three horizontal lines in the top-left corner.
Share or request location to track the target phone.
Phone Tracker By Number
You can also find third-party apps that locate phones using phone numbers. One such example is the Phone Tracker By Number app. You can find this app on Google Play Store and Apple Store. Here's how to use it on an Android device.
Install and open the app.
Click on "Locate a Phone."
Choose a cell phone number you want to track.
Tap on the "Locate" button.
Send an invitation to the target number.
Once the invitation is accepted on the target phone number, you can start tracking locations.
You can also track a phone's call location with a phone number tracking apps. This can be useful when you are receiving calls from an anonymous person and want to find out their location. However, the individual has to allow location sharing for this to work.
Facebook Messenger
Facebook Messenger is another free mobile tracker. If you know someone with Facebook Messenger installed on their phone, they can share their location with you. Here's how to share location through Facebook Messenger for tracking a smartphone's location.
Ask the friend to open Messenger and then your chat.
Next, ask to tap on the four dots in a square's shape in the bottom-left corner.
Tell them to tap on the Location option.
Tell the friend to tap on start sharing live location.
Once your friend starts sharing the location, you can track his or her cell phone using Facebook Messenger. This method does not work with Messenger Lite. So, try it only in the standard Messenger application.
FAQs
Can I Track The Location Of A Cell Phone For Free?
You can track the location of a cell phone for free by using Google Maps, the Find My Device tool, iCloud Location Tracking, Spying Software, Facebook Messenger, and a few other ways.
Can You Track Someone's Phone Using Google Maps?
You can track someone's phone using Google Maps by enabling the location-sharing feature on the target phone. Share the location with your email address or number to see the device's accurate location.
Start Tracking A Phone's Location For Free Now
Whether you want to track Android or iOS devices, It is easy to track a cell phone location for free. You can use built-in tools like the Find My App or Google Maps. Alternatively, you can opt for a third-party app like a spy app or location-tracker application.
There can be many scenarios when you want to track a target device. If you find yourself in such a situation, use any of the above-mentioned methods to locate the target phone. If you have any doubts or need help tracking a smartphone, let me know in the comments, and I will be glad to help.