As an Amazon Associate I earn from qualifying purchases.
Snapchat bought Bitmoji in 2016 and since that, the app got integrated into almost all places of the Snapchat app. It is not possible to have your own picture inside the ghost icon as your profile picture. Snapchat forces you to have a Bitmoji there or you can have it empty.
The users who didn't create Bitmoji can have their usual profile picture but once it's created your picture is gone for good. The same goes for Snapcode.
If you are looking to unlink or remove Bitmoji from Snapchat or Snapcode then we've got you covered. If you're in the opposite situation and want to add Bitmoji or wish to use it in your snaps then you'll learn the method for that too. Besides that, you'll also find out how you can use 3D Animated Bitmoji. All of these here in this guide! So, let's get started.
There are two ways to get rid of Bitmoji from Snapchat. One from their app and other from Bitmoji app. Let's have a look.
Remove Bitmoji From Snapchat In Two Ways
Directly From Snapchat
Launch the Snapchat app.
Tap on the Bitmoji icon at the top left corner.
Next, tap on the gear icon at the top right of the screen. Or select Edit Bitmoji at the top left and skip the next step.
Under My Account, select Bitmoji.
On the next screen, tap on Unlink My Bitmoji at the bottom.
Select Unlink on the dialog box to confirm.
If you created your Bitmoji using Snapchat login then it will not only be removed from Snapchat but also deleted from the Bitmoji app.
With this, your Snapchat profile picture and Snapcode won't have Bitmoji anymore. Also, you won't be able to add Bitmoji stickers from the option in the app. But you can always add them using the Bitmoji keyboard if your Bitmoji is not deleted from the Bitmoji app.
Also Read: How to Find Friends on Snapchat Without Username
Remove From Bitmoji App
Using this method will delete the Bitmoji hence it will automatically be removed from Snapchat as it won't exist in the first place.
Open Bitmoji app.
Tap on the Setting icon at the top left corner.
Select Reset Avatar.
Tap on Ok to confirm.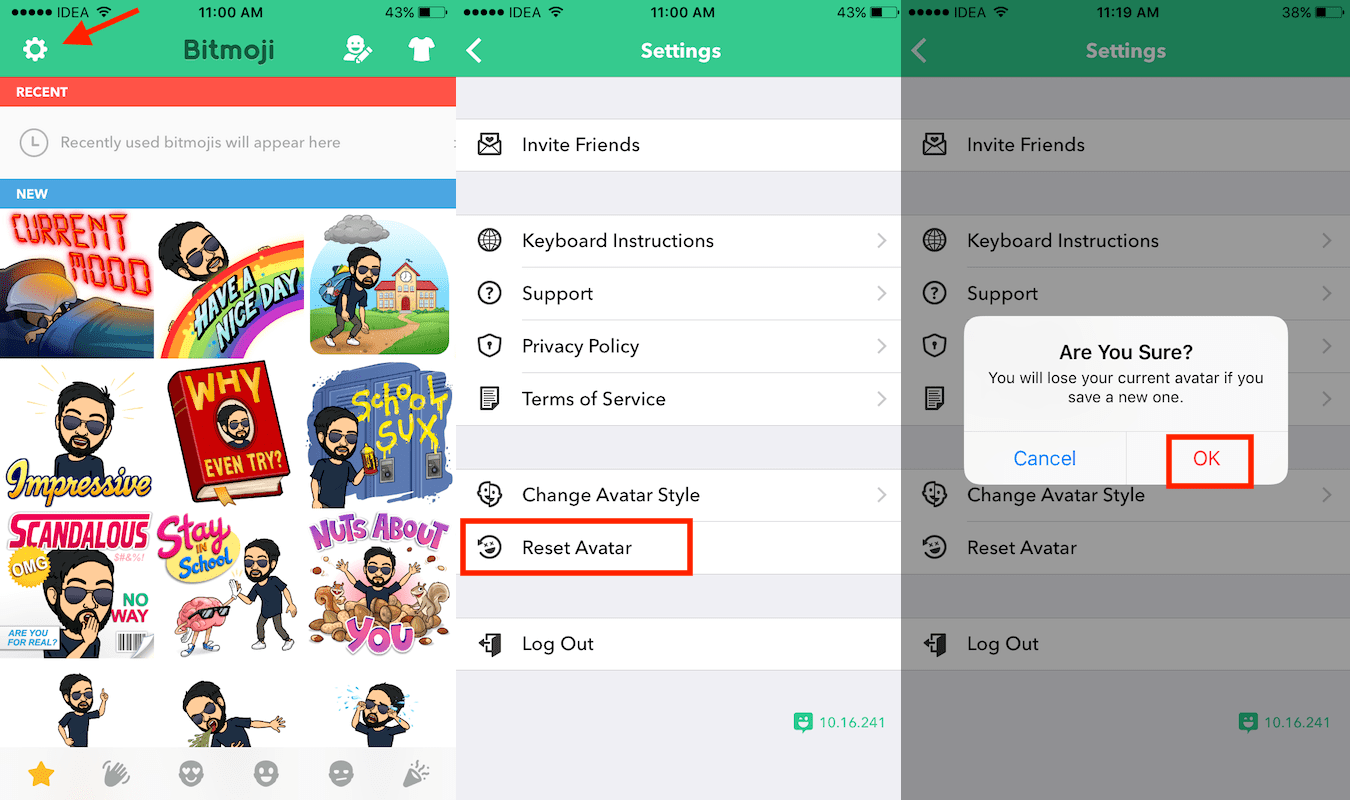 This will delete your Bitmoji from the app and hence everywhere in Snapchat.
Video With Steps
Check our video to see the steps in action:
How To Add Bitmoji Profile Picture On Snapchat?
In future, if wish to use a Bitmoji you will have to create a new one. So, here's how you can create or add Bitmoji.
Open the app once the installation is completed.
If you already have a Bitmoji account then tap on Log In at the bottom.
New users have two options either they can Log in with Snapchat or Sign up with Email.
The drawback of using the Snapchat account to sign in is that on removing Bitmoji from Snapchat, the Bitmoji avatar will be deleted and you will have to create it again.
So, make your choice and continue with the next step.
If you are signing up using Email then provide your birthday, first and last name, email address, and the password. Tap on Sign Up when done.
In case you chose to log in with Snapchat option, tap on Create Bitmoji.
The next step is about designing your avatar. There are plenty of options you can play with here. Face, hair, eyes, cheeks, accessories, beard to name a few. So put your creative cap on and create your Bitmoji avatar.
Once created, the Bitmoji will be automatically linked and added to Snapchat for users who used the Snapchat login.
If you chose email sign up, you will need to do a few more taps:
Open Snapchat and tap on the Ghost icon at the top left corner.
Next, tap on the gear icon at the top right corner.
In My Account, select Bitmoji.
On the next screen tap on Create Bitmoji. This will take you to Bitmoji app.
If the link opens in a browser then tap on Open at the top right of the page to launch Bitmoji app.
Next, tap on Agree & Connect.
You will be taken back to Snapchat and you should see your Bitmoji in your profile picture.
Now, let's get to 3D animated Bitmoji.
Add Animated 3D Bitmoji On Snapchat
Update the Snapchat app to the latest version.
Launch the app after it is updated successfully. On the Camera screen, flip to the rearview mode by double-tapping anywhere on the screen.
Switching to the rear camera is mandatory as animated Bitmoji lenses are not supported in the front camera.
Now, long press on the screen.
In a few seconds, you will see filters appear as usual. Among these filters, there are new 3D Bitmoji filters added.
Select the desired animated Bitmoji and point the camera toward the desired area or location.
Use your creativity to make the snap match the 3D Bitmoji. There is also a possibility to change the location of Bitmoji in the snap using drag and drop.
Start recording the video once you are satisfied by holding down the capture button.
It is possible to record multiple snaps at once. So if 10 seconds isn't enough there's no need to panic. You can record up to 6 snaps (60 seconds) in one go.
After you're done with the recording, send the snap privately as a chat or add it to your Story as you would do normally.
According to the settings in your app, the snap will be auto-saved to Memories. You can also save the snap to Memories or Camera Roll or both later.
How To Use Bitmoji On Snapchat?
Apart from using Bitmoji in the profile picture, you can add the stickers in your snaps. Here's how.
There are two ways you can add Bitmoji stickers available for different moods and situations to your photos and videos. One is using the Bitmoji keyboard and the other is using the Editing options inside Snapchat.
Bitmoji Keyboard
In order to use the Bitmoji keyboard, you will have to add it first. Follow the steps given here to add the Bitmoji keyboard for both Android and iPhone.
Once added, open Snapchat and capture photo or video or upload from Gallery/Camera Roll as usual.
To add the Bitmoji via keyboard, tap on the text option at the top right and switch to Bitmoji keyboard.
Tap on the desired Bitmoji and it will be added to the snap.
Using Sticker Option Inside Snapchat
Another way to add Bitmoji is to use the Sticker option.
Tap on the sticker icon in editing options.
Now, select the Bitmoji tab at the bottom.
Tap on the desired Bitmoji and it will be added.
Also Read: How To Create Personalized Stickers on Snapchat Using Any Object
Final Words
We hope that you were able to use and add Bitmoji or 3D Bitmoji to Snapchat and remove if required. Did you face any issues? Share them in the comments below.
Amazon and the Amazon logo are trademarks of Amazon.com, Inc, or its affiliates.