Are you interested in apps that allow you to track your or someone else's location and activity?
Although the jury's still out when it comes to the morality of spying on other people's online lives, as parents, it's understandable why you might want to consider installing an app that will help you monitor your child. The world can be a terrifying, dangerous place – especially for kids who may be a bit too trusting at times.
One of the best apps right now for location and activity tracking is mSpy (read our review to learn more about it). That said, if you're unable to use this app, be it due to the price or some other reason, then don't fret.
In today's article, we've collected a list of the best mSpy alternative apps on the market right now, both free and paid!
Best Free mSpy Alternatives
Qustodio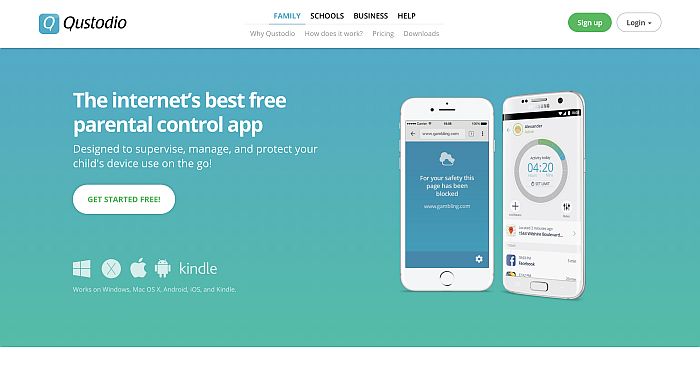 Qustodio is an easily-managed, highly-customizable parental control app that keeps track of your child's activity across several OS and devices, primarily on Mac and Windows, as well as on iOS and Android.
I consider this mSpy alternative to be, in many ways, a good monitoring tool for children and even adults. It enjoys cross-platform support and boasts several feature packs, such as Qustodio for Family, School, and even Business.
The user-friendly interface supports monitoring, blocking, and time-restriction functions for controlling your child's activities. It also offers a free version, albeit with limited functionality and only one device allowed to be monitor.
The biggest drawback is that Qustodio doesn't offer a lot in terms of social media tracking. In fact, you can only monitor Facebook and nothing else. Plus, if your child uses a VPN to browse, they can easily bypass the web filter on desktop browsers.
Lastly, the paid version is also relatively expensive, with plans ranging from $54.95 to $137.95 annually.
Still, it makes this list because it provides a wide variety of high-quality and useful functions, even though the full version comes at a premium price. Suppose you're looking for an entire arsenal of parental, organizational, and even academic control measures to keep your charges in line during their online hours. In that case, Qustodio is worth every penny.
Check out the free version here:
OpenDNS Home Internet Security
This second mSpy free alternative offers network-level security and control for all of your devices, making this list for its wide coverage and affordability.
I like this particular tool because, unlike other platforms that put a paywall in their most powerful functions, this one offers all of its services for free.
It filters everything that has access to your network – mobile or desktop – and tracks every URL visited, giving you periodic reports to keep you updated at all times. It also has basic protective features, like blacklisting and whitelisting sites.
However, the OpenDNS Home Internet Security configuration process does take a little bit of network know-how, so if it's your first time using apps like this, you may have a more challenging time at the start.
Not to mention, even with its protective features, some sites with malware and phishing still manage to get through, according to some reviews.
Although it wouldn't do well as a stand-alone app, OpenDNS Home Internet Security significantly bolsters your defenses when paired up with another parental security application.
Sign up for OpenDNS Home Security right now!
Kidlogger.net
Kidlogger is a tiny product that packs a huge punch. Made to be a lightweight keylogger, this 9Mb app is able to go above and beyond its weight class. It deserves a spot on this list for its sheer functionality and versatility.
Even though it has three tiers with annual prices ranging from $29 to $89, the free version alone is already filled to the brim with useful functions that can up your protection level. I love how the free version can run on five devices across all platforms – macOS, Windows, Android, and iOS – very easily, taking up an almost-insignificant space on the disk.
Despite its tiny size, Kidlogger can monitor your child's internet history, track activity timestamps, log keystrokes, see most-used applications and folders, and even periodically capture computer screenshots for reports.
It's a bit limited in terms of function, as you can only monitor and not control your child's activities. But in terms of sheer functionality-to-price and even functionality-to-application size, this tool will not disappoint.
Click here to get started now on Kidlogger!
Spyrix Keylogger Free
Simplicity is the name of the game when it comes to the Spyrix Keylogger, bringing a sackful of useful features to the table with its lightweight app and beginner-friendly setup.
If you're a parent looking to safeguard your children's browsing experience or an employer looking to safeguard your money from hackers, then Spyrix Keylogger has got your back.
Even with its free version, Spyrix already offers complete keylogging, running-application monitoring, periodic screenshot capture, remote uninstallation, and even analytics reporting. It runs as a downloadable app, but the web version can be accessed through any mobile or desktop OS. And to top it all off, the application stays completely invisible.
Unfortunately, though, better analytics and faster reports are behind a paywall and keep in mind that you can merely monitor and not control activities with this app.
A simple, invisible keylogger packed with such features as the Spyrix Keylogger is hard to come by these days. Don't miss out on its excellent security-enhancing features by starting here.
Kaspersky Safe Kids
Gaining a spot on this list for its reliability, Kaspersky has been in the PC protection game for a long time now, and it shows in the results that they deliver.
Kaspersky Safe allows you to monitor and restrict your child's online activities by installing the app on a phone and connecting it to your My Kaspersky account. I like how you can not only check reports and monitor your child's activity, but you can also take action by restricting access to apps, blacklisted websites, and harmful search requests, as well as managing screen time and battery monitoring.
It runs on all major operating systems, such as iOS, Android, Mac, and Windows. Although the free version is limited, it contains enough useful settings to make it to the list. The paid plans start at about $20.
Affordable and useful, Kaspersky Safe is pretty hard to pass up on for its price. Any parent would want the best for their child, and Kaspersky allows for affordability without sacrificing quality. Ensure your child's security by downloading it now for PC, Mac, Android, or iOS!
Google Family Link
Google's very own Family Link deserves a spot in this list because of how easy it is to operate and how seamlessly it integrates with your digital life.
This app aims to extend parenthood to the digital realm, allowing parents to monitor, manage, and restrict the apps that their children are using. More than that, it also keeps track of screen time, set daily device usage limits, set device turn-off time, track device location, and lock the device remotely.
Parents can also receive periodic reports of their child's digital activities. It integrates your devices seamlessly with the linked, parent-child Google accounts. Best of all, it's completely free.
However, although this integration is its greatest strength, it also limits its operation somewhat since you can only use it with a Google account. Moreover, the app runs only on a compatible Android OS, from Nougat 7.0 and above. If you have an older Android version, you should first check if it's compatible with the app.
Google allows digital parenting to be smooth and seamless with the Google Family Link – and it's never been this easy to download and register!
Screen Time Labs
If you're a parent looking to reduce your children's reliance on their mobile screens, then Screen Time is going to be good for you. Feature-packed, this app carved its place on this list through its sheer brute force – packing in as many helpful features as it can muster.
Screen Time boasts app monitoring and regulation, screen time limits, schedules, and even tasks that the children can do to increase their screen time. More than that, one can instantly pause a device on demand, track your child's location, and even geo-fence their location.
However, internet security for this app is nonexistent and while the paid version lists "web filtering" as one of the features, reviews suggest that it doesn't offer security.
If you're looking for online protection while your children surf the net, you're going to need another application for the job. Moreover, I find that this app is quite buggy to use, and some user reports have mentioned some malfunctions that reduced its effectiveness.
Nevertheless, Screen Time is still a powerful tool for parents wanting to control their children's behavior on their screens. If you're in any way a concerned parent, then getting started is as easy as one click!
Best Paid mSpy Alternatives
uMobix
uMobix is one of the best alternatives to mSpy. One of its most advanced features is that you do not need to jailbreak iPhone to receive full access to such social media platforms like Facebook and Instagram.
BTW, if you are only interested in monitoring Instagram, check out this post with the best Instagram spy apps.
uMobix supports other social media platforms such as Tik-Tok, Tinder, and Snapchat. It also supports ten messaging apps including Skype, Kik, WhatsApp, and more.
As you may already know, WhatsApp encrypts all the messages but it does not prevent uMobix from hacking it. Read more about this spy app in our detailed uMobix review.
Check this video to learn more about uMobix:
Famisafe
Famisafe is award-winning software that gives you the complete package for your children's digital security. With Famisafe's feature-packed plans, excellent customer support, and top-notch privacy, it's no wonder that it made it on this list, even if you have to pay a price for it.
This security tool features both digital and physical protection measures. On the digital side, Famisafe lets you time and schedule your child's screen exposure, manage and restrict apps, view your children's browser history, and monitor their online activity.
On the physical side, you can track your child's location, see your kid's location history, and even set up geofences to alert you if they go outside a certain area.
That said, this app's primary disadvantage is that it is quite expensive, starting at $59.99 annually. More than that, it only supports mobile OS, like Android and iOS. Desktops aren't supported yet as of this writing.
Famisafe is a wonderful tool for keeping your children safe as they navigate both the online and real-world. It's like having a second set of eyes looking over what they do on their phones and making sure everything's alright. Read our Famisafe review to learn more.
To avail of Famisafe's offers, start here:
ClevGuard
This tool is a security solution for all your family and organizational security needs and they and offer full support for Android, iOS, Windows.
ClevGuard offers various security packs, such as KidsGuard for Whatsapp, KidsGuard Pro for Android, iOS, and iCloud, and MoniVisor for Windows. With these packs, you can have reliable coverage from your children's text or your employee's Windows desktop activities.
Each pack contains location tracking, geofencing, and location history features. Moreover, it offers a variety of monitoring packages, such as file access, phone call recording, private photos, and screenshot capture. I like how this can all be done covertly, without your target knowing about it.
Sadly, customer support is a little spotty with this one in terms of response time and availability, according to customer reviews. More than that, setting up monitoring systems and accessing the target device's files remotely is a bit of a hassle to do.
Feel like ClevGuard is doing something right with their offered features? Installation is as easy as one, two, three!
Get 20% OFF on all license types at KidsGuard Pro: Use coupon code 6STW-S08A during checkout. Expires 12/01/2022.
Get KidsGuard Pro
FlexiSPY
Last but not least, we have one of the most advanced digital monitoring and security systems in the world, FlexiSPY.
This app lets you do everything you need and more. It's the most comprehensive monitoring app you will ever need, running on all platforms like iOS, Android, Mac, or Windows.
It does everything from recording phone calls, keystroke logging, email, SMS, Facebook, Whatsapp access, microphone and camera access, and even location monitoring. I love how you can do everything covertly, without your child ever knowing.
However, the app does not come cheap, with the FlexiSPY Extreme starting at $199 for a 3-month plan. Moreover, the installation and setup require a bit of work, as you need to have some technical knowledge to get it to work.
But if you're up for all that, then FlexiSPY is definitely the right one for you. Get spying now!
FAQ
Is There A Free App To Spy On Someone's Phone?
There are lots of free apps to monitor someone's phone, the best of which we've listed for you above. However, free software often has limited capability, and you may have to upgrade to the premium plan or install other software to get all the features you want or need.
Is It Bad To Spy On Someone's Phone?
You should only spy on someone's digital life if you have the proper authority to do so. If you're a worried parent with a minor or an employer who wants to make sure your employees are being efficient workers, you may be able to do so as long as you respect boundaries and abide by local laws. Do note that spying on someone's phone or computer is illegal in many places, especially if the employees aren't notified beforehand.
What Is The Best Alternative To mSpy?
We've listed the top 11 mSpy alternatives for you in our post. They all have their features, pros, and cons, and whatever works will depend on your particular situation and needs.
Using The Best mSpy Alternative Apps
Now you know the best mSpy alternative apps on the market right now! If you want to take your monitoring to the next level, you might also want to check out some other parental control apps in order to keep your child safe at all times.
Did you like this article? Have you tried using any of the apps on this list? Don't forget to share with us your thoughts in the comments below!