Ukulele trend is returning in the market and in the recent years, Ukulele sales have soared high. The beauty of Ukulele is that it can match up with classical as well as pop. In fact, some of the best singers have rolled out entire Ukulele albums. So if you are one of those who want to catch up with this trend and learn to play Ukulele, we have got best Ukulele apps for iPhone and Android.
Best Ukulele Apps
These days you can learn almost everything on the internet. And thanks to these apps, you would get to practice a lot and you would become a pro very soon.
1. The Ukulele App
Those who are serious about learning Ukulele must have heard about "The Ukulele Teacher" on YouTube. The good news is that we have an app in conjunction with this famous channel – The Ukulele App. Not only it is a great tuner, but you also get access to the necessary Ukulele lessons on-the-go. You can search for chord names, scales and modes. And in case you feel any difficulty in using the app, there is a manual inside the app itself. You just need to click the top right corner of your smartphone and the Ukulele teacher would help you out.
2. Real Ukulele Free
If you think you want a perfect Ukulele simulator on your phone to practice as and when you want, the Real Ukulele Free is the app for you. You would love the sound quality and it would give you a realistic experience. The user interface of the app is also very clean and you would get used to it in no time.
For those who are already aware of the chords and some of the tunes on Ukulele, this app would serve as a practicing tool and for those who are completely new to learning the tool, this would give a nice start. This app also provides you an option to switch between the strings, the nylon ones and the steel ones.
Platform: Android
3. Yousician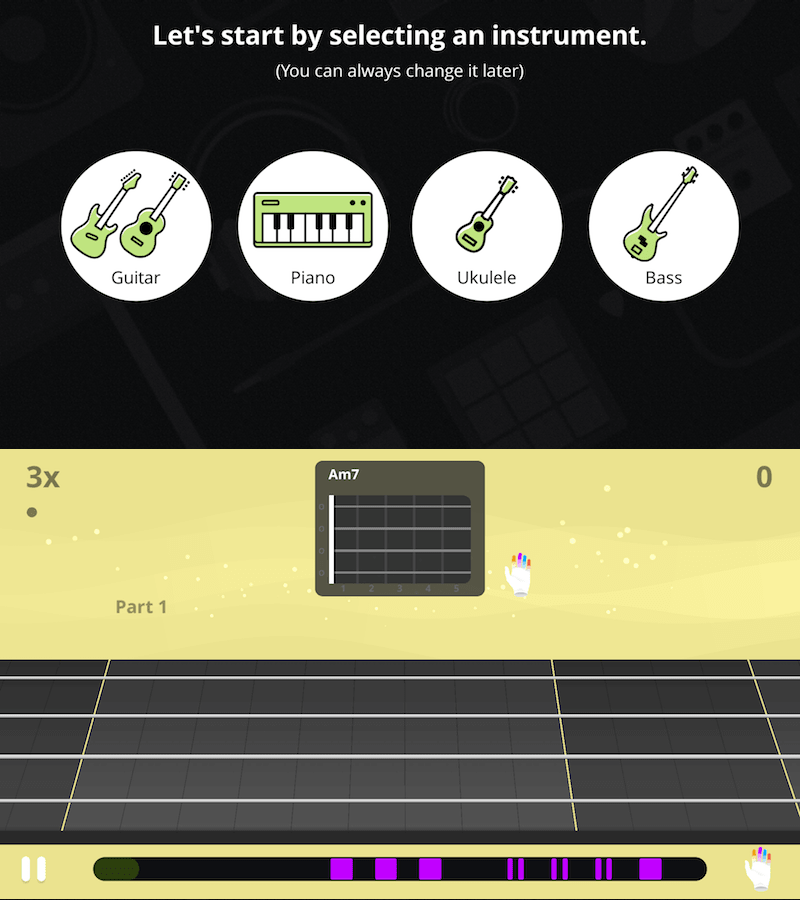 Though Yousician is not tailor-made for only Ukulele players, it is definitely one of the best app-tutor available. The bright side is that you can learn Piano, Bass or even Guitar along with playing Ukulele. The good thing about this app is that you can choose your pace at which you want to learn. If you think you can devote only weekends, the app would adjust, it does not have a jangling urgency to finish a tutorial on the same day.
Also, you would get instant feedback for every trial that you make. Constructive feedback would definitely help you learn better. You would also get to learn in a fun way with the help of the game plays and rewards that the app offers.
Also Read: 7 Best Dance Learning Apps for iPhone and Android
4. Ukulele Companion
This is yet another powerful app to learn Ukulele. It comes packed with the most amazing features such as custom themes, an advanced tuner, display options, chord charts, auto strum, dynamic string indicators and much more.
The tuner is really handy and you can access the huge database of the necessary chord charts very easily. The app is rightly called as a companion because you can count on it to provide you any information you need regarding Ukulele. And once you know the information it is much easier to learn to play.
Platform: iOS
5. iUke
The perfect app for iPhone when it comes to Ukulele enthusiasts. This is a sophisticated app and hence you would master it in no time. You would not need to go through complicated tutorials to learn using the app. In case you want to learn a new song, you can just pick it up directly without going through the whole process of learning basic chords, then intermediate ones and then the ones which pertain to your song.
There is an option to play solo as well as with a band. Also, you get a feature to record your song and then share it using the various social media options.
Platform: iOS
6. My Ukulele
When you install the My Ukulele app on your device, you would feel as if you are playing an actual Ukulele and not a simulator, such is the smoothness of this app. Just like the real Ukulele, you would be holding strings in one hand of yours and simultaneously you can strum with your other hand.
There are various modes such as the tab mode, the chord mode and the combined mode. Based on your interest and the timing, you can choose any mode and enjoy the learning experience. The app opens in a full-screen mode and the graphic quality is excellent.
Platform: Android
Also Read: 7 Best Face Changer Apps for iPhone and Android
7. Ukulele Toolkit
 This app is a paid one but we assure you that it is worth every penny. You can get it for $3.99 from the App Store and get everything you need to know about Ukulele at one place. Whether you are a beginner or an advanced-level player, you are going to love this app. You can tune into your favorite mode and even change the frequency if you don't like the standard A4.
If you are a left-handed person, you would be glad to know that there is an option to switch to left-hand mode. The chord progression feature lets you understand the instrument well and learn at your convenience.
Platform: iOS
Conclusion
So try out these amazing Ukulele apps and join the trend today. Pick up that instrument and who knows, you might be the next big star!
If you plan to install any of these apps on your child's phone, you might also need to install some kind of app for a parental control . Here's a list of free apps that do the job.
Let us know what you think in the comments!