It is at the height of love for music that we even want to see the music happening. Sometimes we are into some songs so much that we would love to visualize their beats in all possible patterns. Music visualization is possible because of amazing music visualizer apps and software. Most of you might be already loving them because they look best as a screen saver too.
So, we bring you the list of some top music visualizer for PC, Mac, Android, and iOS that will leave you rock and roll.
Best Music Visualizers For Android And iOS
In case you want a visualizer for PC or Mac then skip to the next section below in the article.
AudioVision Music Player
If you are looking for a soothing music visualizer that can also play songs from your device in real time, this is the best app for you. It is basically a music player but its visualizers are as good as any other app. This app has whopping 6 different visual skins that can be customized from the settings.
You can adjust the sensitivity and size of the visualizer, width of its border etc. It is possible to double-tap and switch to full screen and you can also change the background of the player.
App link: Android
projectM
projectM is one of the most used audio visualizers on Android. It has no inbuilt music player but truly serves its purpose with its multiple skins. It has almost 40 presets to give you a wide range of audio visualization experience. The presets can be changed by swiping left or right. You can even affect the flow by dragging your finger over the skin.
As I told you there is no inbuilt music player but you can play/stop or change the song by tapping dedicated buttons. The visuals can be seen on the full screen by double-tapping and the transition looks really beautiful as the beat changes.
This amazing visual effects app is also available on iOS but that is completely paid.
Anytime Visualizer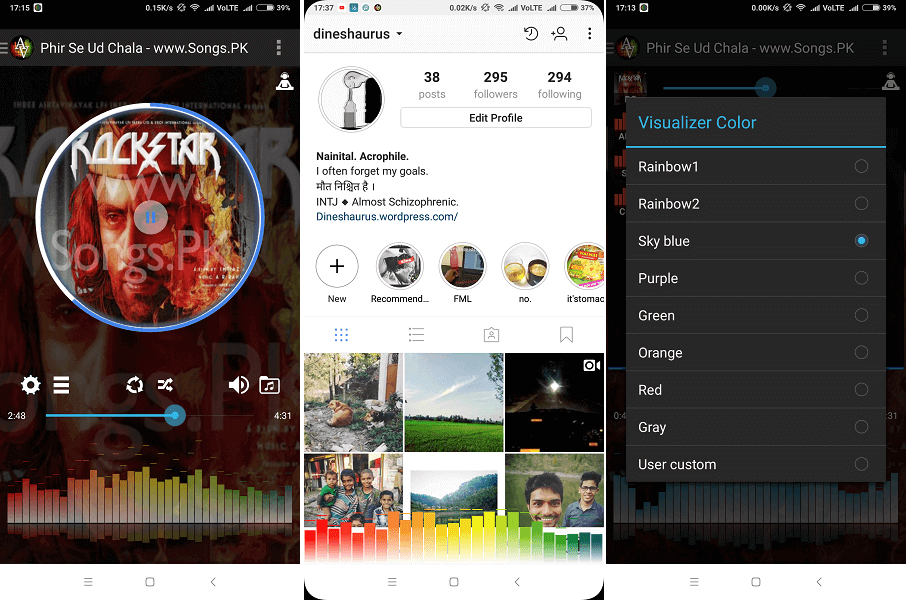 It is also an impressive music visualizer for your Android phone. Anytime Visualizer too can work as a music player. The best part about all the mentioned apps is you don't have to worry about registering or importing the songs from anywhere. Just install the app and open it. All the audio files will be there waiting to be played.
The special feature of this app is that you can even choose to show the visualizer while not on this app. It means while you are scrolling through other apps, the visualizer will be still playing at the bottom of your screen.
App link: Android
Absorbed
This is the only music visualizer app on the list which is available for iOS. As all songs on your phone are synced with the app, you can play the songs from the app itself.
Absorbed is an 'easy to use' visual effects app with not many features, which means that its user interface is quite simple. It allows you to choose from four very comforting visuals. There is also a microphone button after tapping on that you can even visualize the songs played on other devices.
App link: iOS
Beatfind
This is not a music visualizer app in the real sense. This app is basically for finding a song when you have got the tune or you hear a tune nearby similar to Shazam.
Beatfind is a very simple app. When you play any music on your device, just open the app and the music visualizer is on the homepage only. Though there is just one type of visual, it looks very soothing.
You can change the color pattern from the settings. The extra good part is, you can also enable your flashlight to blink with the beats.
App link: Android
Best Music Visualizers For PC And Mac
MilkDrop 2
This software is a music visualizer for Windows PC and works as a plug-in with the Winamp music player. It means you have to download Winamp music player in order to use this cool software. It has hundreds of different skins that go perfectly with the theme and beats of the music.
When you play the music on Winamp just click on visualization and enjoy. The visuals can be changed by clicking on the arrow at the bottom left and option for full screen is also available.
App link: Winamp music player
iTunes
iTunes is available on macOS and Windows for free. You can add songs to the playlist and watch the trippy audio visualization in real time.
Though there are only a few modes available, some shortcuts make it easy to improve your visualization experience. You just have to press buttons . and ? and all the shortcut keys will be mentioned on the screen.
You can change the mode, palette, toggle freeze mode, nebula mode etc. with the shortcuts.
App link: iTunes
FAQs
Does Spotify have a visualizer?
Spotify does not have a visualizer app anymore. They used to have it (you could access it by typing "spotify:app:visualizer" in the search bar) but it seems that the app got discontinued.
Is there a visualizer for iPhone?
There are many visualizers for iPhone available in Apple Store as third-party apps. In our post, we collected the best ones. However, there is no built-in visualizer on iPhone.
Did You Like The Best Music Visualization Software We Found?
So, these were the best free music visualizers to download for you, available on different platforms. If you too have discovered the colorful and endless journey of any good music visualizer, tell us in comments.