Are you still looking for a 3rd party screen recording app on the App Store or software that can let you record the iOS device screen?
Much to your delight, iPhone has screen recording as a native iOS feature.
Now, you may want to know how to get sound recorded as well while the screen is being recorded.
If you are a vlogger or blogger, you might need to record the phone's screen to illustrate the steps for some procedures. It is very important for you to explain the procedure clearly to your viewers.
Or if you simply want to save someone's Instagram story or live video anonymously, you can also use screen recording.
We've got you covered in this tutorial. Read on to know how to record iPhone screen with audio.
Here's how to enable screen recording on iPhone.
Enable iPhone Screen Recording With Audio
Since you can customize Control Center, that's exactly where we are going to add a screen record option.
Add Screen Recording Button To Control Settings
First, let's add the screen recording shortcut to Control settings using the steps below:
Open Settings
Tap on Control Center under Settings
Now, tap on Customize Controls
In More Controls section you should see Screen Recording option
Tap on green + icon beside it to add it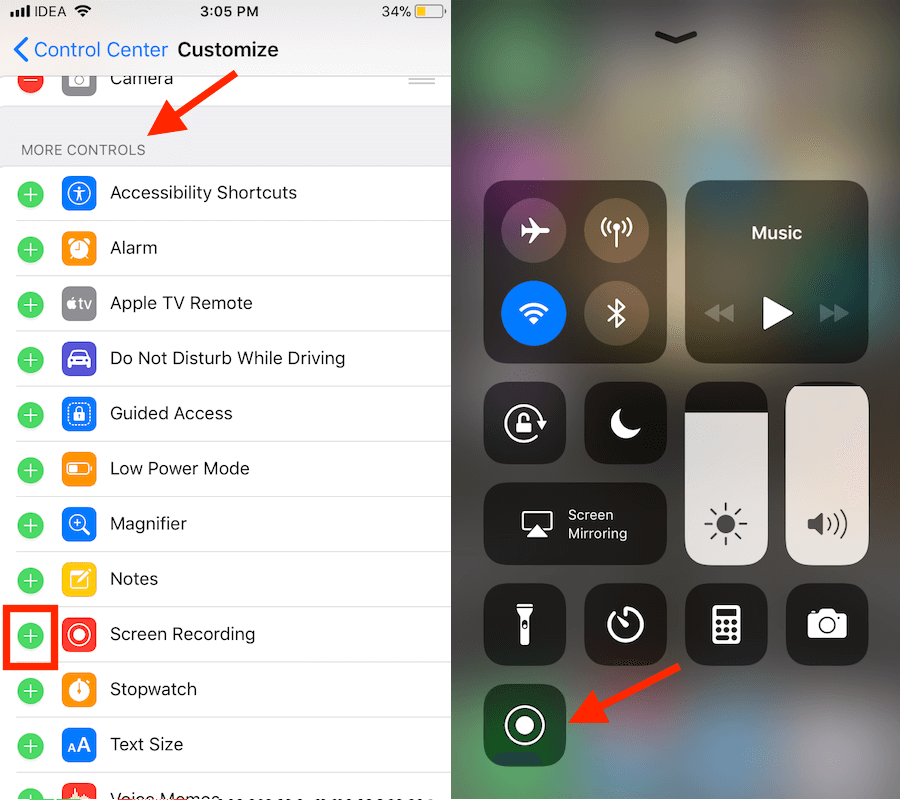 That's it.
Do The Recording
Now, let's see how to do recording:
Get out of the Settings
Swipe upwards to bring up the Control Center.
At the bottom left there will be a record button; tap on it to record the screen.
After a 3-second timer, the screen will start getting recorded which is indicated by a red bar at the top.
To stop the recording, you can either use the screen record button in the Control Center or tap on the red bar at the top and select Stop on the pop-up box.
The video is saved in the Photos app once it is completed.
The microphone is turned off by default which means that there will be no sound recorded in the screen recording video.
If you wish to record audio along with screen recording then there's one more thing you need to do.
Record Screen With Audio On iPhone
To enable microphone audio for screen recording long-press the screen recording icon in the Control Center.
On the next screen, tap on the microphone icon to turn it on. It will turn red when enabled.
That's it.
The next time you start screen recording the sound will also be recorded in the video.
You can disable the audio later if desired by long-pressing the screen recording button again and tapping on the microphone icon which is red this time. It should become grey when turned off.
Screen Record With Record It!:: Screen Recorder
The native iOS screen recorder feature is great as it allows you to easily capture screen recordings without any hassle. However, if you're looking for another way to screen record on your iPhone, you can use 3rd party app such as Record It!:: Screen Recorder.
Available for free on the App Store, Record It!:: Screen Recorder allows you to screen record with audio and save those recordings to your phone with ease.
Here's how to do it:
Go to the app store and install Record It!:: Screen Recorder.
After you've installed the app, open it and tap the record button to begin your recording.
Next, you'll see a pop-up that states that everything on your screen will be recorded. On this page, you'll also see the microphone icon, it'll be automatically off, tap it to turn it on. Afterward, tap Start Broadcast to begin the screen recording.
Screen recorders are great for saving Instagram stories and that's what I used this one to do. You can do it too by opening Instagram and viewing the story while the screen recorder is running.
Once you're finished, tap the red bar at the top of the screen and tap Stop to end the screen recording.
Once you're finished, open the Record It!:: Screen Recorder app and tap My Recordings to view your screen recordings. Screen recordings from a 3rd party app are often saved to the app and not automatically saved to your camera roll. Therefore, you have to save them.
From the list of screen recordings, open the one you want to save.
Tap Share and then save to camera roll to save it to your camera roll. There you have it, you've successfully screen-recorded video with audio on your iPhone.
Video Instructions
You can see all these steps in action in our video:
FAQs
Is there audio in iPhone screen recording?
There is audio in iPhone screen recording but it's not automatic. You can screen record `with audio, however, in most cases, you have to turn your microphone on to do it. This is because most screen recorders often have the microphone off as a default.
Can you screen record audio only?
You cannot screen record audio only as a screen recorder automatically records video. However, what you could do is convert the recorded video to an mp3 file which would give you the audio only, and get rid of the video portion of the screen recording.
Why is there no sound when I record my iPhone screen?
There is no sound when you record your iPhone screen because the microphone is off. You can easily turn it on by long pressing on the screen record button and tapping the microphone icon. Now you'll have sound when you record your iPhone screen.
Final Words
Using this feature, users can now record the iPhone screen with audio without any software, computer, app or jailbreak solution.
We hope that this new addition is going to help a lot of users in recording the iOS device screen.
For me being a blogger this is going to let me quickly record tutorial videos for our YouTube Channel.
What are your thoughts? Share with us in the comments below.