Most of the default gallery apps on Android phones are monotonous.
A good photo gallery app is a must if you are proud of your photos collection. Yes, I am proud of my photos and meme collection.
On my current phone, the folders are shown in the list and then the photos inside them appear in small thumbnails.
That is totally not impressive especially when I am in habit of checking the gallery a lot. If you too are searching for good gallery apps for Android, your search ends here.
There are hundreds of gallery apps available on the Google Play Store, but not all are worth it. Some of them are popular but when you use them, it feels like you are inside the ads gallery.
Worry not, I have made the list of best gallery apps for Android that will make your pictures and videos look alive.
Best Android Gallery Apps On Play Store
1. QuickPic
This app should undoubtedly top the list of best gallery apps for Android. Firstly, we have used the default gallery on our phone a lot so we are not in the habit to see ads ever with our photos and videos. This app is completely ad-free. The interface of QuickPic is pretty simple yet looks perfect for a gallery. The thumbnails are of medium size and you have the option to change the mode to Stack, Grid or List.
You don't have to watch the pictures folders wise, you can even set to 'Moments' from the settings and all the pictures will appear in groups according to time or the location where they were saved or taken. On the home screen, there is a shortcut button for opening the camera too.
QuickPic offers you 2GB of cloud storage for free where you can keep your private photos safely. This is another solution to low storage on your iPhone.
The app can also be linked to various other cloud drives like Google Drive, OwnCloud, Dropbox, Amazon Drive , OneDrive, etc. You can send pictures and videos to your friends from QuicPic using the Wi-Fi Transfer.
Get Quickpic from Play Store
2. Simple Gallery
Another amazing gallery app without ads. But don't go by its name, it is not that simple. On the home screen and inside the folders, the app lets you sort your photos and videos with many options you can see in the picture above. The thing I liked most about the app was you can also filter the media search by Images, Videos, and GIFs. Earlier I couldn't find the reaction GIFs quickly which I have been saving for a long time.
You can change the look and orientation by switching to 'Show all the folder's content' which removes the folders and show all the pictures at one place. You are allowed to increase or reduce the column count of the gallery. Apart from this, there are many options in settings about visibility, actions, themes, thumbnails etc. You can also enable or disable the option to move items to recycle bin instead of deleting.
Get Simple Gallery from Play Store
3. A+ Gallery
With more than 10 million downloads on Play Store, A+ gallery has currently rated 4.5 stars. This app is like a file manager for photos, but with the better look and more features. In this app, there are 2 important tabs named 'PHOTOS' and 'ALBUMS'. All the photos from all albums sorted by latest time will appear in the 'PHOTOS' section and they can be sorted further.
In the 'ALBUMS' tab, you can open Individual albums to see specific content. You can even sort the albums by date or name. The theme of the app can be changed to Black, Sky and Deep Black. More themes, Recycle Bin and Remove Ads are the features of the premium version of the app.
Get A+ Gallery from Play Store
4. Piktures
Piktures is different and definitely, it can be considered as one of the best Android gallery apps. I really liked its interface. Other apps have different sections for photos and albums but on this app, you will see the albums on the side menu, with just a right swipe. And the albums are there with good sized thumbnails.
By swiping left, you can apply filters of 6 types — Pictures, Videos, GIFs, Places, Dates, and Tags. No other app has this much ease of finding your content. On the homepage, there is a 'Calendar' button at the top. When you tap on it, all the pictures and videos will be inside a monthly calendar with thumbnails, and you can tap on the date to see all pictures of that day.
Get Piktures from Play Store
Also Read: How To Stop WhatsApp From Saving Pictures To Gallery/Camera Roll
5. Gallery.AI
For your hundreds or thousands of photos, all you want is a simple and ad-free gallery without much complexity. The app is just 3.4 MB in size. On the home screen, all albums are displayed and there is a camera button at the top. It has no menu button or another tab on the home screen. When you open the folder, there is just the option to select all the pictures or select one by one and then delete or share them.
The app is fast and opens folders and pictures quickly. You can crop a picture, set as walls or profile picture, rotate, delete or show on a map if there is location info. The only problem I faced was that all the portrait pictures were displayed horizontally in the thumbnails. When opened they were shown correctly. But you should surely try this app if your default app hangs a lot or have just the list view.
Get Gallery.AI from Play Store
6. Photo Gallery & Album By iJoysoft
iJoysoft has taken features from many apps to make this app different. Here you have 3 tabs where you can see all the pictures, all folders, and the encrypted ones. Yes, this app allows you to encrypt the pictures from the gallery and they go to the 'PRIVACY' tab that opens with a pattern you set.
There is an option to change the view to reverse, this will enable viewing the pictures from bottom to top like in old windows phones. You can also change the layout as large, medium, and small view. The app also has an inbuilt image editor so that you can do some basic editing with it. The only drawback of the app is ads. Every time you close the app, you have to see a video ad.
Get iJoysoft Gallery from Play Store
7. Camera Roll
Another simple but perfect gallery app for the Android phone. There are albums on the home page with wide covers. These albums can be sorted by name, size and date. You can even open an album and choose to pin that on the top of the homepage. A setting I liked is, inside the album you can increase or decrease the size of thumbnails of the pictures by increasing or decreasing column count from the settings. This app also has a file explorer, where you can find all the files and folders located on your phone.
Get Camera Roll from Play Store
Also Read: 4 Best Duplicate Photo Finder And Remover Apps
8. FOTO Gallery
Talking of gallery apps for Android, Foto Gallery can't be ignored. Currently, it has 5 million downloads on Play Store. The app is small, fast and without any ads. From the drop-down menu at the top, you can choose to see all the photos, videos or albums on the home screen. There is also a shortcut button to create a new album.
This app has the similar feature to change thumbnail columns like the Camera Roll. FOTO Gallery can make organizing your pictures and videos very easy. Tap on the 'Organize' icon at the top and then on one or more album. You will be able to delete or move all the pictures of those albums to the different folder options available.
Get FOTO Gallery from Play Store
9. 3D Gallery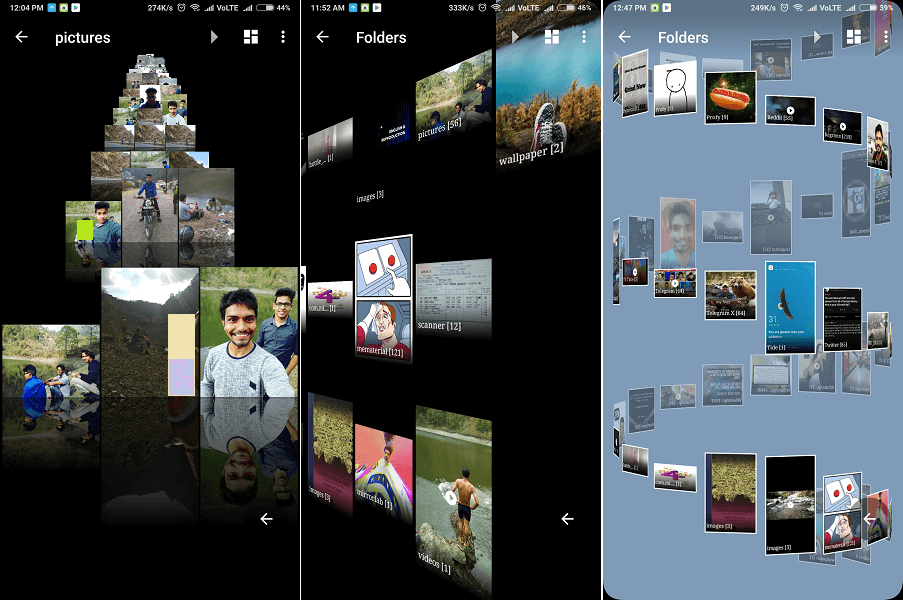 This app by TVK tools is the best 3D gallery app I ever came across. The albums and the pictures can be organized in many 3D designs like Spiral, Mini Parabola, Circle, Horizontal, Helix, Vertical Parabola, Vertical Slop etc. There is a slideshow button at the top and speed of slideshow can be changed. The app is fast with occasional ads.
As it's a 3D gallery, a large part of the background is visible. From the settings, you can change the background color and even choose an image to apply as background. You can also enable and customize border, reflections, transition speed (scrolling), etc.
Get 3D Gallery from Play Store
Also Read: 5 Best Video Editing Software for Mac and Windows
10. Gallery By VISKYSOLUTION
This is the good app to finish the list of best gallery apps for Android. This is like the above apps with different tabs but a good thing is it has a separate tab for videos. I liked it because the videos in my gallery are often lost in thousands of photos. I also liked the floating camera button at the bottom for the ease of using as other apps had it at the top with other buttons.
In the side menu, there is an option to see the photos and videos on a timeline which will make locating a picture very easy. In the settings, there are lots of themes, security options, slideshow animation options etc. Amazingly, you can switch default tab while opening the app from Photos, Albums, and Videos. This app lets you customize more by applying profile picture and renaming gallery.
Get VISKYSOLUTION Gallery from Play Store
Get rid of those dull default gallery apps and make your pictures and videos count by exploring them using the above apps. I can assure you that all the apps on this list have some features, you would want to keep. The 9th and the last one are also pretty different from the rest. I recommend you to try more and keep the best one.
If you have a review for any of these gallery apps, let us know in the comments.