Instagram Stories has become more popular than Snapchat in no time and it was Snapchat where the feature was originally taken from.
The concept got so popular that even Twitter followed suit with its Fleets. The main reason behind the rapid growth of Instagram is that they frequently add the latest and engaging features.
I mean it's one social media app that gets a lot of updates compared to others. Speaking of updates, here are a few more. Similar to reactions on Facebook posts and comments, the parent company, introduced the same for the stories in their popular media-sharing app – Instagram.
If words, photos, or videos are not enough to convey your feelings for a story then you have one more option.
It is possible to react to Instagram Stories of the people you follow and like the reaction if desired. In case you're not able to react to others' stories then we have listed the reason for that and how you too can prevent reactions to your story. Besides that, we also cover the quick replies feature here which is a faster way to respond to messages on Instagram Direct.
You can jump directly to Quick Reply on Instagram Direct section later in the article if you are looking only for that by clicking here. Otherwise, continue reading about the story reactions first.
Reply To Instagram Story With A Reaction
Update to the latest version of Instagram and follow these steps:
In the Story tray at the top of the Instagram app, tap on the Story avatar of the person/account whose story you want to view as usual.
When you open the story, you can either tap on the Send message box or swipe up from anywhere on the screen.

This will give you 8 reactions to choose from. Clap, Laugh, Love, Wow, Sad, & Fire/Lit, Perfect and Celebration. Tap on the desired one to react. Once you do that the screen will be showered with the emoji reaction you chose like confetti.

Important: There will be no quick reactions or they won't work if they have disabled replies to their story. More information about this later in the article.
As an owner of the story, you will get a push notification from Instagram telling that XYZ user reacted to your story with the reaction smiley. Later you can also find the reaction in the DM section.

You can also watch our video:
Apart from quick reactions, you can simply reply to a story with an emoji. For this, you can use the emoji shortcuts we talk about in this post.
How To Like A Reaction On Instagram Story?
To like someone's reaction to your story, simply open the conversation and double tap on the message that shows the reaction to your story. In the same way, you can also like any other messages in the conversation if required. Be careful that you don't single tap on the reaction message as that will open the story and not like the reaction.
When you like a reaction, the other person gets a notification for the same and they can also see that in the DM as well. The reaction message will have a heart icon with the person's profile pic avatar next to it indicating that they have liked your reaction.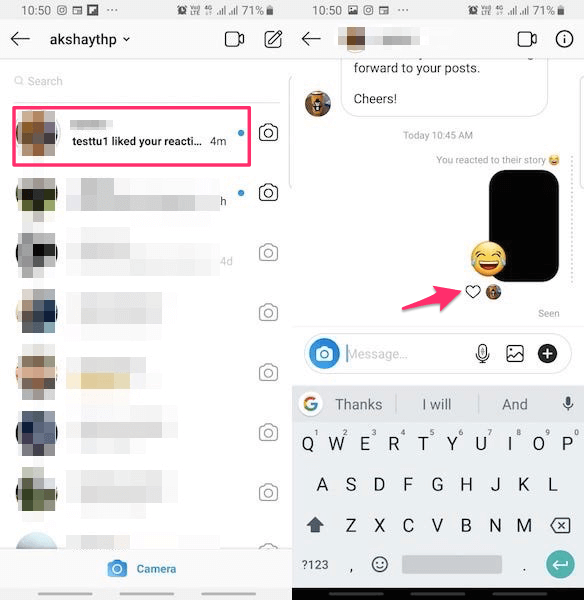 As I mentioned earlier, if you don't get quick reactions for someone's stories then they have disabled message replies on their stories. If you wish you can also do so. Here's how.
Don't Miss: How To Hide Comments On Instagram Live
Disable Message Replies Or Reactions On Instagram Stories
Open the Instagram app and tap on the profile icon at the bottom right to navigate to the profile screen.
Select the hamburger icon at the top right and select Settings.

Next, tap on Privacy and then select Story.

Now, in Allow Message Replies section select Off if you wish to turn off replies for everyone or select People You Follow to disable message replies from the people you don't follow while keeping the replies for others turned on. After doing this, users won't get the option to send a message or react while viewing your story.

For already uploaded stories, the above method will work. Apart from this, you will have more ways to get to this Story Settings screen for an existing story.
In addition to our steps, you can also watch our video:
Don't Miss: How To Zoom Or Flip Camera While Recording On Instagram
Block Replies On An Already Uploaded Instagram Story
Open your Instagram story by tapping on your profile picture or by tapping on your story avatar in the stories section at the top of the news feed.
Under your story, you have two ways to get to the Story Settings. Either tap on the 3 dots icon at the bottom right and select Story Settings.

Or Swipe upwards while you have your story opened and select the gear icon (Settings) at the top left corner.

Under the Story Settings screen, follow Step # 4 from the above method.
You can always turn on the message replies or reactions later from the same Story Settings screen as and when desired. And if you would like to do the same for your IG posts, read this detailed post.
Don't Miss: How To Edit Instagram Highlights And Cover
How To Use Quick Replies On Instagram Direct
Now, let's look at how you can use quick replies in Instagram messages which is another quick way to respond like quick reactions for stories.
Quick reply is a feature that lets you type repetitive messages faster. It achieves that by allowing you to assign a shortcut or a word for a particular message. So when you type the shortcut, the complete reply will pop-up automatically, and tapping on it once will give you the complete response. But there's a catch it is only available for business accounts. So, for all the business account holders, here are the steps you can follow to set up or create and use quick replies.
Here's how to create a quick reply:
Launch the Instagram app and go to your profile screen. After that, tap on the hamburger menu icon and select Settings.
Next, tap on Business.

Under Business, select Saved Replies.
Now, tap on + icon at the top right to add a quick reply.

The next screen gives you fields to type the message and the corresponding shortcut for it. Provide the necessary information and once done tap on the tick mark icon at the top right to save it.
Similarly, you can create multiple replies as required by following the same steps.


Now, to see them in action go to any conversation and type the shortcut. Doing this, it will automatically show you a blue reply icon, tap on it and it will type the complete message (set in quick reply) for you.
You may edit it or send it as it is by tapping on Send.

It is possible to edit existing replies by going to the Saved Replies section and then select the desired reply. Tapping on it will allow you to edit the shortcut and message for the same. You will also get the option to Delete Saved Reply at the bottom of this screen.
We also recommend you to go through the following handpicked Instagram articles.
Wrap
Reactions bring another interesting way to engage with IG Stories.
Not only is it cool but is surely a quicker way to express your feelings. The same can be said for quick replies in Instagram messages. They not only are faster but also eliminate the need for typing the same messages over and over again. Isn't it?
If you have troubles sending your reactions or quick replies, check this troubleshooting guide that might be useful.
Did you like our post? Share your thoughts in the comment section below.