Snapchat is hands down one of the most entertaining instant messaging apps. Even though Instagram and Facebook are competing well with the likes of Snapchat after introducing Stories but the face filters on Snapchat still steal the show. Apart from this, the self-destructing messages and recent Snap Map feature on Snapchat make it unique. Having said that, finding people on Snapchat is not easy as compared to Facebook. And without friends, there is no fun in uploading stories. Isn't it? To help you with that we are here with a kick-ass app that will allow you to find friends on Snapchat without knowing their username from Android or iOS device.
I am quite sure that you already don't know about the method I am going to share below. Most of the resources on the web will only let you know how to add friends using the username, your contacts or Snapcode. But I bet this is different and will let you add or make new friends on Snapchat if you don't know their username or don't have them in your contacts list. So, let's get right to it.
Find People On Snapchat
1. To start with, head over to your respective app stores and download the Yellow app by Twelve APP or use the following links. Android | iOS
2. Launch Yellow app once installed. The app requires you to register with your phone number. So select your country and type the number. And then tap on Send confirmation code.
3. On the next screen, enter the received code and tap on Continue.
4. Now, provide your basic details like Name, birthdate, gender, and tap on the right arrow at the bottom right.
5.  In the next step, you need to add your picture. Make sure it is yours(community rule) and tap on the right arrow to proceed further.
6. With this, the app will start looking for profiles of people. Within a few seconds, you should see a screen with a user. If you want to be friends with that particular user swipe right. This will mean you liked their profile. In case you are not interested then swipe left to pass/ignore.
When there is a match(two users like each other) then Snapchat username will be revealed.
To provide your Snapchat details in the app tap on the profile icon at the bottom right. Under your profile, tap on the Snapchat icon in Social handles and mention your Snapchat username.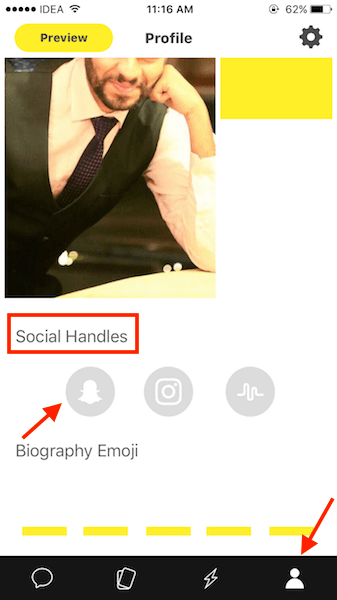 7. If you get a match then tap on the chat icon at the bottom left and select the desired friend. Under the conversation screen tap on the Snapchat icon at the top right.
It will take you to the Snapchat app with their username revealed and an option to add the person as a friend.
Also Read: How to Increase Snapchat Score
If you want to filter the users you see while searching then go to profile screen in Yellow app and tap on the gear icon at the top right. Here you will find options to set gender, age, and location in Friends Discovery.
We hope that you were able to find friends on Snapchat using this app. If you found this article helpful then share it on social media.