Do you want to know how to schedule IG posts without paying a monthly or annual subscription fee?
Maybe you don't need a feature-packed social media management platform, just something to schedule a few Instagram posts a month.
No worries, I've got you covered. I put together a list of the best apps/websites to use to schedule Instagram content for free. These services do have premium plans, but the focus of this list will be on completely free plans.
9 Free Instagram Post Schedulers
Facebook Creator Studio (Video)
First up on the list is the Facebook Creator Studio. As most people know, Facebook owns Instagram and has since integrated both apps together.
You can easily link your Facebook to your Instagram account so when you post on Instagram, you can publish that same post on Facebook or vice versa.
To make the entire process easier, Facebook now has what's known as the Facebook Creator Studio. This provides you with everything you need to publish, manage, track and even monetize content that you post on your Facebook and Instagram accounts.
As such, one of the features of the Creator Studio is the ability to schedule your posts for Instagram. You can schedule multiple photo posts, videos, and even post reels.
You can use Creator Studio with only an Instagram account too, you don't need to create a Facebook account to use it. This makes it a great free Instagram scheduler.
You can access the Creator Studio via its website or you can check out the Android or iOS apps for the mobile versions.
Speaking of mobile, If you want to extend your marketing efforts beyond Instagram, learn how to schedule messages on WhatsApp and iMessage.
Now, see the steps in action:
Check out the Facebook Creator Studio to better manage your Instagram page!
Platforms: Web | Android | iOS
Hootsuite
Hootsuite is a renowned social media management platform with a variety of Premium subscriptions that cater to freelancers, and small, medium, and large businesses. Hootsuite allows you to plan, schedule, and promote your social media posts.
While it is a premium service, there's a limited free plan that you can take advantage of without spending a dime. It allows one user to link two social media accounts to their Hootsuite account and schedule five posts per month.
This can work great if you only need to make scheduled posts a few times per month, or you're looking for a backup when you won't be able to manually post at your preferred times.
The functionality is limited, especially when compared to other free items on this list or Hootsuite's own Premium plans, but the service itself is still quite good.
Besides the Free plan, there are currently four Premium plans available:
Professional – $49/month
Team – $129/month
Business – $739/month
Enterprise – Contact Hootsuite for pricing
Hootsuite offers a media-rich planner that allows you to post directly to your Instagram Business profile. You can publish Instagram stories, posts, and carousels to Instagram directly from your Hootsuite dashboard on your PC or mobile app (Android or iOS).
Check out Hootsuite now to see what it's all about.
Buffer
Buffer is another great social media management tool for a variety of users. Whether you're a freelancer or a large business, Buffer offers a range of subscription plans and features that can benefit you.
While it is a premium social media management platform, Buffer also offers a good free plan that many users can use without dipping into their wallets.
It allows you to manage up to 3 social media profiles (or "social channels," as Buffer calls them).
You can also schedule up to 10 posts per profile. However, there isn't a monthly or yearly limit, this refers to how many scheduled posts you can have in your queue.
So if all of your scheduled posts have been published, you can queue up 10 more to go.
There's only 1 user per account for the Free plan and there's no invite for additional users either.
Besides its Free plan, Buffer also offers three Premium subscription plans:
Essentials – $5 per month per social channel
Team – $10 per month per social channel
Agency – $100 per month for 10 channels
Each subscription plan also has a 14-day free trial that you can use to test them out. This can help you decide if you'd like to stick with the Free plan or want to upgrade as your audience/business grows.
Overall, Buffer's free post scheduling for Instagram features is great and its Premium channel pricings aren't bad either.
It's no wonder it's such a highly revered Instagram scheduler and overall great marketing tool.
Platforms: Web | Android | iOS
Combin Scheduler
Combin Scheduler is what many marketers and social media managers consider to be the best free Instagram scheduler and they're not wrong. It's definitely high up on the list.
This is because Combin Scheduler, unlike many other social media management platforms, offers a wide range of features for free.
Combin Scheduler is available as a desktop app for Windows, Mac, and Ubuntu. You have to sign up to the Combin email list before you can download the app, but it's a small price to pay for all the features you get.
Here are some of the features Combin Scheduler offers its users:
Manage multiple accounts – up to 15 Instagram accounts, to be exact.
Schedule Instagram stories and posts
Upload images in bulk to save time while scheduling your posts
Repost posts on your Instagram Feed to share some of your favorite posts with your followers
Unlimited user and location tagging for increased visibility
You can also use Combin Scheduler to edit the size of your images before posting. It even allows you to preview your Instagram grid so you can arrange it to achieve a much more aesthetic feed.
Overall, Combin Scheduler offers a terrific feature set for free. It's an incredible free Instagram post scheduler.
To make Combin Scheduler work even better, learn how to send auto DMs on Instagram to build relationships with your new followers.
Download Combin Scheduler now!
Platforms: Windows | Mac | Ubuntu
Later
Another great Instagram Scheduler is Later. It, like many others on this list, offers a great Free plan as well as useful Premium options, as well.
It allows you to schedule single photo and video posts for free. The Free plan also offers a Visual Instagram Planner, as well as limited Instagram analytics from the past 3 months.
Additional features for the Later Instagram Scheduler Free plan include:
Multi-Profile Scheduling. You can easily schedule one post to multiple social media profiles.
Ability to plan and save captions, hashtags, and other texts for your Instagram content. This can save you time when posting related content.
Edit your media before scheduling. This means you can crop your images, add filters, and trim your videos when you're scheduling your posts for Instagram.
The Free plan also offers Unlimited uploads with a 5MB cap for a photo and a 25MB cap for a video.
Besides the Free plan, Later has three Premium subscription plans:
Starter – $15/month
Growth – $40/month
Advanced – $80/month
These Premium plans offer more comprehensive features than the Free plan. If you want to give the Premium plans a try, they each have a 14-day free trial.
Later has a web platform for desktop and mobile apps for Android and iOS.
All things considered, Later is a contender for the best free Instagram scheduler. You can use it to plan and execute your Instagram marketing with ease.
Take a look at Later Instagram Scheduler to start scheduling your Instagram posts free!
Platforms: Web | Android | iOS
Planoly
If you're looking for a great social media scheduling tool to queue your Instagram content and handle other social media accounts then Planoly should definitely be a consideration.
You can use it to plan and queue posts for both Instagram and Pinterest for free. Planoly allows you to craft and customize your content before scheduling it to be posted.
To schedule Instagram posts free, you'd have to sign up for Planoly's Personal plan. It's completely free. The features are limited in comparison to Planoly's premium plans but they can work for a lot of people.
Planoly's Personal Plan gives you:
Ability to manage 1 social media profile (Instagram/Pinterest)
Allows you to schedule and publish 30 posts per month on Instagram and 30 posts on Pinterest.
Besides its free plan, Planoly also has three Premium subscription plans available.
Starter – $11.25/month
Growth – $19.50/month
Professional – $36.50/month
With the Premium subscriptions, you can link your Facebook and Twitter accounts to your Pinterest and Instagram accounts for cross-platform posting. The premium subscription also gives you additional features such as:
Basic and Advanced Analytics
All things considered, Planoly is a terrific free Instagram scheduler that offers great value for zero dollars.
Don't hesitate, download Planoly now to schedule your best Instagram content.
Coschedule
If you're looking to take your social media marketing to the next level without spending a dime then Coschedule is a great place to start.
It goes beyond being one of the many Instagram scheduling tools that's on the market. Coschedule also offers a great calendar and other marketing tools that you can use to elevate your marketing. One of its standout features, in my opinion, is how it integrates with a variety of apps/services to streamline your workflow.
These apps/services include Google Drive, Google Docs, WordPress, Hubspot, and more. Coschedule's app integration is great. Before you sign, I recommend you secure your Instagram account so only you have access to your profile and reap the benefits of your work.
Besides its app integration, Coschedule's Unified Content Calendar as well as the Filtered and Saved Calendar view allow for better planning and strategizing for your Instagram marketing.
Besides those two great features, here are the other features available for Coschedule's Free plan:
Attach 2 social media profiles to your account for posting and management.
Queue up to 5 social media posts at once for future posting.
Access social analytics reports to see your page's performance and make informed decisions.
Project Tag Management and Metadata
Besides its Free plan, Coschedule also has two premium plans:
Pro – $29/month
Business – contact Coschedule for a custom package
Coschedule is available via its Web platform on Desktop, as well as on Android and iOS. Overall, Coschedule is a great social media marketing tool that offers free Instagram scheduling, as well as great content management features for free.
Check out Coschedule and see how it can upgrade your Instagram marketing.
Crowdfire
Crowdfire is a social media management service that allows you to curate and publish content with ease. This is why it's the choice for many freelancers, marketers, and social media managers to take care of their social media management.
While it's a Premium service, Crowdfire also has a great Free plan that allows you to queue Instagram posts for free. You can use it to schedule up to 10 posts at a time. Once those 10 posts are published, you can schedule another 10 to be published.
Crowdfire also supports other social platforms besides Instagram. You can use it to post content to other social media platforms such as Facebook, Twitter, and LinkedIn. The Crowdfire Free plans offer a host of features. You can use it to link up to three social media accounts to your Crowdfire account.
In addition to this, Crowdfire also works great as a source of inspiration too. You are granted unlimited article curation for your chosen topics as well as unlimited image curation to use for your social media posts.
Other features for the Crowdfire Free plan include:
Chrome extension to easily share articles.
Ability to curate content from your own blogs, YouTube videos, and more.
Hashtag recommendations to get the most engagement.
Tailored posts for each platform with previews to show you how they'll look before posting.
1-day data for social and advanced analytics.
Besides the Free plan, Crowdfire also has three Premium subscriptions:
Plus – $9.99/month
Premium – $49.99/month
VIP – $99.99/month
Crowdifre is available on PC via its web platform as well as on mobile for iOS and Android devices. With all its features and the $0 price tag, I'd definitely say Crowdfire is a worthy app to use to schedule Instagram posts free and manage your Instagram profile.
Tailwind App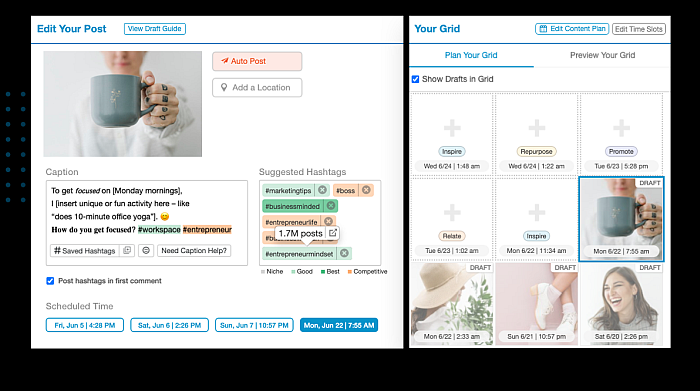 When it comes to Instagram scheduling tools, Tailwind is the first pick for many marketers and influencers. You can use it to easily queue posts for Instagram from either your computer or mobile device (Android or iOS).
Post scheduling isn't the only thing you'll get free from Tailwind. It offers a host of other great features with its Free plan that are sure to help you boost your social media marketing efforts.
These include:
20 post designs per month that you can use to give your IG page an updated look.
20 posts per month across social media platforms: Instagram, Pinterest, and Facebook.
Smart schedule that'll choose the best time to post for the most engagement.
Email marketing with 20 email contacts and the ability to send 200 emails per month.
Access to 5 Tailwind communities.
Bulk Uploads along with photo and video support.
Besides its Free plan, Tailwind also offers three premium plans, as well.
Pro -$19/month
Advanced – $49.99/month
Max – $99.99/month
Each plan is also a lot more affordable if you opt to purchase them annually. In addition, Tailwind doesn't have a free trial per se, but it does offer 100 free queue slots that you can use for scheduling Instagram posts.
This allows you to test out Tailwind at your own pace. With these features and the 100 free scheduling slots available, Tailwind is a great free Instagram post scheduler.
Download Tailwind today and get started for free!
Check Our Videos
Like watching videos better than reading? We hear you!
Watch how to schedule Instagram posts without Facebook for free:
How to schedule Instagram posts with Facebook Creator Studio:
Coming soon!
FAQs
Does Instagram Allow Scheduled Posting?
Instagram does allow scheduled posting. However, you can't queue Instagram posts via the Instagram app or website. You can use the Facebook Creator Studio to schedule your IG posts. Another option is to use a marketing tool, such as Combin Scheduler or Buffer, to schedule Instagram posts free.
Is It Possible To Schedule Posts On Instagram?
It is possible to schedule posts on Instagram. However, it isn't possible to do so using the Instagram mobile app or website on your desktop. Instagram's API allows you to queue posts on Instagram using marketing tools such as Hootsuite or Buffer. These make posting easier for users and marketers.
Can You Schedule Instagram Posts From Desktop?
You can schedule Instagram posts from desktop. However, you cannot do so via the Instagram website on your desktop. You'd need to do it via the Facebook Creator Studio. This allows you to schedule your Instagram posts without using any third-party apps or websites.
Can I Use Later App On Desktop?
You can use the Later app on desktop. The Later app desktop platform gives you a full view of your content calendar. It makes it easier to plan your posts and see your feed the way your followers do. This allows you to create a more aesthetically pleasing feed.
Can You Schedule Posts On Facebook And Instagram?
You can schedule posts on Facebook and Instagram. The best way to do this is by using the Facebook Creator Studio. It's a great way to queue posts on both Facebook and Instagram if you're running one page. The Meta Business Suite is also an option for managing multiple pages.
Free Instagram Schedulers – Wrapping Up
What'd you think about this list? Did you see any apps or websites that you use to queue posts for Instagram?
Whether you're simply looking for a way to better manage your personal Instagram page or doing some small-time social media marketing, a free Instagram post scheduler can really boost your efforts.
Let me know if you have any questions about this list in the comments below. And don't forget to share it with your friends, family, and followers!