Instagram has now added the possibility of adding links to hashtags and other accounts from your Instagram bio. It means that from now on if you use @ before an Instagram username in your bio then it will become a link to their profile page. Similarly, in case of hashtags if you prefix # before the hashtag name then it will link to that particular Hashtag page showing all the popular posts and stories in that hashtag. However, what if you are being mentioned by undesired and somewhat spammy profiles in their bio? Well, Instagram has given an option to deal with this sort of misuse. In this tutorial, we have shared the same to help you remove your profile link from someone's bio on Instagram from Android or iOS.
The new change is really cool and helpful if you are looking to promote your or your friend's account. As you just have to tap on the username link in the bio to directly go to a profile unlike before when it just used to be a plain text. Hence, making it easier than ever to access someone else's profile from your profile. But as I mentioned earlier, if you are being mentioned on profiles where you don't wish to be then you can take care of that. Here's how.
Remove Your Profile Link From Someone's Bio On Instagram
Whenever someone mentions you in their bio you will receive a notification from Instagram. It will look something like the one shown in the screenshot below.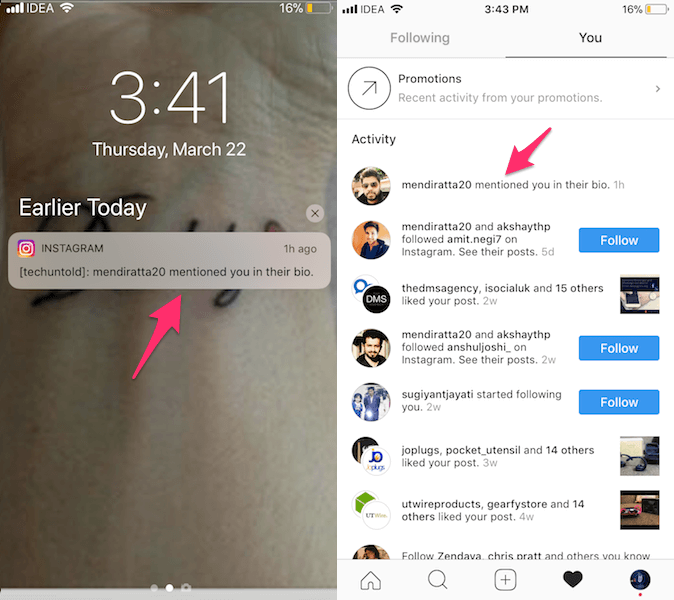 So, if you want to delete your profile link from their bio, use the steps below.
1. Go the profile of that person either by searching their username or directly by tapping on the mention notification.
2. When you are on their profile screen tap on your @username (your account link) and select Remove Link.
3. Finally, tap on Remove Link once again to complete the process.
After you do this, the link will be removed but your profile name will still be there as plain text. Similarly, you can remove your profile link from other people bio if desired.
The other person won't get notified of the profile link removal. They can only find out once they look at their bio with the account mention as plain text.
There are a couple of things I observed related to this new feature.
1. I couldn't find any way to undo Remove Link in case you decide later to have a link to your profile from their bio after you had deleted it in the past.
2. Also, removing your profile link from someone's bio from the app only removes it from the app and the link is still there when you visit the profile on the Instagram website.
I will update this article once I get some new information regarding them.
Until then, you can easily delete your account mention from someone's Instagram bio using the method shared here.
Don't forget to share this article on social media so that others don't miss out on this information.