There are times when JPEG or JPG files are corrupted or damaged and you can't continue with your work.
Now, Stellar Phoenix JPEG Repair brings you their premium software to repair corrupt and damaged JPEG or JPG files.
You don't have to worry about the JPEG files you are unable to open. Stellar Phoenix JPEG Repair will do the work by helping you to repair JPG files on Mac. It also helps you to recover any lost file or any deleted folders from your Mac hard disk.
Stellar Phoenix JPEG Repair for Mac Review
Installation and Setup on Mac
Download a FREE trial version or purchase the premium version with advanced features from the button below.
The software will download in .dmg format.
After the software is downloaded completely, install it as you would install any other software.
If you have the product key, click on the "lock" tab and enter the Licence key. You will become the premium user of the software.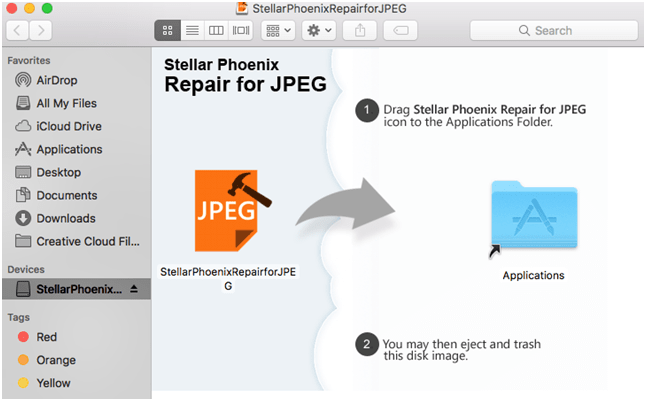 Repair JPG Files on Mac
1. After you have completed the installation of Stellar Phoenix JPEG Repair, open it.
2. You will be asked to enter your system's password to allow Stellar Phoenix JPEG Repair changes in your system. Enter your Mac password to continue.
3. Click on the Add file to add the file manually. You can even drag and drop the file from the directory.
4. Click on the "Repair" button on the right-hand side below of the window of Stellar Phoenix JPEG Repair.
5. You can choose multiple files at once or you can even do it one by one.
6. After you have clicked "Repair" button, a new window will be appeared informing you the status of the corrupted file.
You can click on the repaired file and save it from the "Save" button given at the right bottom of the window.
You can save it wherever you want and can access the repaired JPEG or JPG file later on.
Also read: TunesKit iOS System Recovery For Mac Review
Limitations of Free Version
In the free download version of Stellar Phoenix JPEG Repair, you can repair the JPEG or JPG file on your Mac and preview it. But you cannot save it unless you purchase the premium version. Since we have talked about how to install Stellar Phoenix JPEG Repair and how does it work, we are now going to discuss Pros and Cons of this photo recovery software.
Pros
Compatibility: It is compatible with the latest macOS Sierra 10.12.
Fast and Simple: If you are looking for photo recovery software, especially in the file format of JPG and JPEG, you can rely on Stellar Phoenix jpeg recovery for Mac. It is fast and very simple to use. There are no complicated tools that might hinder the recovery process of the corrupted JPEG and JPG file.
Windows: It is also available for Windows if you happen to be a Windows PC user.
Risk-free: You can download Stellar JPEG repair software for Mac without having any threat to your system. All you have to download from the official website. Their official website provides genuine and malware-free software.
Displays property of repaired files: It not only repairs corrupted jpg file on Mac or JPG files but you can easily have a look at the properties of the files that have been recovered by Stellar Phoenix JPEG Repair.
Recovery from Hard disks and memory cards: If you have a JPEG file that has to be recovered from a memory card, then you can easily do it with the help of this photo recovery software. It is an ideal photo repair software for professional photographers.
Same resolution photo repair: After the JPEG and JPG file repair, you get exactly the same resolution as before. The quality of the image will not be lowered by using Stellar Phoenix JPEG Repair.
Recover multiple JPG or JPEG files at once: You can repair multiple corrupted JPG or JPEG files at once. You don't have to start the process over and over again with each new file.
Cons
The free version has not much to offer: If your JPG and JPEG files have been repaired, then you have to be a premium user to save the image.
Very unimpressive user interface: Stellar Phoenix JPEG Repair does not have an attractive user interface. It seems that the software development team has not put much of their thought in the look and design of the software.
Incompatible Formats: This software is unable to process. PNG corrupted file formats and other photo file formats.
Also Read: How To Recover Deleted WhatsApp Messages
Conclusion
Stellar Phoenix JPEG Repair is a tool to repair JPG files on Mac.
Ideal for professional photographers but it might be an expensive deal for those users who have to recover only one or two files.
If you have a lot of corrupted JPEG or JPG files, then you should not shy away from purchasing Stellar Phoenix JPEG Repair. However, if you have one or two unimportant corrupted files, then repairing JPG/JPEG file on Mac by Stellar Phoenix might be too costly for you.
Note that Stellar also offers a video repair tool.