Instagram Reels is a new feature that allows you to post fun snippets on IG. You can use editing tools to combine multiple clips and add original audio that you can feature on your own highlight reel on Instagram.
Are you interested in adding multiple clips to your Instagram page's highlight reel?
TikTok fans will be thrilled to hear about Instagram's newest feature: Instagram Reels. With this new feature, IG users can create 15-second highlight reels that they can post to their own profiles.
In this guide, we'll tell you all about the all-new Instagram Reels and how you can get your own reel videos on Instagram.
What Is Instagram Reels?
Instagram Reels refers to a brand new feature on the photo-sharing social media platform. The concept is quite similar to TikTok videos, which gives users the option to use multiple clips in one video and add all kinds of audio and effects.
Although it was only officially launched on August 5, 2020, the feature was actually already in development last year. In fact, it was first released to Brazilian users for a test run in late 2019.
Currently, it's available in 50 countries around the world, including the United States, the United Kingdom, Canada, Germany, France, India, and Japan. Plans for expansion to other countries will follow later this year.
What Can I Do With Instagram Reels?
As mentioned above, Reel Videos on Instagram have plenty of features that resemble those of TikTok's. You can create reels by using editing tools to edit multiple clips and add original audio to them. Read on to find out more about these features in detail!
Audio Features
Vast Audio Library
Reel's music collection offers a huge, ever-expanding library of curated music from several music label partners.
Whether you're looking for trendy songs to dance to or nostalgic classics that can give your Reel a definite feel- all of it is already built into the app, which means you won't have to spend extra time looking for the perfect music.
Original Audio
Still can't find the right beat, even with Reel's massive library? Don't fret! Reel allows users to add their own original sounds. What's more – if you have a public account, your Reels' unique audio can even be used by other people, with attribution to you, of course.
Song Clipping
Even with all the music in the world, you still have to get the timing of the song just right to insert into your 15-second reel. Instagram gives you this option through its music selection tool.
This lets you specify exactly which part of the song you want to use, so you can get that sweet spot that's perfect for your special clip.
Effects Features
Wide Array Of Filters
Reels feature a ton of fascinating filters to work with. From the glamorous and the quirky to Augmented Reality, Reels has it all. AR effects have got to the most popular filters though, since anyone on the app can create AR effects that can be used by other users.
This can be done by clicking on the Effects button and browsing through all the user-created effects in the gallery. If you're particularly interested in a specific creator, you can click, "More from [username]" to see their other creations.
Stickers, Scribble, And Text
If this wasn't enough, Reels also has every single one of Instagram's popular stickers. You can select all your favorite stickers and attach them easily to your chosen clips. And there's also a variety of text choices and scribble options that you can use to decorate your Reel. Talk about versatile!
Video Features
Timer And Countdown
Are you alone, but you want to record something hands-free? Well then, ready the timer – on three! With this new timer function, a 3-2-1 countdown will appear once you press 'Record,' so you can get away from the camera and prepare before it starts rolling. You can even choose how many seconds long you want the countdown to be.
Align
Create the next viral outfit change or fun group reel with this brand-new functionality. Instagram Reel allows you to line up objects from the previous clip before recording the next one, so you can make seamless, effortless transitions between multiple clips.
Speed Control
Want to stay on beat with your dancing, or maybe capture the exact moment your adorable dog catches a frisbee, mid-air? Instagram Reel allows you to easily change the speed of your clips. You can speed up or slow down at will, depending on what you think would look best for your video.
Sharing Features
Sharing Reels
Using that cool timelapse video you've got saved as your next attempt at stardom, or maybe just posting a funny GIF on IG?
With a public account, you can cast your Reel out there and let it be discovered by sharing it in Explore, posting it to your feed for your followers and their followers, or use songs, hashtags, or effects that may get you the chance of appearing on a dedicated page.
Some reels may even have a Featured label on them, which means they were specifically selected by Instagram. This is done to further boost viewership of public reels and allow more people to see original content.
With a private account, your Reels are in your complete control. You can set the allowed viewers for your clips, and people will not be able to use the original audio from your reels, nor can they even really see you unless they actually follow you.
One hidden gem of the Instagram Reel is its ability to automatically share to Facebook. In a few short taps, you can set your Instagram settings to automatically upload your Reels to your Facebook stories.
Account Security
Reel Shields
With a private account, only your approved followers can see your posts, and other users won't be allowed to make reels from your original audio recordings.
Hide Reels
As a principle, Instagram wants you to take control of your account. If you want to keep your Reels hidden from specific people, Instagram allows you to hide your stories with just a few taps.
Comment Control
Dealing with an overabundance of praise, or an unexpected torrent of criticism? With Instagram Reels, you are in control of who can comment on your clips. You can set it so that only your followers can talk to you in your space.
How To Create Reel Videos On Instagram
Users can find the Reels option by pulling up the Instagram camera. This is also where you can find other video modes, such as Boomerang, Slo-mo, and Rewind.
Here's how you do it:
1. Open your Instagram camera and select the Reels option at the bottom of the screen.
2. If it's your first time opening Reels, you'll see a screen with an option that you can click to know more about Instagram's newest feature. If you just want to proceed, tap 'Get Started'.
3. This is where the fun starts. You can click on the audio icon to add original audio to your reel video.
4. You can also add AR effects to make your Reel more entertaining to your viewers. There are also lots of other effects that you can use to spice up your clips, as well as an option that allows you to speed up or slow down specific parts of your video or audio.
5. If you want to record yourself from afar, there's a timer feature that will allow you to record your clips hands-free.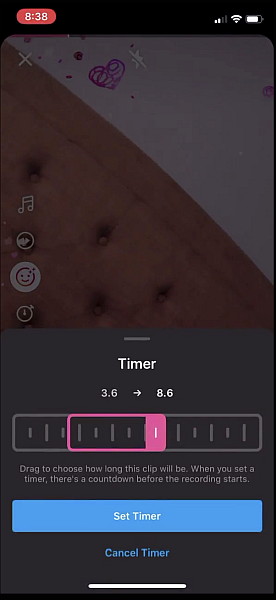 Reel Videos On Instagram FAQs
What Is A Highlight Reel On Instagram?
The term 'Highlight Reel' on Instagram refers to the groups of stories that are pinned to your Instagram profile page. This makes it more special than regular stories, which disappear after 24 hours unless added to a highlight reel.
How To View Instagram Highlight Reel?
Highlight Reels are only viewable on the specific profile of the person who owns them. To view an Instagram Highlight Reel, simply tap on the circular buttons with a specific label on an individual's profile.
Where Would I Find My Instagram Highlight Reel?
To find a specific person's Highlight Reel, simply search for their Instagram profile and look for the circular buttons right under the user's bio. The highlights appear in the exact same location on your own profile.
How To Change The Order Of Your Instagram Highlights Reel?
Highlight Reels are arranged based on the most recent story. The only way to change the order of your Instagram Highlights Reel is to upload new stories one by one in the desired order.
How To Archive A Highlight Reel On Instagram?
Technically, there's no way to archive a Highlight Reel. You can only remove stories from Highlights. If you want to remove a story, simply click on the hamburger icon at the bottom-right corner and select 'Remove from Highlight'.

If you want to turn the stories archive completely off, simply go to your profile, go to Settings, Privacy, Story, and finally tap the 'Save to archive' button in order to turn the function on or off.
Creating Reel Videos On Instagram
Now you know what Reels are and how you too can get your own reel videos on Instagram! With this new feature, you can implement fresh Instagram tricks to spice up your profile and attract more visitors.
Did you like this guide or do you have any questions? Let me know your thoughts in the comments below.