Are you a parent who wants to secure your children's online activities?
While the internet is truly a marvel of modern human history, it has also made it incredibly easy to fall into virtual traps, especially for children.
This is where spy apps come to the rescue. Spy apps allow us to monitor, and even to some extent, control, what happens on the target device.
Although FlexiSPY, with all its features and proven history in the spyware market, appears to be the clear winner here, mSpy has got a lot of things to offer, as well.
In this detailed mSpy vs FlexiSPY comparison, I'll take a look at these two leading spy apps and find out which one you should try out.
About mSpy And FlexiSPY
When it comes to monitoring and spy software, there are two product names that customers know by heart: mSpy and FlexiSPY.
But if both of these apps are good, which one should you get, mSpy or FlexiSPY? This section will go into detail about what makes both apps great picks.
About mSpy
mSpy places its value on being parent-friendly, boasting their consultation with experts on how parents can best protect their children through the use of monitoring software and integrating those findings into the mSpy app.
mSpy is one of the best spy apps around and regularly comes out on top when compared to other spy software.
The app contains everything you need to successfully monitor your children's online activities, whether it's SMS, instant messaging, email, or browsing. The dashboard interface is also made to be user-friendly and intuitive to suit worried parents who don't know much about technology.
You can also block adult content on your child's devices; here's how.
Even if you're not a parent, mSpy still offers robust basic tracking features that will give you all the basic information you would need on a phone that you're tracking, and more. With mSpy, not only can you monitor online activities, but you can also track their location, control their device remotely, and even control the apps that they use.
It is also compatible with the most popular mobile systems, like Android and iOS, and has round-the-clock, reliable customer support. Lastly, it has reasonable price tiers and subscription packages, perfect for those wanting long-term protection.
If you have a limited budget but you want to monitor essential information and feel like the basic package would be enough, then mSpy would suit you perfectly.
Pros:
Runs on most Android and iOS versions
Monitors mobile activities, like SMS, calls, and email
Monitors most online activities, such as websites visited, apps used, and even online status on some chat apps
Offers different subscription plans depending on your need
Balanced price-to-feature ratio for higher tiers
Strong, reliable customer support
Cons:
Doesn't have as many features in its basic tier
Basic plan is relatively expensive compared to features
Extra customer service incurs service fees
Maximum 3 devices
About FlexiSPY
FlexiSPY is one of the pioneers in the game, said to be the first company to create a mobile spy software way back in 2006. Today, it's still the leading company when it comes to mobile monitoring, as proven by all the innovative, reliable, and high-quality features that are leaps and bounds ahead of the competition.
In terms of features, FlexiSPY is a beast. Not only can it do basic monitoring, but it can also record phone calls, video calls, and even the ambient environment of the device. To some extent, you can also control the target device from your phone, though you do need root access for some of the more advanced features.
It also has the ability to block an extensive list of the most prevalent social media and instant messaging applications, unlike other spy apps that only work on a select few.
You don't have to worry about device compatibility if you use FlexiSpy. It's not only compatible with mobile systems, like Android and iOS, but also desktop systems, like Mac and Windows. It even works on lesser-used operating systems, like BlackBerry and Symbian.
Aside from that, the company also provides you with reliable customer service and a price range that gets cheaper the longer your subscription.
If you want a more extensive way to monitor and control your target device and don't mind paying a bit extra, then FlexiSpy is the one for you.
Pros:
Basic tier covers everything you need and more
Records voice and video calls
Works with most social media and IM apps
Offers multiple tiers based on OS
Compatible with many different operating systems
Solid 24/7 customer support
Cons:
Some features require tampering with root access
Starting price is relatively expensive compared to other apps
mSpy Vs FlexiSPY: Features Face To Face
In this section, I'll compare mSpy vs FlexiSPY in terms of features. Using this method, you can choose which features are most important to you and see which app does it best.
Price
When it comes to pricing, both apps offer very competitive rates.
mSpy's basic package costs $29.99 for a one-month subscription. If you want to use the service for a year, you have to renew it monthly, which comes out to $359.88 in total.
It includes what you might expect from a spy app, such as GPS tracking, monitoring of photos, video, email, IM apps, SMS, and website history, applications list, uninstall alerts, and an around-the-clock support team.
The premium package costs $69.99 for a one-month subscription and $199.99 for an annual plan, making it $16.66 a month. For the added price, premium users can also monitor social media, control site access and app usage, and access geofencing features.
On the other hand, FlexiSPY's pricing depends on the specific platform you're planning to use it on. The lowest tier for mobile devices is called Lite, with an offering that starts at $29.95 a month for a 1-month subscription, the only available plan for this tier. This means that if you want to use FlexiSPY Lite, it will cost about $359.40 a year.
It does offer a far longer list of features compared to mSpy, including geofencing features, browser, and application activity logger, visibility option, SMS, MMS, call logs, and address book monitoring, right off the bat though. However, I still recommend only availing of the Lite plan if you want to do just short-term monitoring.
The highest tier is called FlexiSPY Extreme, which starts at $199 for three months or $66.33 per month. You can also avail of the annual plan, which costs $349, making it even cheaper than the Lite plan.
If the Lite had a long list of features, the Extreme's list is truly monstrous. It features everything from monitoring, recording, and even intercepting with all kinds of calls and messages, keylogging, remote camera control, email control, and many more.
To summarize, FlexiSPY's packages may be jam-packed with useful features, but that also comes at a steep price. On the other hand, mSpy has a more moderate and balanced offering and is also cheaper.
Since most people are unlikely to use all the features that FlexiSPY has, I conclude that the mSpy package and pricing make more sense.
Winner: mSpy
Compatibility Range
It's no use buying a pricey monitoring app if it's not compatible with the device you're intending to monitor. Before committing to an expensive package, you have to make sure that the app runs on all devices that you're planning to monitor.
mSpy is compatible with just iOS and Android devices, but you can open the dashboard by going to the website on your desktop browser and monitor from there. This spread is somewhat limited, but this is somewhat mitigated by the fact that installation is very easy, especially if you opt for the no-jailbreak option.
On the other hand, FlexiSPY is not just compatible with the latest versions of Android and iOS, it can also run on Windows and Mac as well as on Nokia-Symbian and Blackberry cellphones.
Out of the two choices, FlexiSPY is compatible with more devices and OS than mSpy. So if what you're looking for is the ability to run the app on multiple platforms, you should go for FlexiSPY.
Winner: FlexiSPY
Invisibility Features
A monitoring app's ability to function depends a lot on how well it can hide itself from the target device's owner. If the owner is aware they are being spied on, they could simply fake or alter the data. Thus, a spy app's invisibility is key to great performance.
mSpy does a great job of keeping its main app hidden from the phone's home tab after you set up the monitored device. It also does a good job of hiding traces of the app's operation, so nothing appears amiss on the phone. The same is true for FlexiSPY.
However, if you know what you're looking for, you can find evidence of any spying app's presence on an Android phone.
On Android devices, go to Settings → Security. From there, go to Additional Security Settings, and there you can find Device Admin Apps or Device Administrators, depending on your phone, Lastly, look for an app called "Update Service". For iOS users, however, there's currently no easy way to know if there's spy software installed on their phones.
Since both spy apps are well-hidden under normal circumstances and don't impede the operation of the target phone, both of them win this category.
Winner: Tie
Monitoring And Tracking Ability
The ability to log and track the target device is perhaps the most obvious reason why anyone would want to subscribe to a spy app like mSpy and FlexiSPY.
For mSpy's Basic subscription tier of $29.99 a month and $99.99 a year, you'll get to monitor photos, videos, SMS, call history, calendar and notes, applications installed, bookmarks' list, and website history. You can also track the target device's location with GPS.
On the other hand, FlexiSPY's Lite subscription tier for $29.95 a month and $359.40 a year offers a long list of monitoring and tracking features.
To name just a few, FlexiSPY Lite allows you to monitor the target's phone logs, SMS, MMS, browsing history and bookmarks, network activity, and finally apps, photos, videos, and audio files. It also offers geofencing, keylogging, a variety of remote commands, and a host of status alerts.
Without a doubt, FlexiSPY's exhaustive list of features is the best in terms of monitoring and tracking ability.
Winner: FlexiSPY
Additional Features
Both mSpy and FlexiSPY have additional features that make them more useful to any parent concerned about their child.
For instance, both apps offer network monitoring, which is the ability to monitor which Wi-Fi networks the target device is connected to. This is essential to know where your child is connecting from so that you can determine whether or not the network is secure.
Both apps also allow users to set keyword alerts. This means you can set keywords and the app then alerts you when any of those keywords have been used in any of the phone's operations, such as SMS, instant messaging, emails, and MMS.
Another nice feature that both mSpy and FlexiSPY also have is a keylogging feature, which lets you see what is being typed on the target device.
Winner: Tie
mSpy Vs FlexiSPY: Standout Features
mSpy
App control feature: With mSpy's application control features, you can remotely monitor the installed and uninstalled apps of the target device, and even block certain apps from being used. This is a great tool for parents who are restricting children from using certain apps that aren't child-friendly or have the potential to be harmful.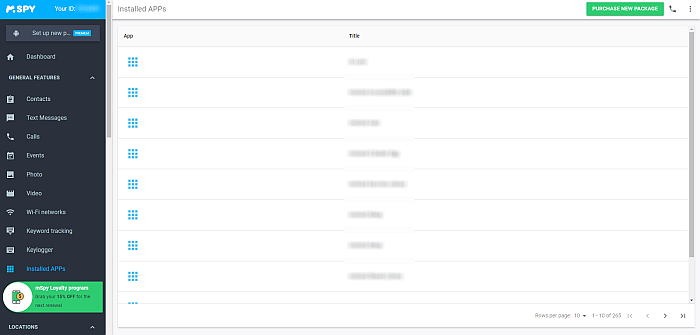 Phone operation alerts: mSpy gives you the ability to know when your target device's owner is doing something unusual with their phone, such as SIM card changing and removal. You can also access more phone control features and alerts through the control panel.
Remote block: Remote blocking features allow you more control over your children's device, as it gives you the ability to remotely block numbers, websites, and applications that you deem harmful to your charge – perfect for protecting children against harassers, bullies, and unknown numbers.
Remote wipe: With mSpy's remote wipe feature, you can wipe the phone's data even without physically touching it. It's a great feature to have in case your target device is stolen or lost and you don't want to reveal any compromising personal information to whoever might have gotten it.
Demo screen: Not quite sure if you're ready to buy an mSpy subscription? If you need further proof of mSpy's reliability, or you just want to see how the application's operation will go, then mSpy allows you to see exactly that with their risk-free demo screen feature.
FlexiSPY
Recording features: What makes FlexiSPY such an outstanding spy app is its ability to record phone operations, such as a phone, video or FaceTime calls, take photos with the target device's camera, and even record the ambient environment around the phone. You have all the recording control you need in FlexiSPY.
Live call interception: You don't have to wait until a phone call is done to be able to review the data — you can intercept it and listen in, even while it's still happening! With this, you have live evidence of a misdeed the instant it happens.
Remote app commands: While mSpy does offer remote operation, like data wiping and app blocking, FlexiSPY elevates this feature to a whole new level by allowing users to also modify, uninstall, deactivate, and upgrade the FlexiSPY app remotely. It also allows you to restart the target device anytime you want.
Remote commands from the desktop: FlexiSPY also allows users to send remote app commands from the comfort of their desktop computer. On mSpy, you can only remotely check phone information.
FAQs
Which Is Better mSpy Vs FlexiSPY?
Determining which is better between mSpy Vs FlexiSPY depends on several things. If you're a parent and you want to monitor your children's basic actions, mSpy is the most cost-effective choice. However, if you want an exhaustive list of features, go for FlexiSPY.
How Do Spy Apps Work?
Spy apps work with a "data log," so you have an easier time using the device in the future. A spy app gathers these logs, send them over to the company's servers through the internet, and then present them to users through the spy application's dashboard.
Are Spy Apps Legal?
In short, spy apps can be legally developed, updated, sold, and used and you can legally install a spy app on your minor child's device, or an adult's phone – with their consent. Check with your specific state to find out the exact laws that apply to you.
Are Spy Apps Completely Undetectable?
The best spy apps are undetectable and will not hamper the phone's operation or leave signals that it is working behind the veil. That said, do keep in mind that no app is completely undetectable. A reliable third-party app can detect a spy app and flush it from your system.
How Can You Detect Spy Apps on Your Phone?
The best way to detect if there's a spy app on your phone is with a third-party application that is made to detect and flush out monitoring applications. You can also look for unexplainable data consumption, your battery draining faster than usual, and your device's temperature becoming hotter than normal.
Comparing mSpy Vs FlexiSPY
In this article, we've extensively compared mSpy vs FlexiSPY, two of the most popular spy apps around. While both are excellent choices, they do have their own strengths and weaknesses.
Use mSpy if:
You have a limited budget and you're looking for the most cost-effective option.
You're looking for a parent-child-oriented application to help you monitor your children's activities.
You want only basic services without the added hassle of extra features you'll never use.
Use FlexiSPY if:
You're willing to spend money to get the features that you want.
You need a more technical approach to your monitoring.
You want an extensive list of features that you can use to monitor, control, and gather evidence from the target device.
Regardless of your reasons for subscribing to either application, mSpy and FlexiSPY are undoubtedly both great picks. If you've already determined your needs, you can avail of the app of your choice. After all, both are great.
Did you like this article? If you still haven't made up your mind, read our mSpy or FlexiSPY review to help you choose. Let us know your thoughts in the comments below!