Homescapes, a game where your aim is to help Austin change and renovate his childhood house. For that, you have to earn items and accessories by completing a series of games. The game that you get to play is a match and break where you have to match 3 or more similar items to break them and collect the given items in limited chances. And apart from this, Homescapes can also be called fixer-upper game.
What attracted the players in this game is the combination of the game and story. Which makes it challenging as you have to win both the game and fix the house to clear the levels. But if you wish to play similar games with a different storyline and other interesting characters then you can check out this list where we have mentioned some of the best games like Homescapes for both Android and iPhone users. So let's begin.
Games Like Homescapes
1. Manor Cafe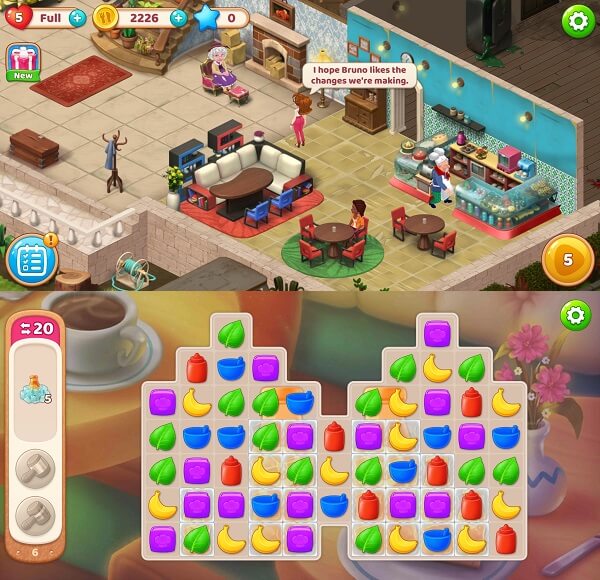 Just like Homescapes, this game also has a similar kind of theme. But here instead of a house, your job is to renovate a cafe with the help of Meg your manager of the new place. And for that, there will be games where you have to match the same items, break them while collecting the required items and completing the given goals.
You will earn coins and stars after completing each game which you can use to renovate and buy various things. The goals and difficulty will increase as you progress through the levels. Use various combinations to earn various powerups. And you will also get boosters to clear the items that may be getting hard to break.
The games will be played in episodes, and once the percentage bar of one episode is filled up you will unlock new episode, room, and location which again you have to renovate accordingly. Try to bring back the reputation of Manor Cafe and attract as many customers you can with the changes you make.
Play Store Download | App Store Download
2. Matchington Mansion
If you love playing designer games then you will love Matchington Mansion. In this game, you will become the owner of a mansion and along with your friend Tiffany, you will redesign it. Here you will have to play the game similar to all the others in this list with different items to match, but it seems to be a little bit easier than the rest.
As you complete a level you will unlock new items that can be used in the mansion. And with the coins and stars that you earn, you can apply that item into your mansion. Here you will get different powerups in the game so that you can progress quickly. Once you are done designing one room and fill its progress bar, the next room will unlock. Then again you will have to redesign that room accordingly.
You can check your progress by tapping the book icon at the bottom of the screen and change or edit the things you have installed by using the icon next to that. And if you wish then you can also connect this game with a Facebook account to share the progress with your friends just like the above game.
Play Store Download | App Store Download
Try More Games: Best Table Tennis Games
3. Dream House Hidden Object
This is a game where you will get to renovate the house but without matching puzzle game. In place of that, here you have to find the hidden objects given in the room and other minigames to clear levels and earn money. You will be provided with the image and list of things that are to be found in the game. The earned money will then be used to buy things to decorate and redesign the house.
You can buy items in various styles and designs as per your choice. The level will keep increasing as you complete the renovation of the house. And then you will unlock other features like shopping, other locations, task list, minigames etc. It also allows taking the screenshot of your decor from the game itself and has the option to connect to social media accounts.
Play Store Download | App Store Download
4. Candy Crush Saga
Candy Crush Saga is one of the most downloaded games on Play Store with more than 500 million users. This can also be considered as an alternative for Homescapes as it has a similar match break game. But you can call it a little easier than Homescapes as here you only have to progress through levels by clearing the candies and collecting the given items while scoring points. No need to upgrade, renovate or fix anything in the process. Though it does not have that detailed story mode, you will get to meet various characters. And the best thing, you can play this game both online and offline.
Play Store Download | App Store Download
5. Town Story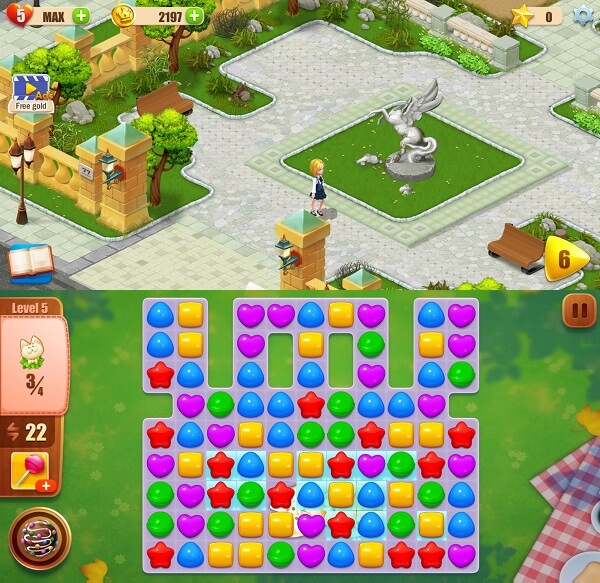 Town Story is a blend of Matchington Mansion and Candy Crush. It is filled with candies to play with. Here you have to help your friend Rita to regain her memory by spending time in her childhood home. You will have to fulfill various tasks given like cleaning, renovation of the house, decorating the garden, reading letters, etc. The game has a large playing area, which will unlock as you finish the previous game or complete all the given tasks.
To finish the tasks you will need coins and stars which you will earn by completing the goals in the match game. i.e to collect the given items. As you progress Rita will also remember her life and gradually gain back her memory. This game has really great animations. And what more, you can even add your Facebook account and play contest with your friends online.
Play Store Download | App Store Download
6. Family Zoo
If you want something out of the ordinary, then you can try renovating and managing the Zoo. The city is deciding to build a supermarket in place of the old family zoo. So your job is to restore the zoo, gardens and raise animals. Improve their habitats and attract the locals and tourist. All this with the help of match 3 games with fruits. You will need to collect the given fruits to clear the level and earn coins and tickets.
These earned coins and tickets will be then used to renovate the zoo. There will be various decorations and styles that you can choose as per your desire to make the zoo look attracting. You will get to interact with the animals, expand your business and make friends with other characters in the game who can help you redesign and save the zoo. As you advance in the story, you will get more quests and tasks that are harder than previous ones which will also help you earn extra rewards for the game.
Play Store Download | App Store Download
7. Match 3 Jewels
Match 3 Jewels is a puzzle game that is based on the same method of playing like all the games mentioned on this list. Here you have to match and break 3 or more similar tiles in order to play the game. It has two modes to play from, one Play where you will get various World and Levels to play. You have to earn high scores and clear all the blocks in this mode to clear the game.
Another is the Gold Rush, in this mode, you have to match the jewels and dig or reach as deep as you can to earn gold for getting a high score in the given time. In each mode, you can match more than 3 jewels to get power tools that will help you in wiping the tiles off the game to earn more high scores.
Play Store Download | App Store Download
Try More Games: Best Offline Fighting Games
Conclusion
So these were some of the best games that are like Homescapes which will provide you different scenarios and challenges. Which one did you like the most? Or any game you think should be here on this list. Mention them in the comments below.