Do you work on Google Docs or Sheets and wondering whether if there is any method to check the word count for any written documents on both of them? Well, some of you might already know it, but for those who are unaware of it, we are here to help you out. Now to know the word count in Google Docs is pretty simple and easy. But in Google Sheets, there are no such options like Google Docs yet you still can find it. In this article, we are going to share with you the methods for it. So let's get started.
Check The Word Count In Google Docs
On Google Docs it is pretty easy as it has an inbuilt feature just like the Microsoft Word. But you will need to access it in order to know the word count. And it can be done on any of the platforms like PC application, web browsers, Android and iOS devices.
From PC
1. Open Goole Docs desktop application or visit Google Docs on web browsers. Then open any of the desired documents.
2. Now at the top on the toolbar menu, select Tools. Then you will see the Word count option, select it.
Or you can also check it using a keyboard shortcut, Ctrl+Shift+C on Windows or command+Shift+C on Mac.
3. After this, it will open a pop-up window where it will show how many pages, words, characters, and characters excluding space are in the documents.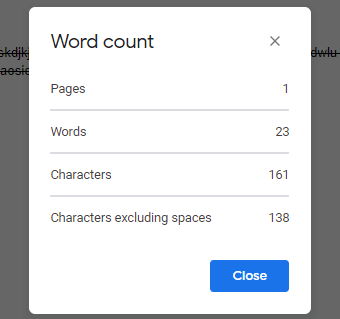 If you wish then you can even highlight any particular area on the document. Then repeat the same to get the word count for the selected text which it will show accordingly as in the image below.
From App
1. Open Google Docs app and then the desired document.
2. Now tap on three dots at the top right of the screen. Then from this menu select Word count.
3. After this, it will open another window and show you the number of words, characters, and characters excluding space in that particular document.
It will only show the word count for the whole document. You won't be able to see the number of pages or select the part of the document like in web or PC app.
Also Read: Check RAM Frequency On Your System
How To Get Word Count In Google Sheets
Though there is no particular method like above to determine Google Sheets spreadsheet word count. But you still can use formulas to get the number of words as per cell or column in Google Sheets. And this method can be used from a PC or even from the smartphone application.
In case you are feeling confused about using the formulas then you can use the last method in this section.
Method 1 – Get Word Count Of A Cell
Tap on an empty cell where you want the results to be shown. And then input the formula =COUNTA(SPLIT(number of the cell," ")) 
For e.g. to get the word count for a single cell A15 just write =COUNTA(SPLIT(A15," "))
Method 2 – Know Word Count Of Column
Use the following formula =ARRAYFORMULA(sum(COUNTA(split(A1:A30," ")))) in any cell where you wish to see the result. Here A is the column name while 1 and 30 are the row numbers, so you can replace them with the desired values. Using this formula with the same values will give you the word count in column A between row or cell 1 and 30.
Method 3 – Online Tool
In case you don't want to use any of the above methods, then you can try an online tool. Just copy all or desired data (by selecting the desired cells, column or row and using ctrl+a, ctrl+c) from Google Sheets and visit Word Counter and then paste the content there. As you paste it, the tool will immediately show the word and character count.
Not only this, it will help in checking the grammar in the content and even see how much time any particular word is used. You will also get to know the keywords and their density in your content. Just copy the content and paste it. Simple right?
Also Read: How To Export Passwords From Chrome
Wrapping Up
So using these methods you can get to know the word count in Google Docs and Google Sheets. For Google Sheets, I recommend using the online tool as it is simple and easy rather than applying the formula. But if you already are used to formulas in Google Sheets then its the best option. We hope this article was helpful to you. Share your experience with us in the comments section below.