Snapchat is perhaps the most viral app that ever graced the stores. In almost no time, it became the "must-have" app of teenagers. A big reason was the simplicity of the platform. In a battle with its closest competitor, Instagram, Snapchat has adopted a very different strategy. While Instagram has been constantly trying to diversify, Snapchat has only tried to perfect what it is known for- photo sharing. There are many glaring shortcomings of the platform which might put off some people from using it. Here are the pros and cons of Snapchat.
List of Pros and Cons of Snapchat
Pros
1) Temporary Pictures
The unique feature of Snapchat is what has made it so popular. The sharing of temporary pictures solved many problems for users. They didn't have to worry about hundreds of pictures getting stored, or other's saving their pictures. It also gave the platform a unique feel, which worked in its favor.
2) Strong Privacy
Another advantage of Snapchat is security. Unlike other social media platforms, Snapchat takes privacy very seriously. There is no way to bypass privacy settings, and their servers are very secure. The pictures, being momentary, cannot be saved. Any attempt to take a snapshot of it immediately notifies the user.
3) Amazing Filters
Sure, a lot of photo-sharing apps provide filters, so do many photo-editing apps. But no one does it like Snapchat filters. From normal filters to the crazy ones, there is always something for everyone. You can make your face look like a dog, a bear, make yourself dance, become a cowboy, and pretty much anything a weird imagination can think of. This was the primary reason why Snapchat became so popular.
4) Minimalistic Interface
Among the horde of platforms like Facebook which bombard you with features, Snapchat has always kept it simple. You can connect with people, you can edit photos, and that's pretty much it. The clean interface not only makes the app appealing but also much faster than its competitors.
5) Easy way to connect
On Snapchat, all you need is your ID to connect with others. There is no personal info like contact number involved, so privacy is maintained. You can share the ID via multiple mediums, including a special Snapcode. The feature became so popular that even Facebook incorporated it in its Messenger.
Cons
1) Addictive
Though this can be said about almost every social media platform, the addiction of Snapchat is the worst. People spend their entire days just trying out different pictures with different filters. Apart from being quite unproductive, the habit is also dangerous for health.
2) Craze About Filters
Filters can be another disadvantage of Snapchat. Like we mentioned earlier, people are simply crazy about Snapchat filters. So much, that they do nothing else except putting various filters on their faces. Many people have gone as far as to create their identity solely around these filters. This trend, though seemingly harmless, can be dangerous in the long term.
3) False Feeling of Security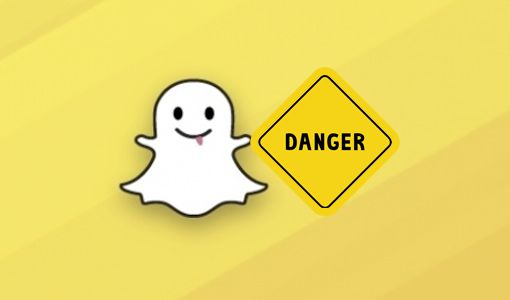 Snapchat is built to be a temporary photo-sharing platform, which means photos gets deleted automatically. This false sense of security often encourages people to share whatever they want. However, while Snapchat does give a notification if someone takes a snap of your pictures, it doesn't stop them from doing it anyway. Some people choose to share even more suspicious pictures, thinking that the it would be deleted automatically.
4) Not great for marketing
Snapchat, unlike other platforms like Facebook, Twitter, and Instagram, is not an ideal platform for marketing products. There are limited options within the application anyway to set up a brand. The self-destructive nature of the snaps means that you get a very small window to engage with potential customers, and their lack of attention in that window would render your attempts useless.
Conclusion
There is no doubt that Snapchat is an amazing application, which allows you to share pictures with others on a click. The awesome filters make things even more interesting. But like any other form of social media, there are some pros and cons of Snapchat and there has to be a limit on the amount and way of usage. We must remember that while Snapchat is a cool part of our daily routine, it is not the sole part of it.