Is your Strava account filling up with unknown followers? If yes, then it's time to clean up your follower's list. On Strava an athlete can follow other athletes to see their activities and achievements on a regular basis. It is similar to any other social networking site where people follow you to see your daily posts and activities.
However, if you do not want to share your activities with all your followers on Strava, then you can simply remove them from your account. Meanwhile, you can also block accounts that you think are suspicious or fake.
Remove/Block Someone On Strava
There are basically two ways by which you can stop followers from viewing your activity on Strava. These two methods are Removing and Blocking someone. For using these methods you need to first visit the profile of the athlete you want to remove or block. There are 3 ways you can visit someone's profile on the Strava app and website, and here are those three methods.
Visit Someone's Profile On Strava
Search for the athlete: Tap on the people icon at the top right corner and search the athlete's name. Once you find the athlete, tap on their name and you will reach their profile
From Activity Feed: If you happen to be following the athlete then you can simply tap on their profile pic on your activity feed to land on their profile.
From Your Profile: On the app, tap on the hamburger icon at the top left corner and then select your profile. Next, you can simply tap on the profile icon at the bottom right corner. Next click on FOLLOWERS, now you will see the list of all your followers. Tap on the name of the athlete you want to remove to visit their profile.
You can follow these three methods on the Strava website to visit someone's profile as well. Now, since you are on the profile of the athlete let's remove or block them.
Remove Followers On Strava
On App
Note: You can not remove followers from the Strava iOS app. So, if you are using an iPhone then you can use the Strava web on your iPhone's browser.
1. On the athlete's profile on your app, tap on the three dots icon at the top right corner. Next, select Remove from followers
With this, the athlete will be removed from your follower's list.
On Web
1. On your profile page scroll down and select Following. Now under following select the drop-down box and choose Following Me.
Note: On the web, you can only block athletes from their profile and can not remove them from there. Therefore you need to visit your profile and then remove athletes from there.
2. After that, click on the gear icon in front of the name of the athlete and then select Remove Follower.
Following, a pop up will appear, click on the Remove Follower button. As you do that, the athlete will disappear from your follower's list.
Block Followers
On App
1. On your Android or iOS device, open the Strava app and go to the athlete's profile, tap on the three dots icon and select Block.
Next, a confirmation pop up will appear, tap on Block Athlete
With this, the follower will be blocked from your account.
On Web
1. Visit the profile of the follower you want to block from your account using any of the three methods shown above. Now, click on the gear icon under their name and select Block Athlete.
2. A pop-up message will show up, click on the Block Athlete button to block them for good.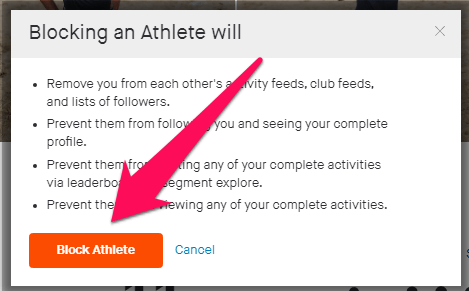 So that's how you block someone on the Strava app and website. If you have accidentally blocked someone then there's no need to worry. You can easily unblock them by searching their name and visiting their profile on the app and website (similar to unblocking on Instagram).
ALSO READ: How to Delete Your Strava Account
What Does Blocking Or Removing Someone On Strava Do?
When you remove someone from your account on Strava then they are no longer seen under your follower's list. All your activities are removed from their feed, however, if you are following them then you can still see their activities in your feed.
But, unlike on Instagram, an athlete you removed can still see your profile by searching your name on Strava and follow you back in the future.
Removing overall means you temporarily stop someone from viewing your activities. Contrary to that, Blocking means that you have permanently blocked someone from viewing your profile and activities. When you block an athlete, then you both are removed from each other's follower's list and activity feeds.
Moreover, a blocked athlete can not search you on Strava and cannot visit your profile. However, they can see your name on the leaderboards but can not visit your complete activity from there. Also, when you block someone on Strava they don't get to know about that as they are not notified about it. So, blocking on Strava is a complete solution if you want to get rid of someone for good.
Conclusion
Having followers is a great thing on Strava as you can share your activities and achievements with all of them. However, if your follower's list is increasing with athletes with whom you would not want to share your daily activities then removing or blocking them is your only choice.