Glassagram Summary: Glassagram allows you to view private Instagram profiles and open ones. It'll show you the following list, followers, likes, comments, and more. You can also use it to view Instagram stories anonymously, as well as download them. You can also view and download photos and videos.
Do you want to know how to track an Instagram account without logging into your own? Instagram is one of the most popular social media platforms on the planet, with users posting tons of great content on Instagram stories and on their profiles.
But sometimes, you may want to view this content without logging into the app. But how? Luckily, you can do this with Glassagram. Continue reading my Glassagram review to see how I use it to monitor Instagram profiles.
Glassagram Benefits
Instagram is a great app for keeping up with friends as well as some of your favorite celebrities and influencers. However, between the messages, stories, and notifications, the sheer amount of activity can sometimes get overwhelming. That's sometimes the case for me and many people I know.
That's why a service such as Glassagram works out great. It allows you to monitor your favorite Instagram account(s) without logging into the app or desktop version of Instagram. You can view someone's Instagram feed without logging into your account, however, viewing the full post or the story requires logging in.

Glassagram allows you to bypass that so you can view these posts in detail without ever having to log into Instagram. You can also use it as an Instagram story viewer to view stories and even save them.
This feature has definitely come in handy for me. I like saving the funny videos that people share on their Instagram stories. And even if they are from other people's accounts, I can save those funny Instagram stories using Glassagram.
That's why I use Glassagram to follow private meme accounts on Instagram because, in addition to saving stories, you can also use it to save posts. Glassagram makes it easier to save some of the hilarious videos that are shared on Instagram.
But saving content isn't all that Glassagram has to offer, you can use it to view the account's following list, the likes on the account, and more. Continue reading my Glassagram review to see just what this
Glassagram Features
When you think of Instagram story viewers, there are probably a lot of unknown websites that come to mind. In fact, if you google "Instagram story viewer," you'll see a bunch of unfamiliar websites pop up. Some are useful, but many are not, and they're sometimes too frustrating to use.
This is what makes Glassagram the best at what it does. It's a one-stop shop where you can view Instagram stories, save them, and monitor your favorite Instagram profile without having to log into the app.
Before I go further in this Glassagram review, it's important to note that Glassagram operates solely as a website, there's no app available for it. While this may seem limiting, it's actually a good thing.
This means you can use Glassagram on any browser, whether that's your desktop or mobile device, and easily monitor your linked Instagram account without it taking up any space.
The UI on both the desktop and mobile versions is great too and allows you to easily navigate the Glassagram dashboard and view information about the linked account.
Dashboard
The Glassagram dashboard provides you with an overview of the linked Instagram account. There, you can see how many Instagram stories the account currently has up, the number of posts, comments, followers, likes, tagged photos, and how many people they're currently following.
This comprehensive summary of the Instagram account's stats is what makes Glassagram more than just an Instagram viewer. However, I know that if you're researching an Instagram profile, especially for business purposes, then you need more than just a summary, and Glassagram delivers on that front too, as you can review each of the stats provided in the summary in detail.
View Private Instagram Account
When it comes to a private Instagram account, you usually need to follow them to be able to view their posts, followers, the following list, and essentially anything related to the account. However, with Glassagram, you can get access to a private Instagram profile without sending them a follow request.
It's important to note though, that Glassagram takes a while to provide access to a private Instagram profile. The data retrieval process for private Instagram profiles can take up to 7 days. This is a lot longer than the 24 hours it takes for some public accounts.
During my test, I wasn't able to gain access to the private account I linked. However, based on research, it seems that other users have had better luck. So, this is definitely a worthy feature, especially if you receive a lot of followers or follower requests from private Instagram profiles and want to know who they are before you accept.
Stories View
Instagram stories are a great way to share something that you don't want on your profile for more than a day. And if you do want it to last for more than a day then you can easily make it a story highlight on your profile.

Unfortunately, the 24-hour limit on stories means that sometimes you miss some great stuff that people post. Glassagram allows you to view Instagram stories for an additional 24 hours after they've expired. This means you get 48 hours in total to watch Instagram stories from your linked account.
What's even better is that with Glassagram is that you can use it to download Instagram stories too. This means you can save your favorite moments from someone's story. Personally, I use Glassagram to download Instagram stories that I find funny because there are some really hilarious videos on Instagram that deserve to be saved to be shared later.
Followers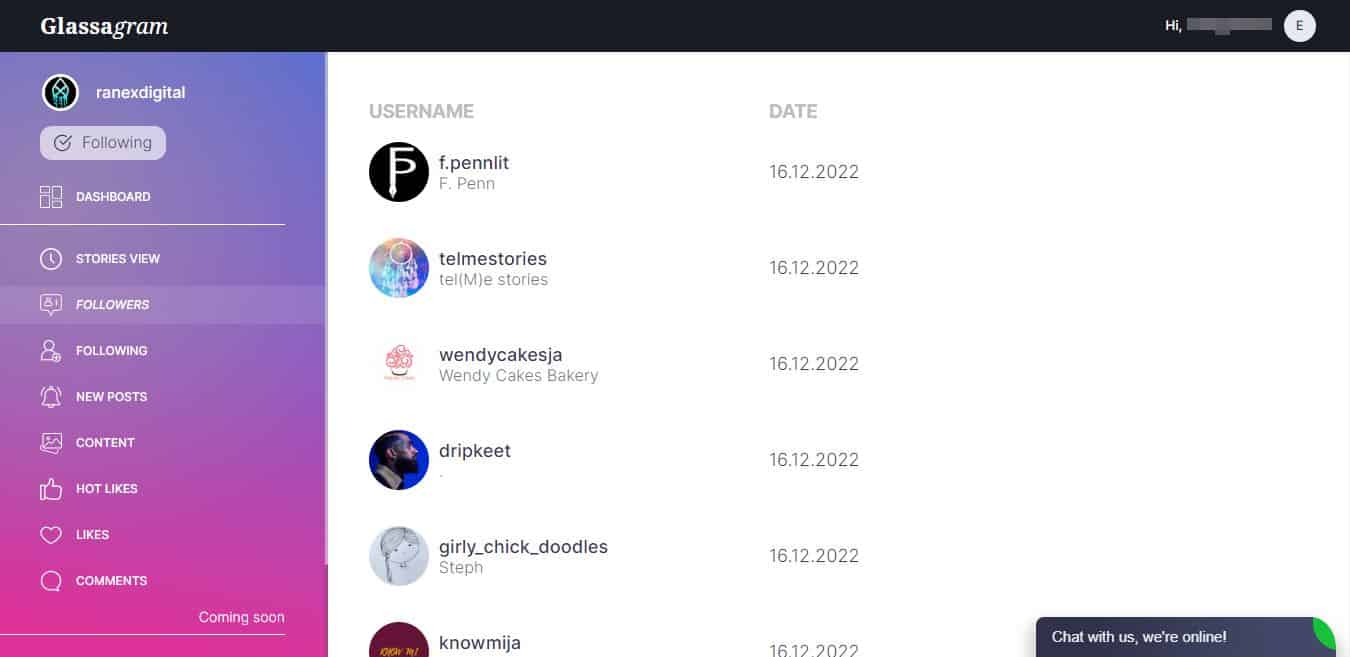 Knowing who follows an Instagram profile can give you a good idea about their audience, which is always good to know, especially if you're researching a competitor. Glassagram provides you with a complete list of someone's Instagram followers. Unfortunately, their names aren't hyperlinked, so you can't simply click their username to go to their accounts.
However, having a view of the names provides you with a starting point to research your possible future customers.
Following
The accounts that someone follows reveal just as much as their followers, if not more. With Glassagram, you can easily view their entire following list. This can work especially well for competitor research too, as it gives you an idea about who they're interacting with, their possible current clients/customers, and future clients/customers for you.
New Posts
If you're following an active Instagram account, then it can be difficult to keep track of what they're posting. Luckily, Glassagram has a New Posts section that shows you the recent posts that were made by the target Instagram profile.
Unfortunately, the account I linked for this demo hasn't posted anything recently, so the New Posts section was empty.
Content
When you want to view everything that someone has posted on their Instagram, you can use the Content tab. One of the best things about this feature is that you can view archived posts as well.
This means that if someone posts something to their Instagram but archives it so it no longer shows up on their feed, you can still view it with Glassagram, no matter when you link the account.
The Contents tab is also where you go to download Instagram posts from the linked account. You can also use it to view full-size Instagram photos with ease.
Likes
It's all about the likes. Whether you want to admit it or not, likes on Instagram are important. Fun fact, the most-liked post on Instagram is currently a carousel of Lionel Messi and his teammates celebrating their 2022 FIFA World Cup win.
Glassagram doesn't neglect the likes, as you can view which post was liked by who on an Instagram profile. If you want the total likes that the Instagram profile has received, you can refer to the Glassagram dashboard to view it.
Comments
Besides the likes, Glassagram also allows you to view the comments made on each Instagram post. Unfortunately, the account I linked isn't that big and doesn't have any comments visible. However, the display is similar to the Likes section, as it shows you who commented, the comment itself, and which post it was made on.
Compatibility
As mentioned before, Glassagram is a web-based service, and there's currently no app for iOS or Android available. This means you can use Glassagram on your desktop or mobile device without a dedicated app because you can access it via your browser.
This also saves storage space on your device and allows you to easily access your Glassagram account on different devices.
Pricing
Glassagram has three subscription plans available. The monthly subscription costs $49.99 per month, while the three-month subscription costs $29.99 per month. The annual plan costs $14.99 per month.
There was mention of Glassagram having a free Instagram story viewer, however, while doing research for this Glassagram review, I didn't come across it. In addition to this, there currently isn't a free trial available for Glassagram either.
Glassagram Customer Support
A great customer support team can make or break your experience while using an app or service. If you want to contact Glassagram before subscribing, you can do so via their email address or the contact form on their website. They usually respond within 24 hours, which is good.
However, when you do subscribe, you get access to their 24/7 live chat. The agents are responsive and helpful and truly helped me address any concerns or queries I had about Glassagram.
Sometimes, really good customer support can be hard to find, but I'm happy to report that Glassagram's customer support was top-of-the-line.
How To Use Glassagram
One of the things I loved about Glassagram is that it was absolutely easy to use. This simplicity means that anyone, from tech-savvy people to those who are a bit technologically challenged, can use it.
Here's how to use Glassagram:
Go to the Glassagram website and log into your Glassagram account.
Enter the username or the URL of the account that you want to monitor.
Confirm the account that you entered to track. Afterward, you'll see a notice stating that Glassagram is currently retrieving the data from the account.
After the time has passed, revisit Glassagram and you'll be able to see the information for the linked account.
What We Liked
Every app or service has its advantages and disadvantages. Here's what I liked about Glassagram while testing it out for our Glassagram review:
The website is easy to use and navigate.
Can use it on a desktop or mobile device.
The dashboard provides a nice summary of the data on the linked account.
Data are separated, making it easy to view everything you need without getting confused.
Information on the linked account is updated relatively quickly, so you don't miss a beat.
Instagram stories are available for an additional 24 hours so you can view and store them.
Ability to view and save Instagram photos and videos.
Allows you to monitor private Instagram accounts without requesting to follow them.
What We Didn't Like
Glassagram is great but, like most apps, it's not perfect. With that said, here's what I didn't like while testing this anonymous Instagram story viewer:
The accounts listed are not hyperlinked for easy viewing.
Issues tracking some private profiles.
The time taken for data retrieval is long and can sometimes take up to 7 days.
The subscription fee may be high for some users.
Sign up for Glassagram today and monitor your favorite Instagram profiles!
FAQs
Is Glassagram a scam?
Glassagram isn't a scam. It allows you to monitor all the available activity for an Instagram account, such as the followers, following list, comments, likes, posts, and stories. While data retrieval takes some time, it's certainly worth the wait if you want to monitor an account without logging in.
Is Glassagram safe or not?
Glassagram is safe. It's an anonymous Instagram story viewer that also allows you to monitor the other activity on an Instagram account. While using it, the account owner won't know you're watching the account, which makes it great for competition research.
Can Glassagram view private accounts?
Glassagram has stated that it can view private accounts. One of Glassagram's features is its ability to view both private and open accounts. This will allow you to see the details of the private account, such as followers, posts, following, and more without requesting to follow them.
What are the prices of Glassagram?
The prices for Glassagram are $49.99 for its monthly subscription, $29.99 per month for its three-month subscription, and $14.99 per month for its annual subscription. The annual subscription is $179.88 per year and it's currently listed as the most popular subscription plan on Glassagram's website.
Is Glassagram best Instagram viewer app?
Glassagram is currently the best Instagram viewer app on the market. What makes Glassagram stand out is the fact that it allows you to monitor Instagram profiles as well as save their content. This means you can view the content on a private account without actually following it.
How do you anonymously view Instagram?
You can anonymously view Instagram by using third-party apps or websites. Glassagram is an anonymous Instagram viewer that allows you to track a linked Instagram account with ease. With it, you can view an account's posts, followers, following, comments, stories, and more. It's easy to use on desktop or mobile.
Glassagram Review 2023 – Wrapping Up
What'd you think of my Glassagram review?
Being able to view Instagram stories without logging into the Instagram app is honestly great because you get what you want without having to deal with the app. As you've seen, Glassagram gives you everything you need to know about the Instagram profiles you link to it.
You can use it to view a profile's Instagram story, followers, the following list, posts, and more. If you want other ways to monitor Instagram profiles then check out our list of Instagram spy apps.
If you have any questions, leave them in the comments below.
Pros
User experience is intuitive and allows for easy navigation.
Dashboard provides a comprehensive overview of the linked account.
Data on the linked account is updated quickly so you can stay on top of it.
The website is optimized for both mobile and desktop viewing.
Information on the linked account is updated relatively quickly so you don't miss a beat.
Gives you additional time to view and save Instagram stories.
Allows you to view Instagram photos and videos in full as well as save them.
Allows you to monitor private Instagram accounts without requesting to follow them.
Cons
Listed accounts are not hyperlinked.
A few issues with tracking private accounts.
Time for data retrieval can take up to 7 days, which may be too long for some users.
Subscription fee may be high for some users.