Facebook sends you a notification to inform you of a friend's birthday. Similar to that, there's a setting on Snapchat by the name of Birthday Party which if turned on will help your friends on Snapchat to remember your birthday. Enabling it makes your zodiac sign emoji appear next to your username and it also adds cake emoji next to your name on your birthday. Not only this but you'll also get a special Snapchat birthday filter to use in your snaps. And even your friends will have a filter allowing them to wish you in entertaining ways. 
So, if you want to celebrate your special day in the best possible way then here's how to enable Snapchat Birthday Party on Android or iOS.
Turn On Snapchat Birthday Party
I have used the steps and screenshots from the iPhone app. However, the method remains the same for Android.
Now, let's jump to the procedure.
Open Snapchat app and tap on your Ghost icon or Bitmoji (if you have added it) at the top left corner of the screen.
This will take you to your profile screen. Here, tap on the cog icon at the top right to go to Settings.
Under Settings, tap on the field that reads Birthday.
Finally, toggle Birthday Party switch to ON.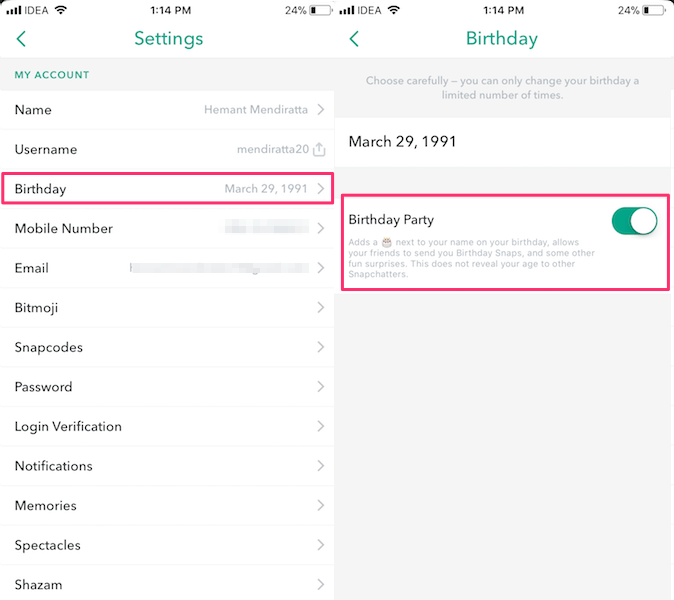 That's all you need to do.
Now, whenever your birthday comes here's everything Snapchat will offer.
Snapchat Birthday Emoji – Cake
As I mentioned earlier, Birthday Party option when activated will add a cake emoji next to your name on your birthday. This will remind your friends and there's no chance of missing to wish you.
Snapchat Birthday Filter – For You And Your Friends
Not only does Snapchat help your friends remember your birthday but it also allows them to celebrate it in a special way. When your friend tries to send you a snap on your birthday they will get a birthday filter to add in the snap.
Moreover, you will also get a birthday filter for using in your snaps that you can send privately or post to your story.
Snapchat Birthday Filters will, of course, be available for a 24-hour period till your birthday lasts and will be removed thereafter.
Suggested Read: Snapchat Emoji Meanings
How To Turn On Birthday Party On Snapchat Video
You can also watch this video we shot for you to show all the steps:
FAQs
How to get the birthday filter on Snapchat?
To get the birthday filter on Snapchat, tap on a little cake emoji next to your friends' username on their birthday. then do double tap to birthday snap. This will activate the birthday filter that you can use in a snap to the birthday person.
How many times can you change your birthday on Snapchat?
You can change your birthday on Snapchat a limited number of times, which is five. Before you change it for the fifth time, Snapshot will give you a warning that's it's the last time you are allowed to change your birthday.
Final Words
This was all about the Birthday Party feature on Snapchat you should know. We hope that all your queries were answered here. In case of any further questions, you can drop a comment and let us know.