Face changing apps can give you some of the most hilarious pictures. And when you post them on social media, you would be flooded with comments from your friends. In fact, you might have already seen your friends posting such funny pictures. After all, it is the latest trend these days. However, for a perfect face swap, you would need the right app. If done right, you would get an amazing result. Here are best face changer apps for iPhone and Android.
Best Face Changing Apps
Face Changer
This is the most trending app and the funny thing is that its name is Face Changer itself. You can play with parts of your face. For example, you can choose eyes and make them funny, or you can choose the nose and play around with it. Further, you can choose hair and make the person go bald.
You can also add text or draw on the photos after doing the face change. Once done, you can share directly with your friends via various options.
Another way of changing a face is adding a beard to it. You can also try beard apps and see how you look in a beard.
Platform: Android
Face Changer 2
After the successful launch of Face Changer, the newer version of the app was launched with improved features. And if you are looking for the latest features in your old Face Changer app, then Face Changer 2 app would be perfect for you. One of the best things about these apps is that they are pretty easy to use.
The new app includes features such as morph faces, stickers and more scary options for various face parts. There is an added feature of instant replay with the help of which you can create funny face videos.
Platform: Android
Insta Face Changer Pro
If you use Snapchat, you must have seen the animal filters getting popular. This app takes those filters to a whole new different level. You can give animal look to your face and create a funny one, a cute one, a scary one and much more.
You get a half-animal picture as a result of this app. And when you would share such pictures with your friends, they would definitely be amazed at your talent.
Platform: Android
Funny Face Changer
This iPhone app has a basic purpose of making your face funny. So what you have to do is pick a picture, let the app detect your face and the various face parts and then distort the face parts using the various app options. There is something for all kinds of faces and hence, you would never get bored of this app. Whether you are just killing time or actually looking for creating a funny picture out of your friends' pictures, this app gives you many options.
Platform: iOS
Face Change Photo Editor
Import your photo from the gallery to make changes with this funny face changer app. Not only this, you can directly capture your face from the camera option available inside the app. You can start making funny faces using the variety of stickers available. Not only this, you can even add the text to your finalized photo.
If you are with a group of friends and want to laugh out really hard, try this app.
Platform: Android
FaceApp
FaceApp is a revolutionary app for iPhone as well as Android. It uses artificial intelligence to give your pictures an all-new look. You can choose to get younger or older and see how you would look when your age is changed. Also, you can add smiles to your pictures. So, if you are a camera conscious person who cannot smile when looking into the camera, this app would come to your rescue.
There is also an option to change your gender. So you can see how you would look if you were of the opposite gender. Additionally, this app contains amazing style filters.
Photo Face Swap
There are times when we have perfect pictures in our phone gallery and we wish we could use face swap on them rather than clicking a new picture using the camera. For such occasions, Photo Face Swap is the best face changer app available. Yes, you can use it on your already existing pictures.
However, the faces you are going to swap should be aligned properly if you want hit pictures. Further, the Face bomb effect of this app is worth a mention. You can choose one face and then put that face on all the faces present in the picture. The result would be pretty funny.
Platform: Android
Now, let's look at the apps that are specifically for face swap.
Best Face Swap Apps
Everyone loves the face they were born with. This is the face we have been seeing as long as we could remember; how could we not love it? But, what if our faces were a bit different? Maybe we had a face of a dog or cat or had horns above our head or the face of someone famous. This is how Face Swapping apps have captured our imagination. Such is the allure of swapping our faces, that there are groups and communities dedicated to just that.
These apps are on the rise and there are already a number of apps in the market. Some of the apps do only face swaps, while others compliment them with a number of options. Whatever your heart desires, there would certainly be an app for that.
So, what is the best way to swap our faces? Let's take a look at the apps in the market for swapping face.
Face Swap Live
Let's begin with the best app there is. Face Swap Live is the most popular face swapping app for its unique feature: you can swap faces with your friend in real time. Moreover, you can even record videos while your faces are swapped. Furthermore, the app comes with a ton of other filters to enhance your selfies. Another great feature of Face Swap Live allows you to swap faces with famous celebs.
With so many great features, it is not a surprise that most Android and iOS users prefer Face Swap Live to be the default app for face swaps. Seriously, if there is one app you want to install for swapping faces, this is the one.
MSQRD
At the first glance, MSQRD (which stands for Masquerade) seems like a copy of Face Swap Live. However, you couldn't be more wrong. MSQRD works on the concept of digital masks, which are laid over the original image. That being said, it does behave like any face swapping app should. You can swap faces with your friends or famous people, along with trying a ton of other masks. MSQRD specializes in taking video selfies, which is the latest craze in the town. The fact that it has been acquired by Facebook speaks volumes about its mettle.
Link: A̶n̶d̶r̶o̶i̶d̶, ̶i̶P̶h̶o̶n̶e̶
Snapchat
Let's talk about the app which started this all. Snapchat is one of the most popular apps among the youth, and face swapping is one of the various features it provides. Face swapping in Snapchat is done by using one of its "lenses". The reason why you should go for Snapchat is the sheer number of features it provides you with. From the basic dog filter to the more recent (and hyped) GOT filter, Snapchat has a lot of tricks under its sleeves. If you are not looking for an exclusive face swap app but rather something more diverse, then nothing could be more perfect than Snapchat.
Face Swap Booth
The simplest apps are the one which is made specifically for one task; interestingly, they are also the most effective ones. Face Swap Booth is one such app, which is solely about swapping faces. Not only it allows you to swap faces with your friends and celebrities, but also with some other photos already stored on your device. The easy to use and a lightweight interface is surely one of the better features of this app, which allows it to have an edge over heavier apps like Snapchat and Face Swap Live. It might not be as famous as the other apps, but it is definitely worth trying.
ALSO READ: Best Chatting Apps
Lip Swap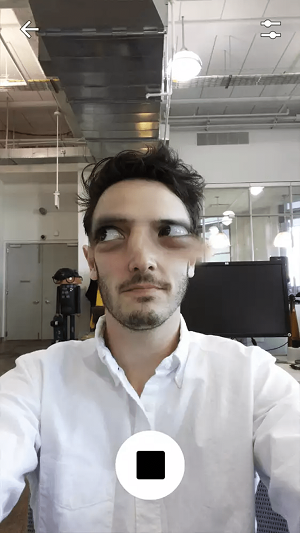 When we have already talked about so many great apps, it sure becomes hard to compete with them.
This is why Lip Swap comes up with something different: swapping specific parts of the face. It has
limited features and ideas, restricting the filters you could use. However, if you are bored of regular face
swapping apps and want to try something different and fun, then this is quite right for you.
Link: A̶n̶d̶r̶o̶i̶d̶, ̶i̶P̶h̶o̶n̶e̶
MixBooth
MixBooth is another app that does not exactly swap faces but rather combines two faces into one. It does that placing one face over another image, instead of laying it over. Once again, MixBooth suffers from the lack of features and diversity. However, it does have a particular target audience who love to enjoy what MixBooth offers.
Face Swap
The last app on our list is Face Swap. If you only care about swapping faces and nothing else, you might want to try this app. It surely lacks a number of desirable features, but the face-swapping feature is great. It offers both auto and manual detection of faces to be swapped, so you have some control over the swapping process. The USP of the app is its simplicity and lightweight user interface, which allows you to use it without any hassle.
Link: Android
Final Words
So decide which one of the face swap apps you like the best and install it. However, you can test out other apps well, as all are free for Android and iOS platforms.
If you have been looking for the best face changer apps for iPhone and Android, this list gives you the best options available. Get them on your device today and start changing yours as well as your friends' face.