There are various reasons why your Android device might overheat. You might have apps that take up a lot of your phone's resources or it could be just summer heat.
Whatever the reason might be, what's important is that you cool down your Android device as soon as possible.
The following apps will help lower your device's temperature, so it doesn't cause you even bigger problems.
All of the apps are free, so you have nothing to lose but a few minutes of your time. Your Android device will appreciate it if you install one of the following best cooling apps available now.
Control Excessive Heating With These Best Cooling Apps
Most of the apps mentioned here have the same name so we highly recommend using the app links given below each app's description.
Cooling Master – Phone Cooler Free, CPU better
Cooling Master is a must in every Android device. It's an easy to use app that gives you the temperature of your phone as soon as you open the app. At the bottom, you'll see a button that can detect the apps that cause your device to overheat.
Tap on it, and after the scanning finishes, you'll see a list of apps that are the culprits. If you don't want the cooling app to close an app that's on the list, simply uncheck it and then tap on Clean Up.
Cooling Master will then tell you to turn off your phone and leave it alone for a while. It sounds impossible, but it's something you need to do so your phone can cool down.
Link: Android
Cooler Master – Clean Booster
Cooler Master is just as easy to use as the first option. Cool down your Android device by tapping a single button. The app gives you RAM and CPU percentage as soon as you open the app. If the app tells you that the temperature is not Ok, tap on the blue button below and Cooler Master will go through your apps.
You also get the option to unselect an app if you think it's necessary. Select the Let's Cool Down button and all the apps on the list will be closed to help the temp go down. When you leave your phone alone for the cooldown time, make sure it's not in direct sunlight since it's going to prevent your phone from cooling down.
Link: Android
CPU Cooler – Cooling Master, Phone Cleaner Booster
Discover real-time temperature, CPU and RAM usage status of your smartphone with this app. It will also show your Device info including some specifications of your phone, CPU and your battery. It will also help in reducing the temperature by detecting apps that are causing the phone to overheat.
Just tap on Find Heat Apps and it will scan your device to show you which app is causing much heat. Tap Cool Down and it closes the apps and reduces your smartphone's temperature. Apart from this, it also boosts the performance of your smartphone by cleaning its RAM. You can clear junk files to make some extra space and there's also a Battery saver to make your phone run a little longer. It is also possible to set a widget on your home screen for one-tap cooling.
Link: Android
Phone Master – Junk Cleaner Master, Battery Cooler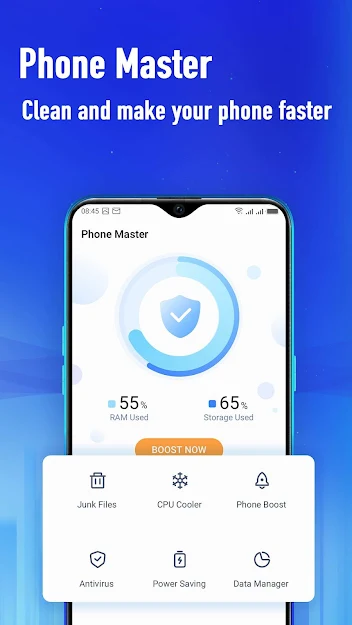 Phone Master – Junk Clean Master is a phone cleaner and cooling app. The app's cleaner clears your cache, junk files, memory, and more. It also clears your RAM to boost your phone's speed. Its Speed Booster also stops auto-start apps from running to save you space on your phone and battery life.
The app is multipurpose, as it also works as an antivirus scanner as well as an app locker to protect your privacy. Even with all of this, it still functions as a great cooling app. It cools your phone's CPU temperature by detecting and closing apps that can cause a temperature rise in your phone.
In addition to all of this, the Phone Master – Junk Clean master also has Data Management and App Management features. These help you better manage your phone's data and apps, which is important to preserve space on your phone. Overall, it's one of the best cooling apps for Android.
Link: Android
Battery Saver DU – Life Saver & DU Battery Charger
The Battery Saver DU app is an app focused primarily on preserving your phone's battery life. This can come in handy in just about any situation, because who couldn't do with some extra battery power?
It's simple to use and preserves your phone's battery power by killing power-hungry apps that run in the background. It works with an easy tap to deliver power optimization and stop the power-sucking apps.
This management of power-hungry apps doesn't only extend your phone's battery life, it also helps to keep your phone cool. Its Battery DU Cooler feature can detect your phone's temperature and turn off the heat-producing apps that cause overheating.
Power-hungry apps are what often cause a phone to overheat due to the increased pressure on your CPU. Killing apps that eat up your phone's resources will keep your phone cool while also preserving its battery life. The Battery Saver DU allows you to do both with ease.
Link: Android
Battery Doctor – Battery Life & Phone Boost
Battery Doctor is a beloved app that helps to preserve your phone's battery life and boost your phone's overall performance. In addition to this, it also works as a great Android phone cooler app and can help you keep your phone clean of junk files.
It's easy to use with a one-tap optimization. Its battery monitor ranks and displays each app's power consumption. With one tap, you can easily turn off the apps draining your phone's power as well as causing it to overheat.
Its cooling capabilities are rather impressive. It can monitor your phone temperature and protect it from overheating, as well as overcharging.
Sometimes you might notice your phone getting extra warm when you're charging it, especially if you're using it while it's being charged. Battery Doctor provides optimizes your phone's charging status to protect it. You'll also receive tips on how to keep your phone cool while it's charging, too.
Link: Android
FAQs
Is there an app to cool down my phone?
There is an app to cool down your phone. In fact, there are multiple cooling apps on the Google Play Store. One of those apps is Phone Master. It works as a junk cleaner, a battery cooler, and more. You can use it to cool down your phone.
Do cooling apps really work?
Cooling apps work, but not in the way many people think. Cooling apps work by monitoring your phone's real-time temperature and warning you about overheating. The cooling apps then change your phone settings and close the power-hungry apps that cause your phone to overheat. This cools down your phone.
Why does my phone get hot so fast?
Your phone can get hot fast for a variety of reasons. Heating is to be expected when using a phone. However, your phone can also get really hot from having too many active apps running. It can also get hot fast due to direct exposure to sunlight or even malware.
How can I keep my phone cool while gaming?
There are several ways you can keep your phone cool while gaming, such as clearing your RAM or avoiding direct exposure to sunlight. Another trick is to lower the screen brightness, which can also preserve your battery life. You can also remove your phone's case to help keep it cool.
Can I put my phone in the fridge to cool it down? 
You cannot put your phone in the fridge to cool it down. The huge and sudden change in temperature can cause damage to the phone. Instead of putting it in the fridge, you can put your overheated phone in front of a fan to help cool it down.
Conclusion
A hot phone is never a good thing to have. If your phone gets too hot it could cause some serious damage to your phone.
That's where these best cooling apps for Android come in, so you can always keep your phone nice and cool. How do you prevent your phone from overheating? Share your methods in the comments below.