Do you have a small library at your home? Or do you have tens or hundreds of books mysteriously placed on your bookshelf? It happens mostly with bookworms or research scholars that they forget where they kept their books.
One of my friends always calls me and other friends to ask about his book if he is unable to find it. There are many apps that can help you shoot these types of troubles.
Here is the list of best book catalog apps that will help you maintain your home library easily.
Best Book Catalog Apps For Organizing Your Home Library
1. My Library
My Library is currently the most used and best-rated free home library app on Google Play Store. For entry, you can search the details of the books in their database by entering the ISBN number or by scanning the barcode. Its barcode reader also has an option to enable the flashlight.
If you have any unusual book that can't be in their database, you can also enter all the details manually. There is a separate section for notes, where comments about the book can be added. You can also export your database to Google Drive or Dropbox. It is liked by the users because it is very productive even with the very basic features.
Get My Library: Android
2. Libib
Libib is one of the best book catalog apps with a good interface. It is available on Android and iOS for free. You can maintain more than one catalog and there are two options to insert a book in the catalog. Either scan/search the barcode or through manual entry.
The scanner is fast and automatically uploads most of the information about the book. Apart from a catalog of books, it also allows you to maintain a library of movies, video games and music. You can also follow your friends and other users and share your booklists.
3. Book Catalogue
This is another nice app to maintain your home library catalog system. You can sort the list of books in many categories in your own way or in the available format. Apart from the methods mentioned in above apps for a book's entry, this app has a fourth way too. You can search the book on Amazon and GoodRead's database by entering the book's and author's name in the 'Search Internet' section. Also, you can change or add a thumbnail to the books from your Gallery or Camera.
Get Book Catalogue: Android
4. CLZ Books – Book Database
There are some nice reviews about CLZ Books on Google Play Store as well as iTunes. But remember this book database app is not completely free. You can catalog your 100 books initially for free. Scan the ISBN barcodes with your phone's camera or enter the details like Title, Author, Pages, etc manually.
You can put the collection status on them like, For Sale, On Wish List, Not in Collection etc. You are also allowed to make notes about the book and give your own ratings. 'CLZ books' allows you to create a free CLZ account and import your database to CLZ cloud, to access it from any device.
Also Read: 10 Best Apps For Writers On Android And iPhone/iPad
5. Book Library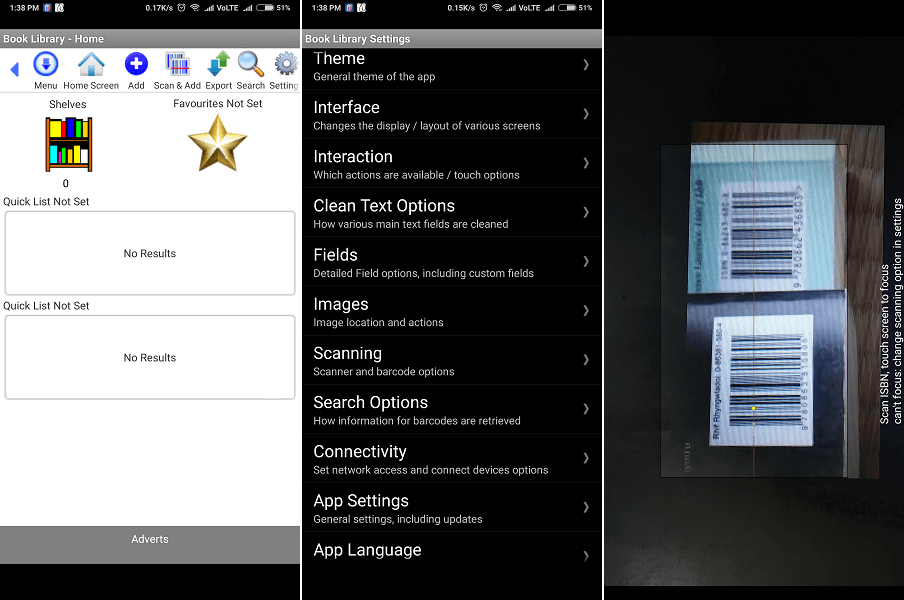 This is the small but very useful book database app to help you track an unlimited number of books in your library. This app allows you to scan the ISBN in bulk. If you don't have internet access on the spot, you can scan offline and see the details later after connecting to the internet.
You can make your phone a scanner by connecting to other hardware or also connect to an external scanner. You also have the option to import/export or share your bookshelf via email or to a storage device. Before sharing, you can choose if you want to share only titles of the books or all the fields/details.
Get Book Library: Android
6. LibraryThing
LibraryThing is a famous catalog web application for sharing book catalogs and other books related data. Now, they have released the mobile app for both Android and iOS users. First, You have to sign-up or either sign-in using your LibraryThing username. Here you can scan and add books to your different collection types like 'Wishlist', 'Currently Reading', 'To Read', 'Favorites' etc.
If you are an active member of LibraryThing community, you can access the LibraryThing news from this app. You will have a shortcut to latest updates on the blog, and what all books the community is reviewing on their website etc.
7. Book List Library ISBN Scanner
If you want a simple app for your iPhone to help you manage your home library catalog system easily, then this is the one.
The app has a bulk scan feature that will add your books quickly but you have to switch to the paid version for that. You can input books by camera scan or manually entering the ISBN number.
You can also search new and old books in the database and add the books and ebooks to your collection from there. This app is best for heavy users. What makes it best book inventory apps is that you can list and then see the books by author, binding status, editor, genre, language, publisher, series etc.
Get Book List Library ISBN Scanner: iOS
Also Read: 7 Best eBook Reader Apps For Android And iPhone/iPad
Final Words
Now, you don't have to take unnecessary stress for not being able to find your books. You will have track of all of them. And instead of wasting the time searching the books, you can actually read them.
If you are looking for a book organizer app for your child, think about if you want to have parental control on their phone. You can find a list of free parental control apps here.
So, these were some best book catalog apps to maintain your personal library. Don't forget to share this list with your fellow book lovers.