The fast pacing world doesn't give you enough time to sit at your home and read a book that is on your wishlist. You cannot carry the books everywhere obviously, but you can't compromise with your hobby of reading. The eBook reader apps come to the rescue in such times. There are hundreds of apps dedicated to eBooks on Google Play Store as well as iTunes. Here we bring you best eBook reader apps for Android, iPhone & iPad that will help you discover, download and read amusing books online and offline.
We have included the apps on which you can get eBooks and also some useful apps that just offer you the platform for reading the books downloaded from other sources.
Free Best eBook Reader Apps For Android And iOS
1. Wattpad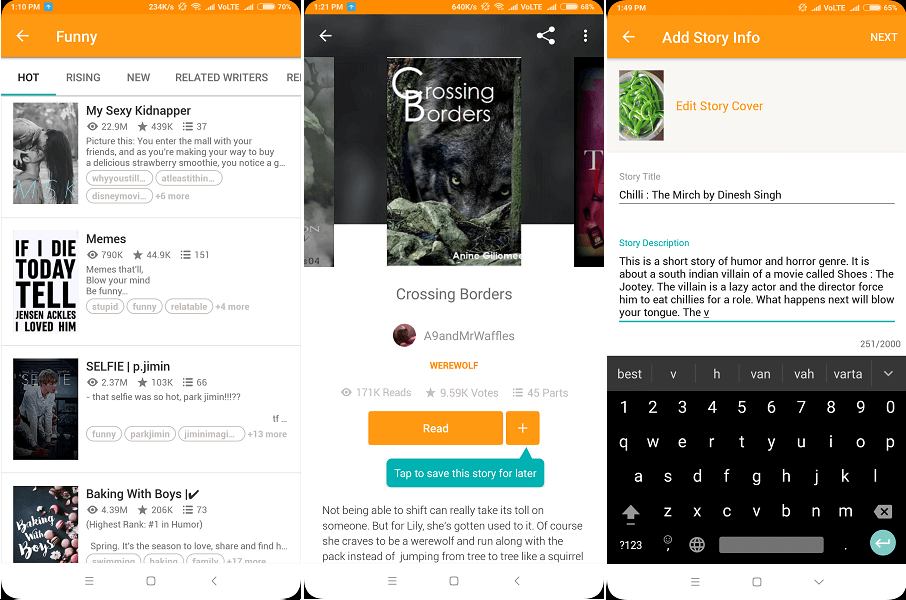 Wattpad has currently more than 100 million downloads on Google Play Store. You'll find new books and stories of all genres here. From horror, fantasy, vampire and science fiction to romance, humor and spiritual, Wattpad has it all. You can download a book, comment and share it with your friends.
Remember that the stories and books on Wattpad are written by the members or the users of the app only. But you will find many entertaining titles here that are read and liked by millions of users. You can also write something of your own on Wattpad.
2. Bookari
Bookari has a pleasant interface as compared to other eBooks reader apps. You can read the books that you downloaded from other sources and the books available in the store are needed to be purchased if you want to read them.
You might find some free books from the linked stores like Smashwords and Feedbooks. Bookari can be your regular pdf reader too. You can bookmark a page, copy, highlight, save or share the texts of any books.
App link: Android
4. Aldiko Book Reader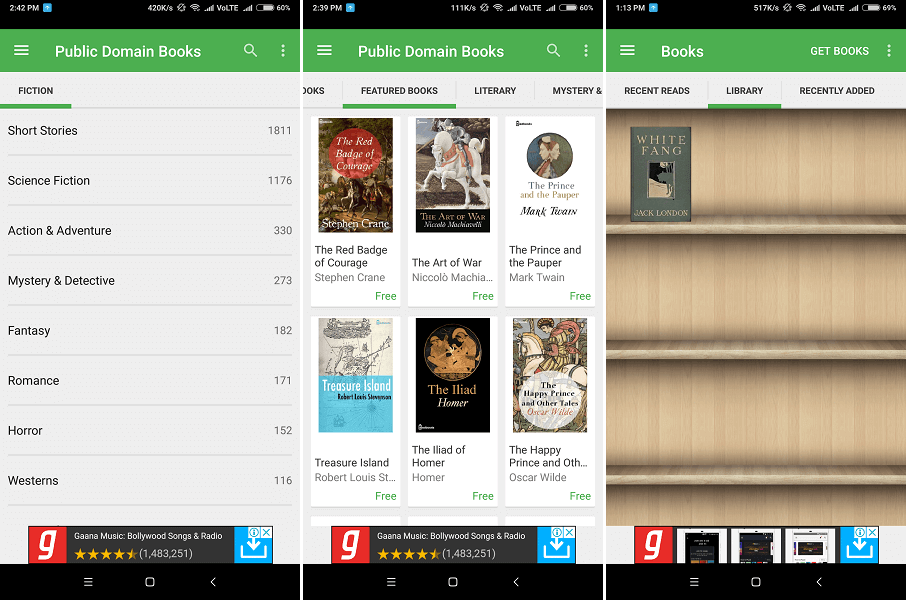 If you are looking for a good app to download free and popular eBooks, Aldiko might fit in your search.  Aldiko has thousands of premium and free books in 5 popular languages, English, French, German, Spanish and Italian. You will find books of different genres like short stories, Science Fiction, Action, Fantasy, Romance, Horror, Literary etc.
The premium books are worth purchasing as they have many bestsellers in their database. Free or premium, you can download the book and enjoy reading. There is also the night-mode for ease of reading after sunset.
5. Moon+ Reader
Moon+ Reader is a simple but useful free eBook reader for Android. You can import files on this from Google Drive, Dropbox or your SD card. You will find links to many online stores like Project Guttenberg, WebNovel.com and Feedbooks where you can find multiple free and paid books of your interest. The ads can be removed by donating minimum 1 dollar for the developer's coffee.
App link: Android
6. Universal Book Reader
If you are searching for an easy to load eBook reader without any complexities and glitch then UB reader will serve your purpose. It asks and then imports all the ePUB and PDF files present on your device and place them in the app's library. You can set a password for the app if you are reading any sensitive book.
If you leave a book halfway, you can read it afterward from where you left as it will lead you to that exact page only. Apart from your own books, there is a link to 'Feedbooks' from where you can download some promising bestsellers as well as newly released books.
App link: Android
7. AlReader
AlReader is most suitable for you if you want an eBook reader that can download free books but can also read the books that are downloaded from other sources.
Open the 'Library' section to read the books that you downloaded online or got from your friend. Choose 'Network Library' section of the app. It takes you to the database of manybooks.net. You can search or browse books by genres, authors or titles etc from almost 33,000 books.
App link: Android
When it comes to reading trending books everyone prefers Kindle but if you don't browse the other apps given on the list, especially Wattpad, you are probably missing a lot of tales. These were the best eBook reader apps to download for Android and iOS for making your eBook reading experience easy. Do share your views with us in the comments.