Do you have a knack for using your smartphone as an alarm clock? Well, you are not alone. And if you are like me then you might have built a long list of alarms with time. Now, for some reason, if you wish you clear all the alarms from the stock Clock app on Android or iOS then you may be thinking that you will have to delete each one individually. Yes, you can do that but what if you have 10, 20 0r maybe 50+ alarms? Deleting them one by one will eat up a lot of your time and will definitely turn out to be a mundane task. To help you with that, we are here with this tutorial which shares easy and quick ways to delete all alarms at once on iPhone and Android devices.
So, let us get the ball rolling.
Delete All Alarms At Once
Let us first look at the solution for iOS users. If you are on Android then skip to the second method.
Remove All Alarms At Once on iPhone/iPad
We all are aware of how powerful Siri is becoming with every iOS update. And guess what iOS personal assistant is all you need to get rid of all your created alarms in one go. Here's how.
1. Launch Siri by speaking 'Hey Siri' if enabled or hold down the Home button.
2. Now, tell Siri to "Delete all the Alarms".
3. Confirm your decision and all your alarms will be gone for good.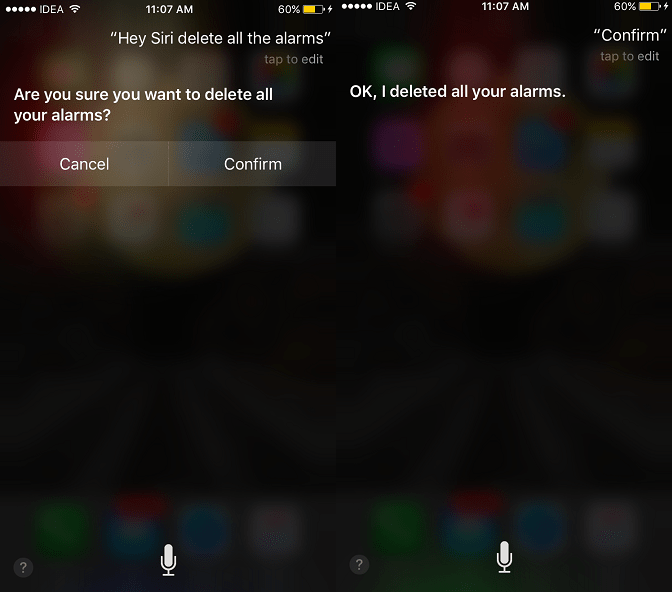 That's a super quick and effortless way to delete all the alarms on an iOS device.
Clear All  Alarms At Once on Android Smartphones
Unlike iOS, the Android personal assistant is not yet capable of removing all the alarms. But don't be disappointed. You can use the method mentioned below.
1. Open Settings on your Android phone.
2. Under Settings tap on Apps.
3. Next, select Clock in the listed apps.
4. Now, tap on Clear Data and confirm deleting app data by selecting Ok.
That's all you need to do. Head over to Clock app and you won't find any alarms.
We hope that this article helped both Android and iPhone users to quickly delete all alarms from the stock Clock app. If you feel the article adds value then please don't forget to share it on social media.
Got any other tips? Please share with everyone in the comments.