Fantastic Road trip apps mentioned which you should download before your next trip. Make Your Road Trip a Memorabilia with these 5 Smart Apps.
If you are a frequent air or rail traveler then these travel accessories and gadgets are must for you. However, if it comes to Road trips it's a completely different experience when all you have is an awesome car to explore the iconic highways. If you have a skin for adventure, road trips are simply enthralling. As you leave the straddling trees behind, the fun of steering forward doubles up and you get some of the best moments of your life. But, trust me, even the best of the trips can be perilous. You can bump into menaces en route and that too in the most unexpected way. So, keeping yourself braced is essential while going out for that adventurous trip.
Best Road Trip Apps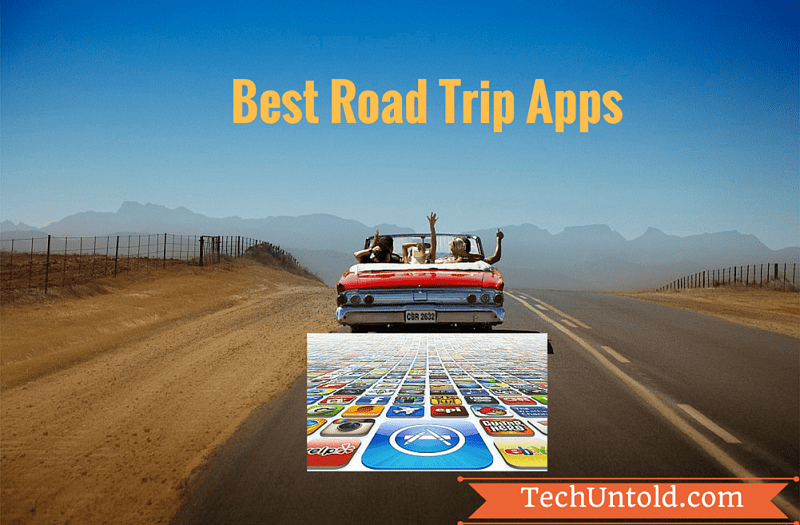 And with a Smartphone in your hand, what else would you need to keep things at your control? Check out these top 5 picks of smart apps that are simply great to give you a trouble-free trip next time. Whether you are using Android, iOS or Windows these apps will be the easiest hacks when you are on the trip of your dream.
1. GasBuddy
The list should definitely start with this app, because without fuel a road trip will be impossible. So, when you are on road and the car needs a refuel, Gasbuddy tells you about that. It's available for free and the moment you need fueling, the app intimates you with the nearby location as well as with its price. GasBuddy will also tell you the places in the nearby places, in case you want to save some bucks.
2. Gogobot
For the globetrotters, Gogobot is like a helpful ally. It's a social app and gives you the good details about the great place to stay, sleep and eat. Of course, you can't starve and stay under the moon (unless you have decided to spend some nights like that) road trip. With Gogobot, it seems like the entire area is at your grip. Apart from where to stay and eat, you can also make people upload photos, information, and ratings for the sites. It's an interactive platform with people from different interests, such as family, foodie, local, outdoor, budget, and adventure. You can also get to see photos of various users and get the idea of the interesting places nearby.
Recommended : Best Travel Gadgets
3. Triposo
Are you sure that the internet access will be with you while driving through the desert or deep mountains? But, you can be sure about Triposo. It's okay to have the Google maps on your phone, but you can stay equipped with the Triposo as it effortlessly puts offline maps and travel guides onto your phone, so that you can easily use them even in the dead zones. And what's more? Triposo is pretty interactive and hence it tells you how much space it's going to consume, before you download the maps and guides for any destination. Also, Triposo comes with a host of sightseeing suggestion and weather forecast, when you pull up a destination on Triposo. Download it now to find out some more ways to explore the destination.
4. iExit
When you are on a trip through the highways, the important details about the upcoming highway exits should be at your access. iExit looks at the upcoming exits, given your location and sends you a compiled list of hotels, restaurants, gas stations, rest areas, and a lot more. And if you have any preference, for example any particular restaurant chain or other service, simply mark it as your favorite on iExit and you will know if it's coming up anytime soon en route. With iExit on your phone you will never feel at loss of the better food options even in the highways.
5. Waze
Stay safe with Waze while on road. You can easily say that with the community driven app giving you a whole lot of important information about traffic and everything related to the road including potholes, police speed traps and accident prone zones as well. It's way ahead than the Google Maps, which only tells you about the road problems which are majorly reported. In fact, Waze has the nitty-gritty in the fingertips. Waze also gives you the details of the speed of the cars and the ones which are in congestion. Keep Waze updated about your location information all the time, so that you get the best of the information always.
Having the smart apps on your phone is awesome. Because it makes your road trip a worthy experience that you will surely cherish for a lifetime. Check out if you are already having these on your phone. And if you don't, get them downloaded before your next trip. Do you use any other useful apps for your road trips?