It is a little tough to carry a piano everywhere. But it is tougher to leave behind the musician inside you. There are now lots of apps available which can help you to unleash your desire to play some fine tune for your perfect mood. You can even learn to play piano without a music teacher with the help of these piano apps. If you are confused in selecting the one, then here we are listing some of the best piano apps to play as well as learn piano on Android and iPhone/iPad.
Best Piano Apps
1. Piano Free – Keyboard With Magic Tiles Music Games
Currently, it is one of the most downloaded as well as highest rated apps, available on both Android and iOS. It is not too bulky and is loaded with some important features. You can zoom in and out according to your fingers size.
It allows you to record your music like most of the other apps. You can also choose and play from a vast number of available notes.
It has some different features like Magic keys which allows you to play a selected song by pressing any key. It means just select the song and it will play even if you press the wrong keys. You just have to press with the rhythm.
Another feature is Majic tiles, which helps you in playing a selected song by signaling the keys to press. It is more like a game and you also get points for that.
2. Pianist HD: Piano +
Pianist HD has also been downloaded more than 50 million times on Play Store. I personally liked the sound of this app. This app is more suitable if you want to learn from the songs which this app already has in its database. Not just the database, when you tap on the songbook it allows you to search the tunes online that you can play with the app.
It can be played in two modes i.e. practice and perform mode. In practice mode, the app will wait for you to press the key and then the song is played completely by you by seeing the indicators. But in the perform mode, the app keeps on playing the song even if you miss the key.
If you have more knowledge in music, you can also enable the music sheet and play while seeing it.
App link: Android
3. ORG 2018
If you are too much into creating your own tunes with piano or mixing, this is probably the best Piano app for you. I was surprised to see the number of features in this app. This can also work in the place of a big synthesizer if you know how to play one.
You can play many instruments' sounds with its keys like Guitar, Flute, Santoor, Drums, Violin and their different versions. For background purpose and mixing, so many styles are available like Persian, Arabic, Blues, Front Beat, Dance 80, Karachi, Fusion Funk etc. Apart from that, it has 12 different types of sound loops like Heyy, Sea, Brrr etc. to play during the songs.
It also allows you to connect your phone to the speaker and use your phone as a mic for singing and playing at the same time. You can import a song from your device, play, mix, sing with it and most importantly record everything you do.
App link: Android
Also Read: 7 Best Ukulele Apps for Android and iPhone
4. Perfect Piano
This is another amazing app to learn and play full 88-keyboard piano. Like other apps, you can enable Single row, Double row, Chords mode and Dual players mode. Different sounds effects like Rhodes, MusicBox, Organ, Acoustic, Harp, Xylophone, Sitar etc. can be enabled.
Perfect Piano is also perfect for learning to play lots of songs on a piano. Some of the songs are preloaded and many can be downloaded from its online database.
It also allows multiplayer connect and you can play music together and even chat with each other.
5. Real Piano
This one has the least functions among the apps which are on this list. Despite that, this app is on the top of 'Top Free Music' section on Google Play Store as of April 2018. This is a simple yet useful app if you just want to play the tunes yourself.
You can choose from 4 types of sounds which are of Piano, Flute, Organ and Guitar. The record feature is also there but what you played, cannot be saved. It can be played only at the same time. You can also choose to show notes on the keys.
App link: Android
6. My Piano
This is another simple piano app, with more than 50 million users currently. This app does not come with too many functions. You can select from 11 types of instruments' sounds.
My piano app has a very fine sound quality and it offers 8 different sound effects like Amp, Echo, Chorus etc. You can even mix them with one another. This app also allows you to customize its user interface. You can change the skin of the piano, change the look for the keys and also choose to show the names of the keys etc.
App link: Android
7. Real Piano Teacher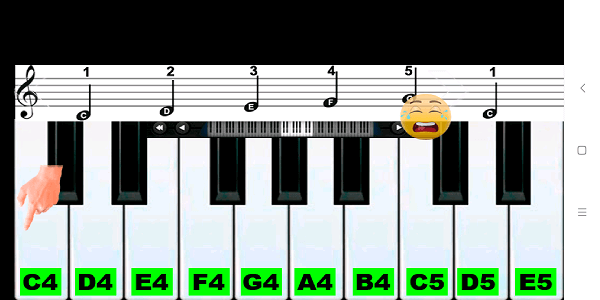 Real piano teacher is suited for you if you are new to playing the piano and seek to learn from very basic. From identifying the keys to playing songs, it helps you all the way.
Along with learning and playing songs you can track your progress in terms of percentage. During the trial, I hardly managed to reach up to 1%. You can also play the piano game and that will be recorded on the leaderboard and you can check your rankings from there.
This app also has the magic keys feature as I explained in the first app.
App link: Android
Final Words
So, these were the top free piano apps used by many learning as well as accomplished musicians out there. Among all of these, I really liked the ORG 2018 because of its terrific features. Use the app best suited for you and let us know if it stood up to your expectations.
If you want your kid to learn piano with these apps, you can definitely do it. Just remember that if your child gets a smartphone, you should install a parental control app on it. Here is a post in which we collected the best free parental control apps.
Any questions? Let us know in the comments!