As an Amazon Associate I earn from qualifying purchases.
Did you know that there are apps out there that can capture an image and convert the text present in them into a digital text file?
Or, instead of the typical typing keyboard, you can write the text yourself. And, you can also make notes by writing using your fingers or the stylus and save it as a PDF file or even a memo.
No?
Then check out these best handwriting to text apps for Android as well as iOS users.
Best Apps That Can Convert Handwriting To Text
1. INKredible
Simplest, easiest and one of the best handwriting note-taking app even with a stylus for iPad and Android users. You can easily make notes by writing with your fingers on the note, or else you can use a stylus if you have one. Users can access all the tools that are available in the left slider menu bar. For example; pen, eraser, etc.
Apart from that, you can also add notes from the keyboard if you want to. This can be placed on the existing note by dragging and dropping. INKredible also allows its users to attach snapshots from the gallery of their devices if they wish to.
INKredible for Android & INKredible for iOS
2. Write
Another best handwriting to text app for Android where users can perform everything what they usually expect from any best Android handwriting app. You can write texts by swiping your fingers across the screen and remove the text easily by using the eraser if you messed it somehow.
There are two additional tools available using which you can move or reposition the text that you have written anywhere on the note. Once you are done finalizing the note, you can save the documents as a PDF.
3. Squid
An app with much more advanced features compared to other apps mentioned earlier in this list. It is one of the best handwriting apps for Android phones and well as Tablets. Unfortunately, this app is only available in the Play Store.
Before even starting to make notes using your handwriting, you can select the background note type from the inbuilt notes given in the app itself. Users can easily add images to the notes as well as insert another page on to the current one. And the best part, you can directly print the document using this app's print feature.
4. Notability
A perfect iPhone and iPad app for converting handwriting to text. And not just only that, it is a full package to go completely paperless. Apart from basic handwriting features, users can create a full document by including images, text, GIFs, web pages, and whatnot.
The app also provides an option called multi-note in which the users can work on more than one note side by side. And all of your documents will be automatically saved to iCloud. When counting all the features, this is surely the best handwriting app for iPad and iPhone users.
5. GoodNotes 4
This app has the digital ink technology because of which your handwritten notes can last forever. You can easily find the notes by typing in the name for that in the search bar.
What makes this app different is the feature of zooming in while you are writing with your fingers or stylus and quickly zoom out so that the written text stays intact in a bigger note file.
ALSO READ: 7 Best Text Animation Apps Like Legend
6. Text Scanner (OCR)
Working on this app is really simple. This is basically a scanner app in which users can scan any type of text, whether it is handwritten or typed. And it will copy that text simply on to the note file. It is that easy. This app supports scanning 50+ languages. You will get a limited number of scans but it has some in-app purchases for unlimited scans on a monthly and yearly basis.
7. Text Scanner[OCR] by Peace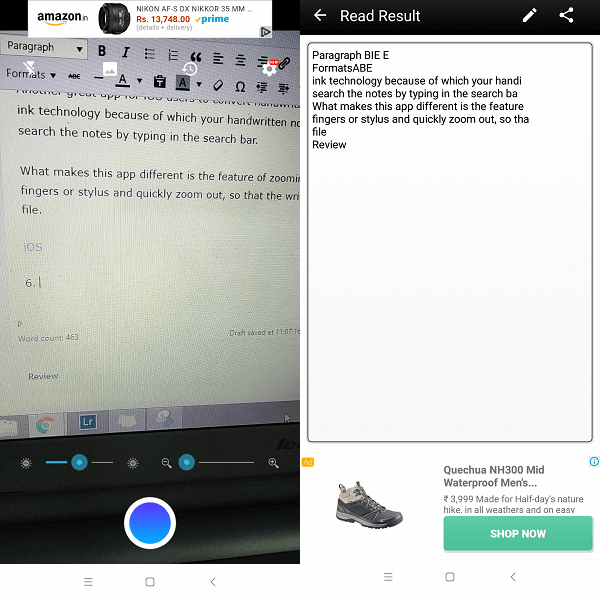 An exact similar app like the one mentioned above. The difference is the platform, it is available just for Android users. And the second one being the developers. But rest all the features are almost similar. Users can easily convert typed or handwritten contents in a picture to text with this app. This app only asks for Camera permissions and that's it, you are ready to convert.
8. Handwriting Notepad
A small and simple app for writing text on the go. This is more of handwriting memo pad which you can use quickly to write something important down instead of opening a heavy app. All you have to do is tap on the "+" icon and simply start writing with or without the stylus. This app supports automatic save feature so you don't have to worry about saving the document every time.
9. Google Handwriting Input
Can an app list be completed without a Google product?
I don't think so.
Unlike all the apps mentioned above, this is not a handwriting recognition or a handwriting to text app. Instead, it is an Android handwriting keyboard app.
Using this keyboard, you can easily write text instead of typing through a normal keypad. It automatically recognizes the text that you have written. You can make this as a default keyboard for messaging, WhatsApp, contacts, and many more messaging applications.
10. MyScript Nebo
This app is specially designed for iPad and Android users for making notes, writing and converting it into digital text. And not just that, you can also organize all of your documents by assigning titles to them. Once you are finished with finalizing the document then you can save it as a Word file, HTML file or even a PDF. Apart from this, you can sync all of your documents to iCloud, Google Drive and Dropbox. Although, in spite of having all these features which are very reliable to use, it should have been a free app.
MyScript Nebo for Android & MyScript Nebo for iOS
ALSO READ: 7 Best Sticky Notes For Windows
Conclusion
So, these were my picks for the best handwriting to text apps for Android and iOS. On iOS, these apps can be an excellent alternative to the Handwriting feature of the Messages app.
Most of these apps are free to use with a few in-app purchases. My personal favorite would be Squid because of the multiple features it provides.
Amazon and the Amazon logo are trademarks of Amazon.com, Inc, or its affiliates.