Did you know that there are apps out there that can capture an image and convert the text present in them into a digital text file? Or, instead of the typical typing keyboard, you can write the text yourself. And, you can also make notes by writing using your fingers or the stylus and save it as a PDF file or even a memo.
No?
Then check out these best handwriting to text apps for Android as well as iOS users.
Best Apps That Can Convert Handwriting To Text
INKredible
Simplest, easiest and one of the best handwriting note-taking app even with a stylus for iPad and Android users. You can easily make notes by writing with your fingers on the note, or else you can use a stylus if you have one. Users can access all the tools that are available in the left slider menu bar. For example; pen, eraser, etc.
Apart from that, you can also add notes from the keyboard if you want to. This can be placed on the existing note by dragging and dropping. INKredible also allows its users to attach snapshots from the gallery of their devices if they wish to.
INKredible for Android & INKredible for iOS
Write
Another best handwriting to text app for Android where users can perform everything what they usually expect from any best Android handwriting app. You can write texts by swiping your fingers across the screen and remove the text easily by using the eraser if you messed it somehow.
There are two additional tools available using which you can move or reposition the text that you have written anywhere on the note. Once you are done finalizing the note, you can save the documents as a PDF.
Squid
This app that converts handwritten notes into digital format has much more advanced features compared to other apps mentioned earlier in this list. It is one of the best handwriting apps for Android phones as well as Tablets. Unfortunately, this app is only available in the Play Store.
Before even starting to make notes using your handwriting, you can select the background note type from the inbuilt notes given in the app itself. Users can easily add images to the notes as well as insert another page on to the current one. And the best part, you can directly print the document using this app's print feature.
Notability
A perfect iPhone and iPad app for converting handwriting to text. And not just only that, it is a full package to go completely paperless. Apart from basic handwriting features, users can create a full document by including images, text, GIFs, web pages, and whatnot.
The app also provides an option called multi-note in which the users can work on more than one note side by side. And all of your documents will be automatically saved to iCloud. When counting all the features, this is surely the best handwriting app for iPad and iPhone users.
GoodNotes 5
GoodNotes 5 is a paid note-taking app with both writing and typing features, perfect for those who want their notes to be a lot more personal and creative.
In fact, the digital pen is also highly customizable, allowing you to adjust its sensitivity as well as palm recognition for a more personalized writing experience. This lets the app copy your 'real' handwriting.
Users can choose various templates that already come built-in with the app, but you're free to import your own templates if you wish. It also has a "Presentation Mode," where you can use an HDMI cable or AirPlay to project your notes onto a bigger screen, effectively creating a digital whiteboard for you to write on.
Penultimate
If you're an Evernote user, you're going to love Penultimate, Evernote's dedicated note-taking app.
It has all the features that you'd want in a note-taking app, such as a built-in spellchecker, folders and topic organizers, and handwriting-to-text conversion. You can also pick different types of digital writing instruments and change the colors to your liking.
One feature that I really appreciate with this app is its ability to search through even handwritten notes using its optical character recognition. Its pen-to-print feature also lets you transform your handwritten notes into typewritten notes.
If you have an Evernote account, Penultimate will automatically sync and upload all your notes there. You can then set reminders for each note, or send them to other Evernote users. Unfortunately, unlike Evernote, you need to shell out some cash in order to use Penultimate.
MetaMoJi
With awards such as the Tabby Award for Best Personal Productivity App and the Silver Stevie Award for International Business, MetaMoJi is one note-taking app that's certainly worthy of your time, even though it's not free.
More than just a digital notebook, you can also use MetaMoJi as a planner, journal, or even a personal diary, thanks to all its creative and useful features. It's basically like a handy scrapbook that you can keep in your pocket at all times and edit whenever you wish.
Not only does it have handwriting to text conversion, but it also allows users to record voice notes, annotate documents, and draw or add pictures.
There's also an included digital sketchbook where you can experiment with various pens and colors. If you want to add animation or effects to your text, that's also possible with this app.
MetaMoJi for iOS and MetaMoJi for Android
ALSO READ: 7 Best Text Animation Apps Like Legend
Text Scanner (OCR)
Working on this app is really simple. This is basically a scanner app in which users can scan any type of text, whether it is handwritten or typed. And it will copy that text simply on to the note file. It is that easy. This app supports scanning 50+ languages. You will get a limited number of scans but it has some in-app purchases for unlimited scans on a monthly and yearly basis.
Text Scanner[OCR] by Peace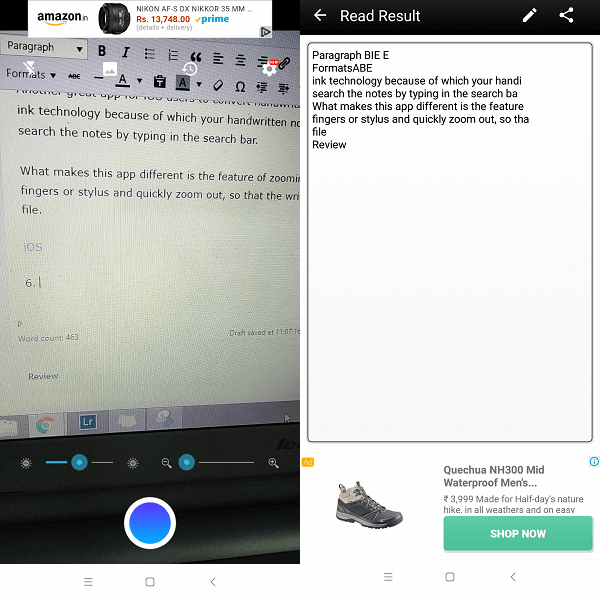 This is a similar handwriting to text app like the one mentioned above. The difference is the platform, it is available just for Android users. And the second one being the developers. But rest all the features are almost similar. Users can easily convert typed or handwritten contents in a picture to text with this app. This app only asks for Camera permissions and that's it, you are ready to convert.
Handwriting Notepad
A small and simple app for writing a text on the go. This is more of a handwriting memo pad that you can use quickly to write something important down instead of opening a heavy app. All you have to do is tap on the "+" icon and simply start writing with or without the stylus. This app supports an automatic save feature so you don't have to worry about saving the document every time.
Google Handwriting Input
Can an app list be completed without a Google product?
I don't think so.
Unlike all the apps mentioned above, this is not a handwriting recognition app or a handwriting to text app. Instead, it is an Android handwriting keyboard app.
Using this keyboard, you can easily write text instead of typing through a normal keypad. It automatically recognizes the text that you have written. You can make this as a default keyboard for messaging, WhatsApp, contacts, and many more messaging applications.
MyScript Nebo
This app is specially designed for iPad and Android users for making notes, writing and converting it into digital text. And not just that, you can also organize all of your documents by assigning titles to them. Once you are finished with finalizing the document then you can save it as a Word file, HTML file or even a PDF. Apart from this, you can sync all of your documents to iCloud, Google Drive and Dropbox. Although, in spite of having all these features which are very reliable to use, it should have been a free app.
MyScript Nebo for Android & MyScript Nebo for iOS
ALSO READ: 7 Best Sticky Notes For Windows
Conclusion
So, these were my picks for the best handwriting to text apps for Android and iOS. On iOS, these apps can be an excellent alternative to the Handwriting feature of the Messages app. You can use them for taking school notes, notes for your business, and more.
Most of these apps are free to use with a few in-app purchases. My personal favorite would be Squid because of the multiple features it provides.