It kills me.
Yes, it kills me with frustration to see all those unknown people tagging me in unnecessary posts on Instagram. And I think there are thousands of people like me who can't bear the flood of unnecessary tagged media stuffing their profiles.
But there's no option left other than cursing those people in mind unless you get rid of getting tagged on inappropriate photos. Well, it's possible to stop cursing those people by stop getting tagged on Instagram.
How to do so? While you can find these steps on Instagram Help, here I will demonstrate how to do it in two ways step by step with screenshots I took myself.
How To Stop People From Tagging You On Instagram
Manage Default Tagging Options
The Instagram app provides an option that prevents other users from tagging you in unnecessary photos. Let's see what these steps are.
1. Tap on the Profile icon at the extreme bottom right side of the screen.
2. Now, tap on the Hamburger icon at the top side of the screen.
3. Next, you have to select the Settings option at the bottom.
4. After that, you have to choose Privacy from the list of various options available.
5. Then select the Tags option.
6. Now, to stop getting tagged from all the users, you have to select No One inside Allow Tags From.
From now on, no one will be able to tag you on unnecessary photos. They will simply get a message that the user doesn't allow anyone to tag them.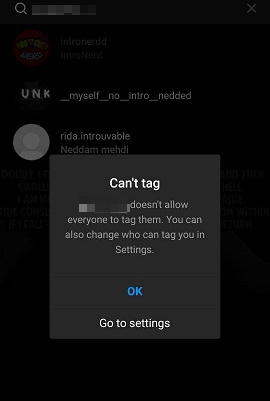 Similarly, you can change the settings to only get tagged by the people you follow.
Manually Approve Tags
Maybe most of the posts that you're getting tagged on are inappropriate. But sometimes you really love the post.
And you don't want to miss getting tagged on those awesome posts just because of some inappropriate ones. So you're looking for something that makes it possible to keep only those tagged posts that you like.
Well, how about deciding manually as to which tagged post you want to keep and which one to remove?
1. In the same Privacy option under Settings, go to Tags
2. Under the Tagged Posts option, select Manually Approve Tags.
3. Here you will see all the posts on which you have been tagged till now.
4. Once you have toggled on the Manually Approve Tags option, all the posts on which you will get tagged in the future will appear in Pending Tags. So, tap on the Pending Tags option further.
5. To either approve or reject the tagged post, tap the Edit option at the top right corner.
6. Now select the posts that you wish to keep saved, or select the posts that you wish to remove.
7. After selecting the posts, simply tap on the ADD option to let the tagged post appear on your profile. Tap Add to Profile to confirm your decision.
Choose the REMOVE option and confirm your decision by tapping Remove Me to discard getting tagged on the selected posts and they will not appear on your profile as well.
Similarly, choose the HIDE option to remain tagged on the post but they will not appear on your profile. Tap Hide From Profile to confirm.
What To Do If You Were Already Tagged?
For the old Instagram posts where you were tagged before you changed the settings, you can simply untag yourself.
Now You Know How To Stop People From Tagging You On Instagram
It can be really frustrating to see yourself getting tagged by spam on Instagram when you have other important notifications to check. These unnecessary tagged posts stuff your profile page which is not acceptable.
So we hope you finally know what needs to be done when you get tagged by someone unknown.
If this article helped you solve your problem then don't forget to share it with your friends as well.