Installing an audio manager app might sound like an unnecessary adjunct to your smartphones, but believe us, they really simplify the things to a great extent. In order to manage various kinds of audio functions on your phone like ringtone, alarm, keypad volume, notification bell etc, each time you have to visit separate settings on your phone. On top of it, if your phone's user interface is very knotty and complex, then definitely you need an audio manager app rather than clumsily searching through your phone's interface. An audio manager app gives you the ease to manage all the audios on your phone from a single platform. Here are some immensely cool audio management apps which will prove to be highly helpful to you.
Android Apps To Manage Audio
1. Audio Manager ( by AeH )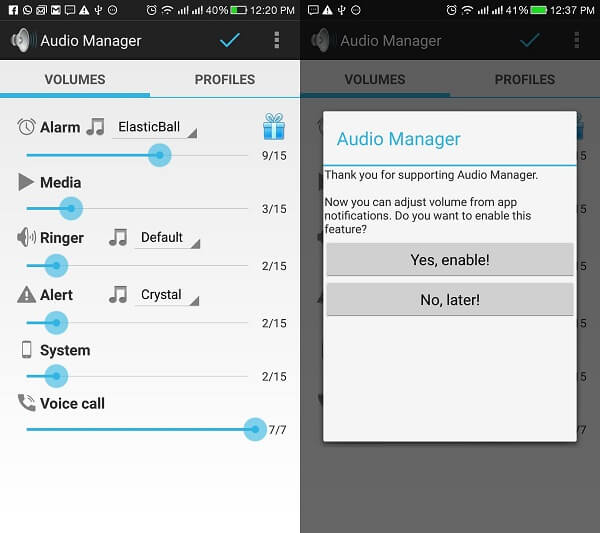 This is a thoroughly simple app with a very basic interface. After opening the app, you will have numerous options to adjust volumes of various audios on your phone like alarm, media( i.e. song playing ), voice call etc. Moreover, apart from adjusting the volume level, you can also select from various tones for your ringtone, alarm bell, or notification tone. By tapping on the "PROFILE" option, you can easily change the current profile of your phone as either loud or mute. Another noticeable feature of this app is that you can also adjust volume directly from the app notifications. For that, you have to tap on the tick button on the top right corner of the screen.
Link: Play Store
2. Easy Audio Manager
Easy Audio Manager is one of the best audio management apps. As the name tells it all, this is rather a superbly simple tool to access all the audios from one place only. With its ultra uncomplicated and a no-brainer interface, you can easily adjust alarm, ringer, system sounds, alert tones, the sound level of media, etc. You can even set up the volume of the audios from a scale of "0 to 15", thus offering a wide volume adjustment range which you don't get otherwise through your phone's interface. Moreover, you can simply change the tones as per as your choice.
This is a great app for Android users.
Link: Play Store
3. Audio Manager (by mc-cz)
This is another interesting app to manage all the phone's audio from a single place. An impressive feature of this app is that it even offers you the vibration controls of your phone. This is because you can have vibration feature as well with your ringtones and notification tones. This is rather a unique feature of this app. Furthermore, you can also trigger the settings by a small widget. The app gives you three modes namely Silent, Vibrate, and Normal to select from. You can select any of these depending on your needs.
Moreover, you can even rename those profiles according to your convenience, in case you find the profiles' name very hard to remember. But, we must tell you that you cannot change the ringtone or any other tone with this app. This is a small restriction this app has.
Link: Play Store
4. Audio Manager ( by Lucas Primo )
This is a quite versatile app on our list today. The stunning feature that makes this app stand out from the rest of the others is that it lets you create your own profiles ( i.e. presets according to this app ). You can simply save these new profiles/presets and select them whenever you want. Let us tell you that this is something you can't achieve with your phone. Therefore, this app surely makes a high place for itself.
Another significant feature of this app is that allows you to control volume even when your headphones are plugged in. Point in case, this app automatically detects when your headphones are plugged in. You must go for this app if you are looking for some additional features apart from the basic task of audio management. But again, you cannot change your ringtones via this app, you can just adjust their ringing levels. We would have absolutely loved if this app featured the option to change the tones as well.
Link: Play Store
5. Audio Manager (by TecBeast)
This is a very decent looking app with a visually beautiful user interface. The design of this app truly calms the eyes. All the audio managing options regarding ringtone, alarm melody, notification bell, etc. have been arranged neatly in a circular fashion which more or less resembles a pie-chart-like illustration. Furthermore, by clicking on any option you can adjust the volume level of that particular department.
To tell you honestly we have included this app only because it is rather a good-looking app. There are umpteen of other apps as well, but this due to its stylish interface really stands out.
We must also tell you that this is the most basic app for the purpose of audio management. You can enjoy this app if you are looking for a basic serving app, but with a charming exterior or interface.
Link: Play Store
Also Read: 7 Best Lavalier Mics
Now, we hope that you will be able to choose the best audio-management app for your phone. We have listed from the most basic to the most advanced apps in today's article. You can go for any of these after going over the article and select the best one for you.