It happens so often that you forget a song that you listened to a few days back or even yesterday in some cases. Consequently, it becomes very difficult to search for that song again, as you have forgotten the lyrics and the name of the artist. And that's where listening history comes to rescue, as it allows one to browse through all the songs they have played previously. SoundCloud also provides this facility to its users, so that they never have to remember the lyrics or the artist's name to listen to the same song again. Moreover, you can also clear your listening history if you wish. To learn how to see and delete entire listening history on SoundCloud, you can go through this tutorial.
Read More: How To Delete SoundCloud Account
See All Listening History On SoundCloud
Earlier this facility was only available on the web version of SoundCloud. But now you can also find the listening history on the Android and iOS app as well. Other than the history you can also browse through your recently played tracks on SoundCloud if you want. First, we are going to discuss the method for the web version, if you are using the SoundCloud app then you can skip to it.
On Web From Computer
1. Open any browser on the desktop and go to SoundCloud. Now sign in to your account if not done already.
2. On the homepage of SoundCloud, you will see the Listening history section on the right side as shown in the screenshot below.
3. To see all the tracks that you have played previously, click on View all which is present at the top right corner of that section.
4. On the next page under History, you will see all the tracks you've played on SoundCloud along with the recently played songs.
5. Now you can scroll down and listen to any song in your history by clicking on the Play button next to the thumbnail of that song.
6. If you have a long listening history, then you can make use of the Filter box to search for a song in history.
With this, you have successfully seen all your listened songs on SoundCloud. However, if you are looking to clear all your listing history for some reason, then you can do that by following these steps
Clear SoundCloud Listening History
1. On the SoundCloud history page, click on the Clear all history button on the left of the Filter box.
2. As you do that, a pop up will appear. Click on Clear my history to delete your entire listening history.
With this, all your history will be removed from your SoundCloud account and it can not be undone.
Please note that currently there is no option to delete individual tracks from your listening history.
Find Entire Listening History On SoundCloud App
SoundCloud app is available on both Android and iOS devices. We are using the Android app for demonstration purposes. However, you can implement the same steps on your iOS device as they are similar.
1. Open SoundCloud app on your smartphone, and on the home screen of the app tap on the menu icon on the bottom right corner.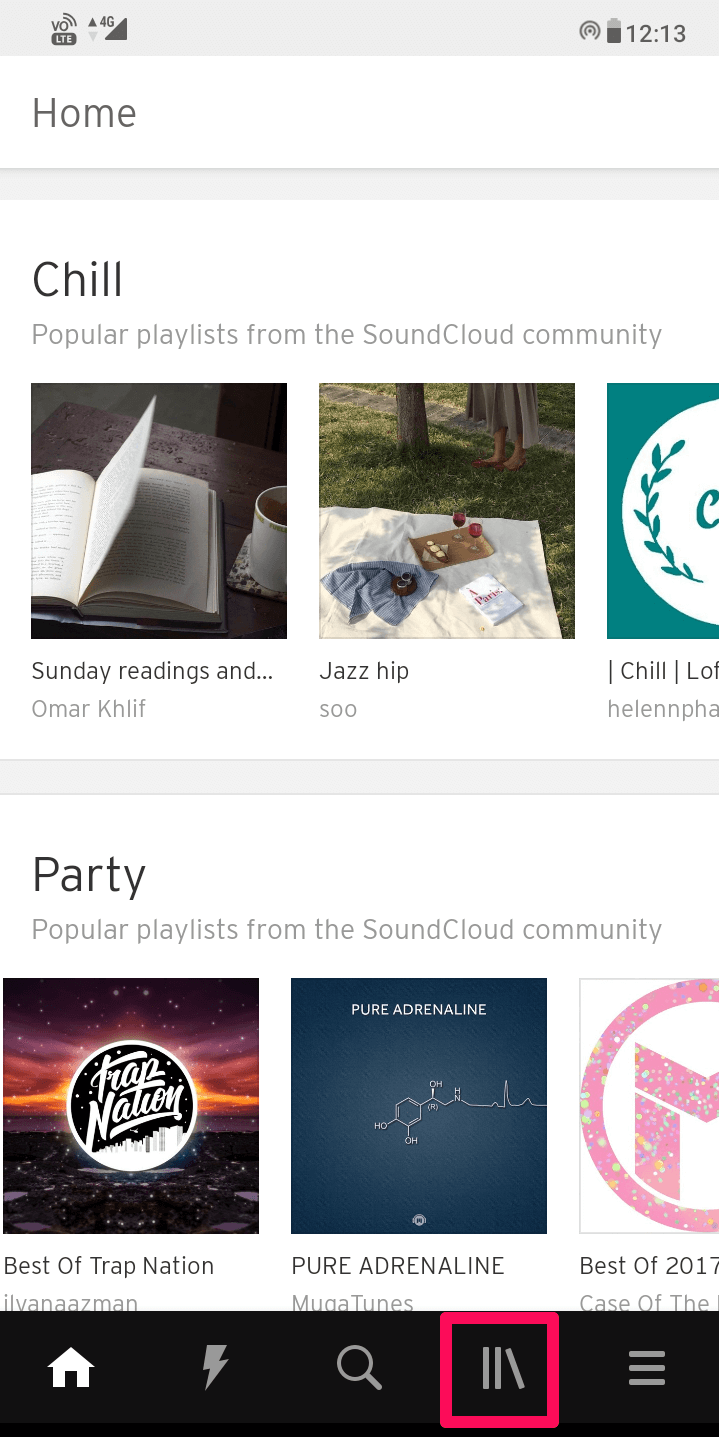 2. Scroll down and you will see your recently played songs and the listening history. Tap on SEE ALL LISTENING HISTORY to check all the tracks you've played previously.
3. Now you will see the list of all the songs that are in your history. You can tap on any song to play it.
So this is how easy it is to find your listening history on the SoundCloud app. Also, similar to the web version you can clear all the listening history in the app itself. Follow these steps to do that in your Android or iOS devices.
Delete History On SoundCloud App
1. On the Listening history page, tap on the three dots icon on the top right corner. Next, tap on the Clear listening history.
2. A pop up will appear, tap on CLEAR to wipe out all your listening history.
So, these were the methods you can use to see and delete all your previously played tracks on Soundcloud web and app.
Read More: How To Change SoundCloud Display Name And Profile URL
Conclusion
If you are a music lover and listen to a lot of songs on SoundCloud on a daily basis, then it's obvious to forget songs that you listen a few days ago. However, with the listening history, there is no need to remember any song as you can browse through all the songs you've played previously any time you want. Share this article as much as you can so that other music lovers like you could get benefited from it.