Do you like watching zombie movies and wonder how it would be if they were real? Well, we really hope that they never get real but for all the zombie lovers out there today we bring you the best zombie games which will surely give you a bloody experience with them. The games are available for Android And iPhone/iPad that range from killing the brutal zombies to helping them find their love. So, without any further delay, let's begin the list.
Note: All of the games on this list are available on both the platforms in 2018 – Android and iOS and can be played offline.
1. DEAD TARGET: Zombie Apocolypse Survival Game
Get ready to kill zombies and save the city. An evil corporation is injecting prisoners with a zombie virus and creating an apocalypse in order to fulfill their demand. You have to stop the zombie invasion from spreading in the city and ensure your survival. With many amazing, dangerous and different kind of weapons kill the wave of the zombies coming towards you. The zombies will increase in strength as you progress through levels with more than 20 of their kind. At the end of each level, you will also get a chance to fight the Boss zombie who is really very big and scary.
No need to move around in order to kill them just stand and let them come to you, rest you know what to do. Complete daily and main quest in order to rank up and earn more bonuses which will allow you to buy and upgrade your weapons. With great graphics, you will surely have a great time killing those brain-eating zombies and saving the city from the evil corporation.
2. Zombie Highway
Wander on a deserted highway in a car and get rid of the zombies who are attacking you. This game is very nice as it is very simple to play, just steer your car by tilting your phone and keep smashing the zombies with your car. Besides smashing them the zombies keep attacking your car and you have to kill them by hitting them onto the abandoned cars or with the gun that your co-passenger has before they trash your car and flip it.
With different levels like Classic, No weapons, The mist, Hardcore, Less Traveled, Frostbite, Swamped and Infinite ice to choose from and multiple cars, guns to select just drive through the highway and kill all of the zombies and see how far can you reach.
3. Stupid Zombies
This is a very interesting game among the best zombie games for Android and iOS devices as it is very simple to play and very addictive too. Just sit back and start shooting the zombies in your screen. In order to shoot them, you have to set an angle of the gun and shoot the bullet to kill the zombies. As you shoot the bullet it will bounce off a few times from the wall. So, try to kill all the zombies in one shot by applying strategy and finding the right angle.
You will get five bullets per level so, make each one of them count. Complete and collect all the required stars from a level to unlock the other.
Also Read: 5 Best Ludo Games Apps For Android And iOS
4. Zombie Tsunami
Tired of killing zombies? Well, then you can be a zombie and eat people. Zombie Tsunami is a game in which you will play a zombie and run through the city. The aim of the game is to gather as many zombies as you can by eating humans in the way to make them one of you and collect coins. Apart from the humans on the way, you can also eat humans in the car, bus, tank, etc. Just make sure you have the number of zombies required in order to flip that object For e.g. to flip a car you need 4 zombies, less than that will end your game.
With good animation, this surely is one of the best zombie games and is quite fun to play. With exciting powerups and bonuses like the Tsunami wave, Ninja zombie, Giant monster zombie, etc. there will be nothing that would stop you. Watch out for the mission and complete them in order to gain energy fluid which will give an upgrade to your skill. Eat as many brains as you can.
5. Plants vs. Zombies
Yet another fun-filled zombie game for smartphones. The zombies are attacking your house and in order to get rid of them, you have to sow from a variety of plants in your garden. These are not any ordinary plants, in fact, these plants have different abilities like shooting, exploding, creating sun power and many others. Just keep planting them and defeat the wave of zombies approaching your house. Remember the zombies can eat your plant so finish them before they eat your plants.
Now to add a plant, you have to collect the solar energy which will keep falling on screen as Sun or also you can plant a sunflower which will provide you with more solar energy. New plants will keep adding as you finish a level. Make a strategy to put the plants in the correct place and clear all the zombies coming to your house.
6. Zombie Catchers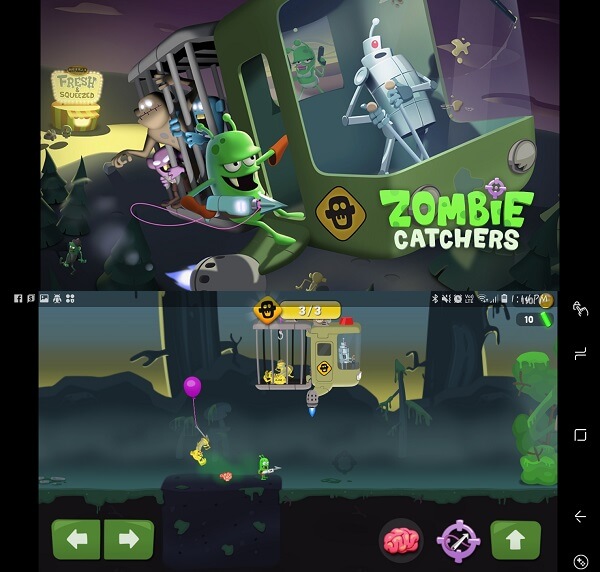 Zombie Catchers is a zombie hunting game where you have to catch zombies. Bud & A.J run a drive-thru juice corner and sell their product on Earth to the humans. Surprisingly the humans like their fresh and squeezed juice but what they don't know is how it's made.
A.J is an extraterrestrial who runs the juice corner with his robot friend Bud. They catch zombies in order to make delicious juice that humans like. What you have to do is help him catch the different zombies from different areas. Each zombie will produce different flavor juice.
Catch the zombies with harpoons, bring them out from where they are hiding by feeding them brains and sell the products and expand your shop. Complete missions to upgrade your store with new flavors, machines and types of equipment like harpoons, jet packs, etc. to catch the zombies.
7. Zombie Castaways
Ever wondered what will happen if a zombie stops eating brains? All the zombie games include killing or hunting but not this. This game portrays a zombie who has fallen in love with a girl so you have to help him get the love of his life. Explore the island, use and harvest resources to build your house and tools. Clear the jungle and trees with the tools you earn to make way to his love.
Apart from finding his love you can also explore a different island and find treasures by building ships to travel. This game certainly requires a good strategy and attention to play as it has a variety of things to explore from.
Get Insane Entertainment With These Best Zombie Games
Whenever someone says zombie all we can think about is killing them or how they eat our brains which at some point becomes too aggressive. These games are not only a good way to kill a zombie but much more like being a zombie yourself and more. The people who are fond of games should not play more aggressive games as maybe they will get used to it and adopt that behavior. So, here I have tried to mention some fun and amazing games which will not only keep them entertained but also have their mind away from aggression.