Who does not love to get close to nature? The greenery, peace, calm and soothing sounds, and various kinds of animals!
Being close to nature we not only enjoy but also learn many things and gain information about the wild.
But it can be a little hard to explore or learn about nature without proper guidance. You can do it with the help of the device you are holding in your hand and get a close experience of nature while learning about new things.
There are various apps for nature lovers that will let them explore the wild and get to know it a little more.
Some of the apps will be useful when you are actually in nature, they will let you identify various plants and provide information about animals and birds. With these nature apps, you can explore nature and its beauty without limitations on both Android and iOS devices.
So let's have a look at them.
Best Apps For Nature Lovers
1. 10000 Best Nature Wallpaper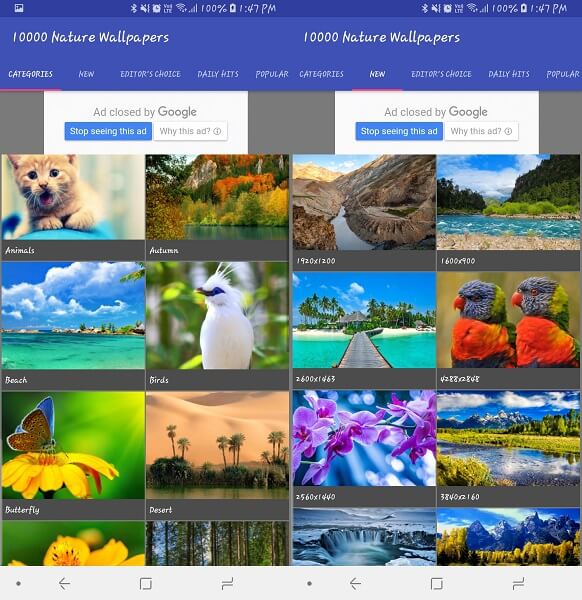 This app will provide you with images of some of the amazing landscapes and natural sceneries that can be used to make it as wallpaper for your Android and iOS devices. Here you will get more than 10000 HD images of great locations that you can use to set as your device's background image.
Though the app is available on both platforms; however, the developers are different. You can use this wallpaper app to select the image you like the most and make it your wallpaper to get closer to nature.
2. WildTrails
If you are planning for a holiday and thinking about visiting a place to see natural wildlife then Wildtrails will help you with that. Here you will be able to find trips to various wildlife destinations and search from the given categories according to your location. You can search for trips in the wildlife based on luxury, sightings of animals, or based on species or theme, and a few more.
You can also see photos and videos of various destinations and animals uploaded by other users. Apart from all this, it can also be used as a wildlife spotting app. Here you can have the information for sightings of various animals with the distance and chances of sightings from your current location.
It will let you choose the species of animal you are searching for. Not only this, you can read the news and a few more options like bird spottings, parks, and info about wildlife from this app itself.
3. Merlin Bird ID
This app is for all bird lovers around the globe.
Merlin bird app will let you have the information of different species of birds according to location and country. There are several bird packs available according to locations like the US, Canada, Europe, Mexico, Brazil, and a few more. You will be able to see the total number of birds that are in a list and the size of the file that you will need to download.
Once downloaded, you can read the information on various birds and their species that are available in that country or area for which you downloaded the list.
Apart from this, you can also use this app for identifying the birds using their photos. It will show the list of all the birds that will match the provided image and their details in the app itself.
4. PlantNet
Whether you are having a great time exploring nature or having treks or hiking in the wild, having the knowledge of your surroundings is always necessary.
There are several kinds of plants, fruits, and flowers that may look decent and beautiful but can be harmful. To eliminate these problems we have PlantNet. With this app, you can have information on various kinds of plants and their species.
You can say it's the Wikipedia of plants. Here you can browse through the projects in categories based on themes and locations. In these projects, you will find information about plants as per the category or title of the project you select.
Apart from this, you can use this app as a wildflower id and scan the images or take photos of the plant in order to know its details. You can also have further knowledge of any plants from the internet if you wish to.
5. iNaturalist
iNaturalist is one of the best nature identification apps for all nature lovers. This app combines the features of almost all the above apps. You can use it as an insect identification app or for the identification of flowers, birds, and other wild living beings from the given list.
Here you can take the photo of anything in the wild and share it with other users who use this app. The users will help you in identifying the content in the image that you can find in the comments below. You can even help others in the same way by having a look at their observations and commenting on them and providing information regarding it if you have.
6. Toca Nature
Toca Nature is a nature game app with which you can learn and explore the wild in a fun way.
Here you can shape nature in 3D, keep wild animals, feed them and watch all your wildness develop right in front of your eyes. This app is great for teaching your kids about nature in a playful way.
The only downside of this app is that there is no free version available for this app, it's paid on both platforms.
7. Animal Sounds
This is another nature game app available on Android devices that you can download for free. Here you have to identify animal sounds from the given audio and select which animal it is. This application will show you the images, and provide the audio for their name and the sounds they make so that you can learn easily.
There are various categories like farm animals, wild animals, birds, etc. that you can select from. This app has three games that you play in order to memorize the sounds and names of the animals easily. You can play either memory, scratch, or slide puzzle games from this app itself.
Final Words
You can download all these nature apps for free except Toca Nature as it is paid on both platforms. All of these apps will help you in learning and exploring wild and beautiful nature in a better way with the help of your smartphones.
If you are looking for an app for your kid to install on their smartphone, make sure to have some sort of parental control as well. Check our post to see free apps.
Which app did you like the most? Or is there any app that we missed you think should be on this list? Let us know in the comments below.