If you have not been living under the rock, then you must have heard of Google Earth and Google Maps for sure. These services are quite similar when we talk about their purpose which is navigating and exploring the world. However, they are quite distinct in the way they work. Here, in this tutorial of Google Earth vs Google Map, we will compare these two Google services. So, you can make the decision which one is better for you.
Google Earth VS Google Map
Google Maps and Earth, both are available on the Android and iOS platform as an app. However, we are not considering the apps for this review as the apps do not have the full functionalities as that of the desktop version of Google Maps and Earth.
Price
You can use the Google Earth Pro software or Google Earth online tool on the chrome browser for absolutely free. The same goes for Google Maps as well, you can use it for free on any browser on your desktop.
Outcome: It's a tie, we can't choose a winner in this segment as both the services are free to use.
If you travel a lot and like exploring new places then Google Maps can help you out in navigating you to your destination without any external help. Features like turn-by-turn navigation, traffic updates, and schedules for public transport ensure you reach your destination at the right time. Google Earth, on the other hand, can show you new places but can't navigate you there.
Exploration
Like navigation is the USP of Google Maps, exploration is a forte of Google Earth. With the help of Google Earth 3D rendering technique, you can explore any part of the world and you will feel like you are visiting that place in person. Moreover, with Google Earth's high-quality satellite imagery, you are never going to miss even the smallest of the details. Google Maps also has a 2D satellite view for exploration purpose but its nothing significant when compared to Google Earth.
Street View
The Street view is the feature that allows you to roam the streets around the world from the comfort of your home. It is possible to enable the street view mode on both Google Maps and Earth. However, the streets load a little faster on Google Maps and it is also easier to navigate around the streets on it.
Historical Imagery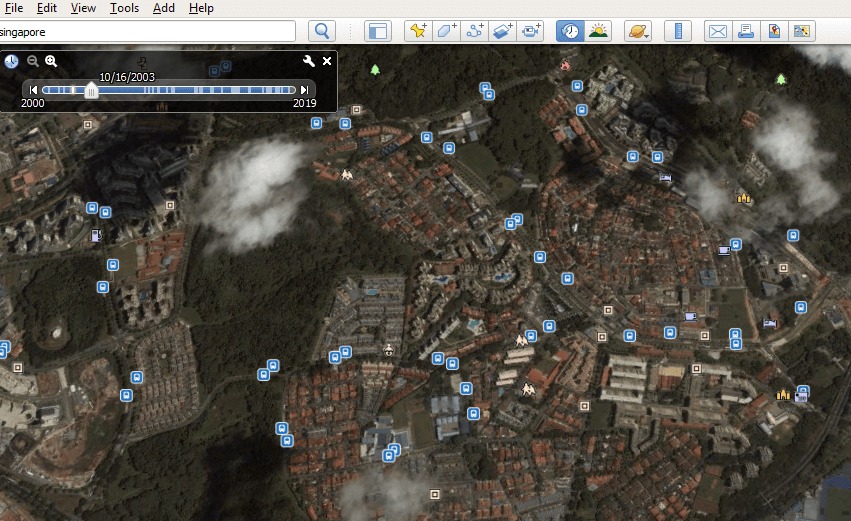 If you don't know, you can actually go back in time on Google Earth and Maps. On Google Earth, you can see historical satellite images of all the places you want to see. However, on Google Maps you can do that with the help of Street view which is still not available in many parts of the world.
Measuring Distance
You can measure distance on Google Earth and Google Maps between two or more points. The measured distance is quite accurate on both Google Maps and Earth. However, Google Earth Pro gives you more features to measure the distance of a path, area of a polygon, circle, etc. However, measuring distance on Google Maps is quite simple.
Print
Other than exploring places on Google Earth and Maps. You can actually print the map so that you can use it for navigation in far off places where there is no internet connectivity. The print quality is equally good on both, but it also depends on your printer quality. However, you get more options on Google Earth, like adding scale, compass, title, and description to your map.
Google Earth vs Map: Wrapping Up
As you would see there isn't much difference between Google Earth and Google Maps. However, they are still quite distinctive services. Google Maps, on one hand, is a utility app that helps us to navigate to our destination in our daily life. While on the other hand, Google Earth is an educational as well as an exploration tool. Now it's up to you which service you would like to prefer?