Bikes are the oldest and the best economical form of transport available for all of us. They are not only environment-friendly but also help us improve our health. But cycling is not ideal for everyone. For e.g. aged people, one who hate pedaling but wants to ride etc. To help improve the quality of cycling and help people enjoy the ride with the least efforts manufacturers have come up with electric bikes. These e-bikes have a battery and built-in motor attached to either the gear or the tire. When you pedal the bike an electric charge is produced which is transferred to the battery and it runs the motor. Here you will be able to get a boost in your ride with minimum pedaling.
This will help you while going uphills, riding in mountains, carrying any load or for daily commuting. There are two kinds of e-bikes, full power with a throttle to control the speed and power assist with just the pedals to do the work. So if you are someone looking for having a transportation mode which is safe, less tiring, and nature-friendly then we have made a list of some of the best electric bikes that you can have a look at.
Best Electric Bikes To Buy
1. ECOTRIC Fat Tire Electric Bike
As the name suggests, this electrical bike has fat tire which makes it ideal for riding it on the snow, mountains or even the beaches. It has a 500W motor attached to the gear with 36V removable and rechargeable lithium cell. ECOTRIC weighs 56 lbs made of alloy frame and can hold a weight up to 259 lbs. You can ride this bike as a hybrid assist, full power or power assist with 7-speed gear. In addition to this, you will get disc brakes and an LCD display showing the battery, gear and speed information. This e-bike can go up to the speed of 23 MP/H and has an average of approximately 19 miles.
Price:- $999
2. Goplus Electric Mountain
This e-bike is similar to the above one with fat tire and a few different changes. Here you will get a 350W motor and a lithium removable battery of 48V. The battery can be charged fully in 8 hours. It is also made of an alloy material and weights 64 lbs supporting up to 265 lbs of weight. With all this, you can go up to a speed of 27 KM/H and with an average of 25 miles. Go Plus can be used as a complete or assisted power e-bike as per your desire with a 6-speed gear transmission. Apart from this, it also has an LED light at the front which is useful for night time or in dark places.
Price:- $739.99
3. Goplus 26 E-Bike
In this electric bike, you will get a 350W motor with a 36V lithium battery which will give you a max speed of 12.5 MP/H and a great power during uphill riding. It has 3 modes, manual riding, power assist or fully electric mode that you can switch to at any time. With the pedal assist, this e-bike will give you an average of 20 miles. The weight of this e-bike is 54 lbs and can support up to 440 lbs of weight.
Price:- $759.99
4. Kemanner 26 Electric Mountain Bike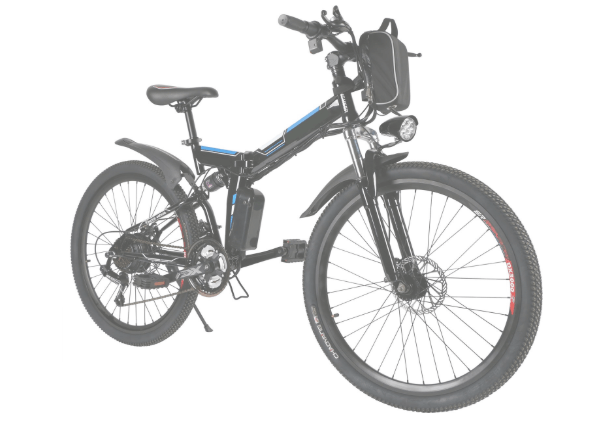 If you are looking for an e-bike with the best value and in a budget under $1000, then Kemanner is for you. It will provide a maximum speed of 25-30 KM/H and an average of 35-70 KM depending on the mode you use. The motor here is a high-speed motor of 250W with a 36V lithium battery. It also has 3 modes just like the above electric bike. Made of alloy material, it weighs around 40 lbs and can bear a load of 330 lbs. What makes this electric bike different than the others is that it is foldable, that means you can make it compact and store in a small place which is a very good option for travelers or people with less space in their home.
Price:- $679.99
5. Pinnacle Lithium-Ion 2018 Electric Bike
Pinnacle electric bike is little different than the other bikes on this list manufactured by Evans Cycles. It has Shimano Steps E6000 electric motor attached to the front pedal instead of the rear gear system. The battery is also from Shimano with a power of 400wh. Pinnacle can be fully charged in up to 3 hours and can give an average of 60 miles. A suitable bike for riding the hills, mountains, going off-roading or any terrains. Here you can switch between the riding modes whether hybrid, manual or electric as per your commute.
Price:- $2040.83 / £1600
6. Trek Super Commuter
This is one of the best electric bikes that you will find on this list. It is from the same manufacturer as the above e-bike. The look of this bike is enough to have an idea about why this is so costly. Unlike other e-bikes, here you will find everything from battery to the front motor covered in a stylish way to make the bike more attractive. Trek Super Commuter has 250W Bosch Performance CX motor providing a max speed or 25 KM/H with a battery also from Bosch with 500wh power. The weight of the bike is also less around 44 lbs making it more adaptable for an easy commute with pedal assist.
Price:- $4080 / £3200 
7. Swagtron
This is the cheapest and best budget electric bike that can be afforded by almost anyone. Swagtron is compact, foldable, made of steel and does not have any kind of pedals. It completely runs on the battery and speed is controlled by the throttle provided on the handles. It has a battery of 36V and can handle a weight of up to 264 lbs providing an average of 10 miles in a single charge.
You can monitor all the data and speed from the given LCD panel on the handlebars. With this bike, you can go to near places or commute in complete style as it is different from all the given e-bikes on this list. And in addition, it has automatic headlights that will turn on at night or when it gets dark automatically.
Price:- $299.99
Also Read: 10 Smallest Smartwatches
Conclusion
All these electric bikes will let you have your commute or go out for riding without any tiredness. Riding bikes not only helps us in having a nice experience but also keeps the environment pollution free. Which one do you prefer from this list? Or any other e-bike that should be on this list? Do let us know in the comments below.